When former ABA champion Anthony Crolla lost his 9th professional fight to journeyman Youssef Al Hamidi, on an Amir Khan undercard in Bolton in 2008, it is safe to say that not many could have imagined, come 2016, he would be the reigning WBA lightweight champion of the world! But you can bet Crolla did!
Determination and self belief have been the catalyst to everything Crolla has done to get to the top of the mountain and achieve what he has. Written off more than once in his career, that never say die mentality to come back, carry on and prove doubters wrong has surfaced more than once in his, 30-4-3, 12KO career.
[sam id="1″ codes="true"]
Crolla avenged that defeat to Al Hamidi a couple months after, but the following year he dropped another points loss to future British champ Gary Sykes. Again he came back undeterred to go on a five fight winning streak in which he scored a stoppage win over former champion and Manchester fight legend Michael Brodie before securing a shot at the vacant English super-featherweight title against fellow Mancunian Andy Morris. Crolla against the odds pulled off a 7th round stoppage. 
Three months later he was offered the chance to step up in weight to face Scouser John Watson in Liverpool for the vacant British title. Crolla took it and pulled off the win away from home, via a 9th round KO to claim the coveted Lonsdale belt and realise a boyhood dream.
Crolla's stock had risen and he was becoming a big name on the British scene and gaining the following he boasts today. The win over Watson, was followed by two routine wins and a successful first British title defence against Willie Limmond only added to his appeal.
The next defence for Crolla was against Derry Mathews in Oldham, it was a great matchup and the fight was highly anticipated by the fans. The bout lived up to expectations and both battled hard in front of a frenzied crowd at the Oldham Leisure centre, Crolla's home turf.
Again Crolla suffered a setback, when he was stopped by Mathews in the 6th round of a war that saw him cut and on the canvas twice. He argued that he could have carried on when referee John Keane stopped him on his feet, but Mathews deserved his win and the loss only served as another lesson learned for Crolla.
Six months after the defeat to Mathews, Crolla entered the one night boxing event, Prizefighter. – 8-boxers, 1-winner in a elimination contest. Also in the tournament that night, in October 2012 at Liverpool's Olympia, was former opponents Mathews and Gary Sykes. Crolla was eliminated after dropping a 3-round split decision to Sykes, current WBO lightweight champion Terry Flanagan went onto win the trophy. Fellow Manchester born, former school pal of Crolla, Flanagan, also boxed at the same amateur gym as him and their paths could cross again soon, jumping quickly forward for a minute to 2016.
The Prizefighter loss can't really be judged as a major setback and it wasn't, but his next fight for the vacant English lightweight belt against another Mancunian Kieran Farrell, was a setback with bitter sweet memories, and one that was mentally debilitating for Crolla as well as the physical trauma, in what was a hard gruelling fight at Bowlers, Trafford Park in December 2012, and one that nearly cost Farrell his life.
[sam id="1″ codes="true"]
After 10-tough rounds of action, with neither man taking a backwards step, Crolla was declared the winner on points. After the fight had ended, Farrell collapsed in the ring and was rushed to hospital. He had suffered a bleed on the brain and spent days in intensive care before making a dramatic discovery that shocked the medical staff looking after him.
The build up to the fight had been intense and after celebrating a monumental win, Crolla was left worrying and in shock by Farrell's plight and like the rest of boxing prayed for his recovery. Farrell did make a full recovery to health although his fighting career was over.
Just over three months later Crolla was back in the ring with the only man ever to stop him, Derry Mathews. The fight had longed been talked about since the first one and Crolla wanted revenge, but this time he would have to do it in Mathews backyard at the Echo Arena in Liverpool. It was the start of his promotional deal with Matchroom Sports and since then he has appeared in big stadium fights. After 12-competitve rounds of boxing, the judges couldn't split them and the rematch was declared a draw, much to the disappointment of both, who thought they had won.
Since then Crolla has gone onto amazing success. A win over former world champion Gavin Rees to pick up the  vacant WBO Inter-Continental lightweight title later that year, he successfully defended it against fellow Mancunian's John Murray and Stephen Foster, before a draw with Mexican Gamaliel Diaz. Two months after that he outpointed Hungarian Gyorgy Mizsei Jr, to set up a world title fight against Cuban Richard Abril on 23rd January 2015, for the WBA world title at the Manchester Arena.
It was the world title fight he had always aspired to, a chance to claim the ultimate pugilistic prize, then just weeks to go before the fight, Crolla was set upon by two burglars as he tried to protect a neighbours property. The boxer disturbed and then chased the thieves and cornered them in an alley way. He grabbed one of them, but the other lifted up a stone slab from a wall and hit Crolla over the head, causing a skull fracture!! The brick also fell on his right ankle and shattered it. The fight was off, his world title hopes in tatters and is boxing career on the line.
Fortunately he made a fast recovery, the ankle was operated on and after various scans and medical clearance, he went on the road to recovery and the steep hill to resurrect his boxing career and the world title chance, that was so cruelly snatched from him.
He was more determined than ever now, his life had flashed before him and his future was in the balance. But after being told he could resume his boxing career, his world title fight was resurrected and re-arranged, and a new fire, a new impetus was added to his arsenal and after his ankle had healed, he set out on the road to redemption, with a new date was set for July 2015, against Colombian Darleys Perez for the WBA world lightweight title.
"It's amazing to be back in the ring and fighting for my first World title," said Crolla at the time after hearing his world title fight had been reschedule. "Lying in my hospital bed after the attack, I didn't know what the future held. I was just lucky to be alive, but I have worked so hard and had so much support that I have to win that World title on July 18.
"Perez is a great fighter and I know I am going to have to be at my very best to beat him, but with everything that has happened, it feels like I am destined to win the belt and I will be busting a gut in the gym to be in the best shape I have even been in on the night to get that belt."
And he did just that, Crolla came into the ring that night in the best shape of his career. The Manchester Arena erupted when he made his ring walk. The story of the hero who chased off burglars, was attacked and nearly killed, the was a possibility he would never box against and here he was now fighting for the world title and the fans loved it.
The atmosphere was fantastic that night in Manchester and Crolla put on a measured display of boxing and at the end it looked like he had done enough to become champion, but when the judges returned their scorecards, and the fight was declared a draw, to Crolla's dismay and to most watching.
Perez was twice docked points for frequent low blows, but without that, Crolla looked a clear enough winner. But the judges were split, with one having Crolla the winner and the second Perez, the third calling it a draw, which meant the the fight was even. Upset but undeterred Crolla was back in the gym and determined to go one better and get the win over Perez, a rematch was arranged for November 2015, and he was now ready to settle the score.
"They were lucky to get away with the belt last time and they may not be so lucky this time. They say the first time you go in believing and the second time you go in knowing. That's how I feel and I know I'm going to win." vowed Crolla before the return.
"People say the last fight was a career-best performance for me. It might have been, but I have improved since then. In the last fight there were times that I outboxed him, times I hurt him, and that gives me huge confidence.
"I'm sure he's going to start fast and try to impose himself on me, to try to show that it wasn't him at his best last time and I look forward to answering the questions that he's going to ask me."
Crolla was as good as his word, this time he left no doubt and eliminated the judges from the equation by stopping Perez in the 5th round with a great body shot. The Arena erupted again as he was crowned world champion!
"I have been coming to this arena watching fights since I was ten, watching Naseem Hamed, Joe Calzaghe and Ricky Hatton." said Crolla. To do it here is what I dreamed of. It is an amazing feeling, it is a dream come true, now I just want many more nights like this in Manchester. I've dreamed this dream since I was ten. I didn't know it was going to be this good. It is better than I ever dreamed it would be."
There was little to choose between the two in the opening four rounds, though Crolla was moving well and regularly making Perez miss. Then, in the fifth, with Perez on the ropes, Crolla switched his attack from the head to body and nailed the champion in the ribs. Perez shook as his head as he fell to the canvas, remaining on his knees as the 10-count was completed.
"I was very confident I would get him out of there," added Crolla. "I thought it would have been a head shot. I touched him with a right hand and sunk him with a left."
The words, 'it couldn't have happened to a nicer person,' ring as true as ever when Anthony Crolla is in the context and so it is. He did it and turned his career around, fought adversity and setbacks, never gave in and against stacked odds, prevailed.
Now as world champion, he enters a new chapter of his career, as the challenger's line up waiting for the chance to take from him, what he has worked so hard to get. That is the nature of competitive sport and he knows he will have to raise his game even higher to fend off the hungry wolves who seek what he has.
His first test as champion comes next Saturday night (May 7th) back in his hometown at the Manchester Arena, when he makes the first defence of his strap against dangerous mandatory challenger the big punching Ismael Barroso. The Venezuelan has already demonstrated his class and renowned KO power when he ended Kevin Mitchell's career in December via 5th round stoppage.
Unbeaten Barroso has 18 knockouts from 19 wins, but Crolla, who enters the fight as the underdog despite being the champion, says he could not be better prepared for "the most dangerous lightweight on the planet".
"I think every fight is the biggest fight of your career," he said, "but we saw in December just how good Barroso is in the way he dealt with Kevin Mitchell, who is a very good fighter.
"I'm expecting the toughest fight of my career and certainly he's seen as the most dangerous lightweight on the planet, but it's a challenge I'm really looking forward to.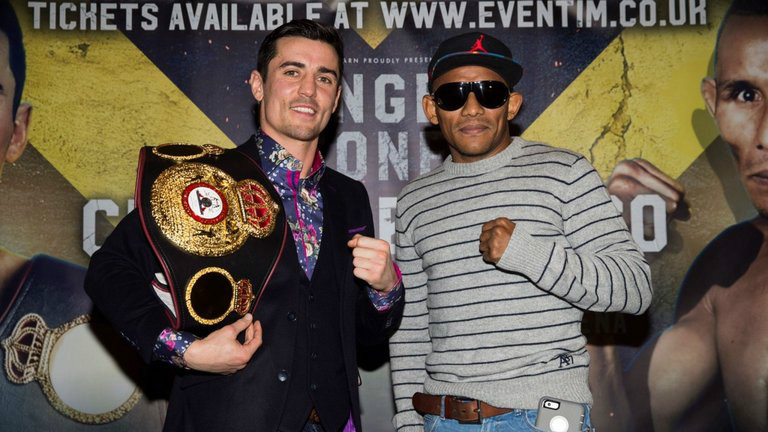 "We've been looking at his strengths and weaknesses to see what I can capitalise on, and obviously I need to be switched on from round one.
"I can't afford to be starting too slow because he's the kind of fighter that if he lands a good punch on you it could be over. I know that, and I have the fear of one punch taking me out to make sure I am sharper than ever.
"Being a world champion is something I've worked so hard for, and I don't want to give it up easily."
Crolla is inspiration and an ideal role model for youngsters to look up to, he always is polite, engaging and is dedicated to the sport he loves. He proved having early losses in a career doesn't mean anything for a boxers, so long as you are willing to learn from them and carry on learning.
Surviving the concrete slab on the head incident could have had some luck or fate attached? Someone up their surely has an eye out for him, but there is nothing lucky about the will and strength of Crolla and the balls to come through the bad and embrace the good with such dignity. May his reign and the ups continue!