A REAL LIFE ROCKY STORY IN LIVERPOOL
"I've achieved a dream tonight. I'm the champion of the world. This was the fight of my life." –
Bellew
Tony Bellew made his dream come true on Sunday night in Liverpool when he won the WBC cruiserweight title with a 3rd-round knockout of Ilunga Makabu, at his beloved Everton Football Club, to become the 13th current British world champion.
It proved to be third time lucky for Bellew becoming world champion after previously coming up short against Nathan Cleverly in 2011 and Adonis Stevenson in 2013, both fights down at light-heavyweight. After deciding to move up to cruiserweight Bellew eventually got his hands on a world title.
It was a spectacular finish from the hard hitting Bellew, who was cheered on in his home city by 15,000 plus fans. Bellew a massive Everton supporter, entered the stadium on his ring walk to the Z-Cars theme tune, that is usually played to greet the Everton players on match day. The atmosphere was electric and everything was set perfectly for Bellew's crowning night.
[sam id="1″ codes="true"]
Bellew, 33, who recently starred in the Rocky spinoff 'Creed' as world champion 'Pretty' Ricky Conlan and fought at the Toffees, Goodison Park ground in the movie, did it for real this bank holiday weekend and came away the true champion of the world. Bellew's success has topped a magnificent weekend for UK boxing and Britain now boasts a record number world champions.
Of course in the fictional hollywood boxing movie, Bellew and Adonis Creed never actually fought at Goodison Park, the fight scenes were filmed in a warehouse in Philadelphia USA in front of 1,000 extras and a green screen, on his crowning night for real, the backdrop was pure Evertonian blue.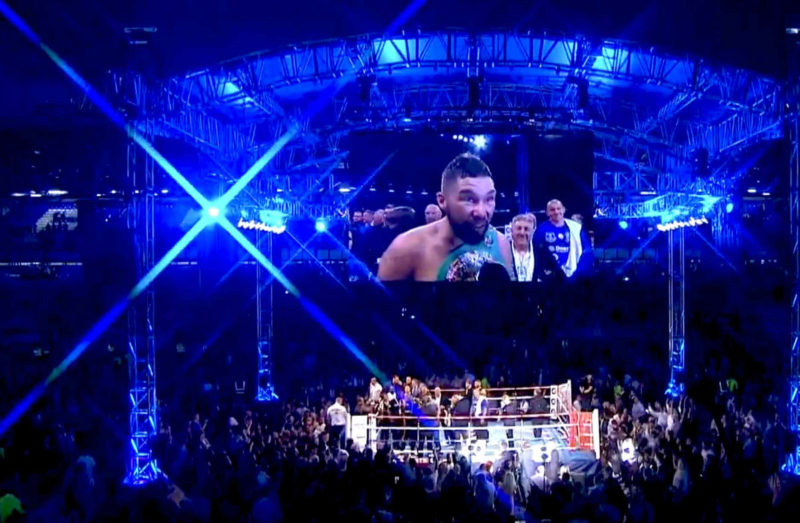 Bellew (27-2-1, 17KOs) was almost in tears as the enormity of fulfilling his lifelong dream hit home. "You know what," he said. "I've achieved a dream tonight. I'm the champion of the world. This was the fight of my life.
"The last time I saw something like that I was in a Hollywood movie, now it's for real." added Bellew.
"I've lived the dream tonight. I am the best cruiserweight in the world, I have proven it tonight and nothing was gonna stop me."
The Liverpudlian was floored himself in the opening round, after making a good start, he left himself open to southpaw Marabou's left hand. Bellew was stood square on and fell back and into a backwards roll on the canvas, but he quickly got to his feet and saw out the round.
In the second Bellew boxed well and kept the distance from the dangerous big punching 28-year-old African, he got his work off well and got out of range. Bellew was boxing well now and switched on more after the knock-down. The Everton fans were in full voice roaring on their man as he started to land hurtful thudding shots to Marabou's head and body.
[sam id="30″ codes="true"]
In the third round the fight opened up dramatically as Bellew landed a nice combination that stiffened Marabou's legs. The Scouser knew he had his opponent hurt and went looking for the finish. Bellew was having to be cautious of Marabou's power counter punching but he was in finish mode and didn't let up on his injured foe who went into survival mode along the ropes. Bellew rained in the punches and it was a short left hook that cannoned off the chin of Makabu and knocked him out while he was stood up. His body stiffed and for a moment his body stood upright balanced, before he went worryingly crashing to the canvas.
The referee immediatly waved the fight off and medical staff were soon in the ring to assist the stricken fighter who lay motionless for some worrying minutes on his back. Bellew's team who were initially ecstatic, toned down their celebrations until they saw Makabu was going to be ok. He eventually regained consciousness and got to his feet to the relief of Bellew and everybody.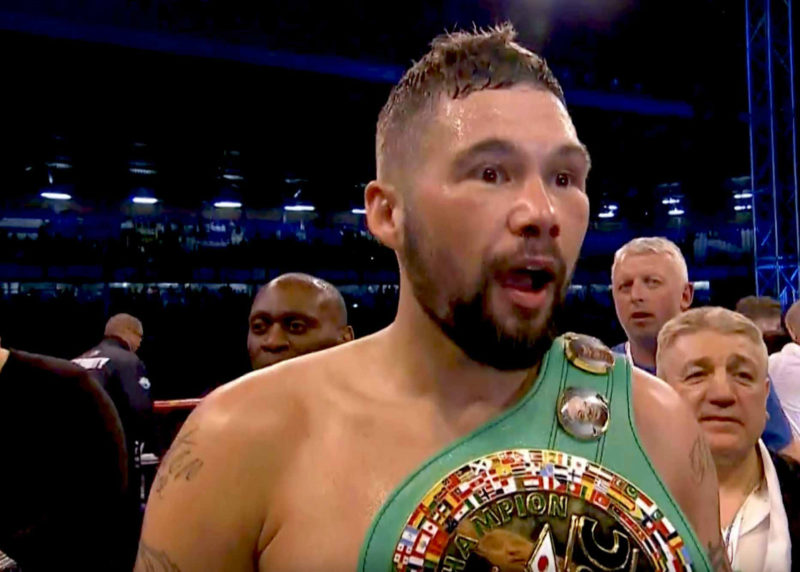 Makabu, who had won 19 of his 20 previous fights, finishing 18 of them by knockout, was classified highly dangerous, but Bellew switched the tables and became ruthless, and it seemed nothing was going to stop him becoming world champion in his spiritual home.
Belle's stock has risen massively this year and there should be some good match-ups await him in the coming months.
It was Great work by Tony Bellew! Another British boxing world champion, added to our very impressive portfolio of reigning title holders at the top of the world. Britain now boasts 13-world champions and Bellew's win  comes the very next day after Ricky Burns stopped Italian Michele Di Rocco to become Scotland's first ever three-weight world champion.
British boxing is in great shape and witnessing a strong revival, Bellew's win has added more of the feel good factor and positive energy that surrounds the sport in this country, long may it continue.
Undercard results to follow…