Since the brilliant Anthony 'Million Dollar' Crolla retained his WBA lightweight world title with a 7th round KO over Ismael Barroso at the Manchester Arena a week last Saturday, attention immediately turned to a potential all Mancunian world title unification fight with the unbeaten southpaw stylist, WBO title holder Terry 'Turbo' Flanagan, a man he once went to school with.
Sometimes fights just make themselves, elements of timing and fate all fall in place at the right time and everyone knows it has to happen. Indeed it is rather uncanny how Crolla and Flanagan's paths have entwined throughout their lives and how they have both arrived at this world title cross road.
[sam id="1″ codes="true"]
Crolla is from Moston, Flanagan from Ancoats, two inner city suburbs, a cock stride from each other in north Manchester, where they both still live. They knew each other from a young age, competing on the amateur circuit. – Crolla boxed for the Fox ABC in Ancoats, Flanagan for Ancoats Lads Club. They then attended the same high school throughout their teens, St Matthews in Moston, can you start to see the story?
Crolla, 29, grew up a Manchester United fan, Flanagan a City fan. Crolla (31-4-3, 13KOs) attended Flanagan's gym opening and cut the ribbon for the official unvieling. – They have very close mutual friends and family friends, they attend local events together, have sparred together, they know each other very well!
Both became English super-featherweight champions, before moving up to lightweight to win British title's. And in 2015 the pair became world champions, each claiming a version of the lightweight belts, becoming the first Manchester born boxers to do so.
FLANAGAN'S BEST WIN vs DIEGO MAGDALENO
Flanagan (30-0, 12KOs) has already made two defences of his world title, a superb performance and stoppage over Diego Magdaleno was followed by a points win over Derry Mathews to establish his place at world level and Crolla did the same against Barroso. They are both genuine bonafide world champions who have paid their dues in the game and deserve big fights to secure their legacy and their families future.
Crolla vs Flanagan makes sense, but should it happen now? Or should they both face other opposition, another defence or two each and build the fight? Is it a fight the two boxers want? No doubt, these two will fight anyone, and are professional enough to put friendships aside for the night for business and sporting competitiveness. – Do the fans want it? Do the boxers trainers, managers and different promoters want the fight, and are they prepared to negotiate a deal? Thats where things will get tricky. Will the fight ever be made?
CROLLA'S BEST WIN vs ISMAEL BARROSO
Lets take a look at what both camps feelings are at the moment regards this potential Manchester derby scrap.
After Crolla's last win, his coach Joe Gallagher spoke about his charge taking on WBC world champion 'in recess' Jorge Linares rather than face Flanagan. That was after Flanagan's manager Steve Wood said they were keen to begin serious negotiations, and then Crolla's promoter Eddie Hearn confirmed preliminary talks had already taken place.
"I don't think we'll be sitting around a table, but I think there's definitely a desire from both camps to make it happen." Hearn told SkySports.
"Anthony Crolla at the moment is riding high in the division. He's on a lot of money and he'd have to be paid a lot of money for that fight. I can deliver that.
"It's nowhere near the offer that's been made so far. I spoke to Terry Flanagan's manager Steve Wood at length and we'll be making them an offer. It's definitely a fight we want.
"Of course it's a fight that makes sense. I'm a promoter. Two guys from Manchester with world titles and one's a red and one's a blue. It's not rocket science."
Hearn did go on to stress that there are several other options on the table for Crolla including the Japan based Venezuelan Linares, and maybe unbeaten American, IBF world champion Rances Barthelemy but did state he wanted Crolla to stay fighting in the UK rather than go to Las Vegas, which apparently is an option.
Flanagan's promoter Frank Warren issued his own statement (FULL STATEMENT HERE) calling for the fight to be made next. Warren who is a partner in the BoxNation TV channel, even went as far as to say he would be willing to let the fight be shown on Sky Sports, who broadcast Crolla's fights
"Quite simply, Flanagan v Crolla has to happen!" said Warren.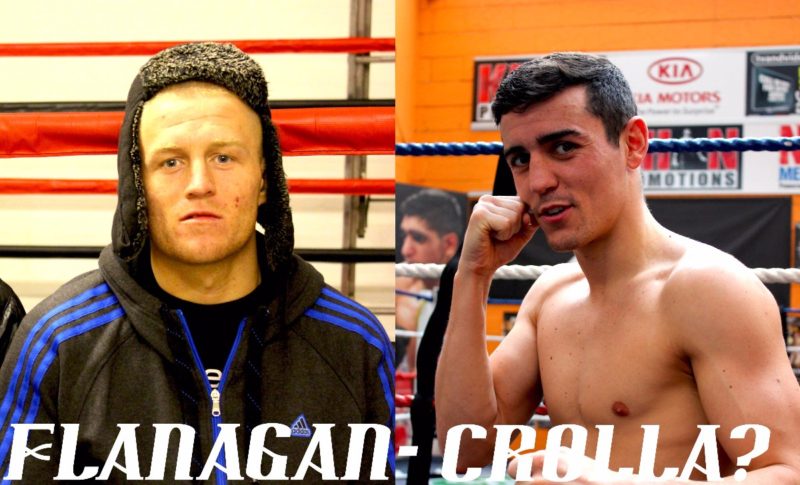 "When has there even been an opportunity to see two world champions from the same city, in fact the same school, attempt to unify their World titles?
"Far too often, politics get in the way of making great events, now so more than ever before. During my 35 year career, I have co-promoted countless of events with major promoters in the UK and around the world, including Matchroom so I see no reason why this cannot happen again.
"It seems the one stumbling block being flagged up by Matchroom Sport was the issue of the respective fighters rival broadcast platforms, Sky Sports, who televise Anthony Crolla's fights and BoxNation, who televise Terry Flanagan. To get over this, as Terry's exclusive Promoter, I am prepared to agree, subject to contract and the commercial terms offered by Sky, that Sky Sports Box Office, can have the exclusive UK broadcast rights to the event to make it happen."
It appears the promoters are prepared to try and make the fight, if the boxers want it, but what do the trainers of both boxers think about the fight? Thats where things seem to get difficult as in a quick turn-around fight. Crolla's coach Gallagher, last years Ring Magazine trainer of the year stated after the Barroso win that his man would be looking at other opponents and a fight against Flanagan is not big enough yet to sell mainstream and needs building up more as nobody knows who Flanagan is.
"You can see the appeal in Anthony. The atmosphere at the arena was fantastic and everybody in America has sat up and took heed of Anthony Crolla. He's gone to another level now." said Gallagher.
"That fight (against Flanagan) would be fourth or fifth option. He's got two fights being put to him at the moment so that's not one that's up there. A Las Vegas night against Linares is one and Old Trafford is another. Those two nights are before anything else.
"People say everyone wants to see it but nobody's saying that to me. I don't think many people know who Terry Flanagan is. The trade people might want to see it but the general person in the street doesn't know about it. Of the 10,000 or 11,000 at the arena on Saturday night, a lot of them are unaware who Flanagan is.
"The profile Anthony has is mainstream now. They all know who he is and he's one of the success stories of 2016. That's why I feel Crolla v Flanagan won't happen for another 12 months because nobody knows who Flanagan is so how can you sell it?"
Linares, who beat Kevin Mitchell in London last May, has not fought yet in 2016 after suffering a hand injury.
Gallagher added: "Anthony wants to fight Linares and has done for a long time. We almost had the fight made before the injury but Anthony wants to fight someone that people all over the world consider to be the No 1. We want to fight Linares for the right to be No 1.
"There are people on Flanagan's side of the camp who are desperate. I'm sure they were sat at home watching on Saturday night and want to be part of that experience. They understand Crolla is the draw, so that fight will build and build and in my opinion will happen at a football stadium next year."
Flanagan's trainer Stephen Maylett was disappointed in Gallagher's assessment of the situation and his remarks about their camp and their fighter, and this week responded in an emailed statement sent to British Boxers. Maylett believes it is Gallger who is stopping the fight from happening because he doesn't think Crolla can beat Flanagan
Terry is the first ever Englishmen to win a world lightweight title. He is undefeated in 30-contests and has one of the best records in the world. Second in Britain: to Kell Brook. Turbo has already beaten two fighters who Crolla couldn't in four attempts. 
"Joe's comment about terry is just a distraction tactic used to try and fool the British boxing public. After defending the WBA world title last weekend Joe's first thoughts were to try and get out of the Flanagan vs Crolla fight as he knows this is the fight boxing fans will be demanding to see.
[sam id="1″ codes="true"]
"In my opinion Joe doesn't believe that Crolla can beat Turbo. Joe can come up with every excuse in the book for the fight not to happen. There are only two reasons why people don't take fights 1: if the money isn't right 2: if you don't think you can win, the first one isn't the issue here.
"When Team Crolla are asked about the Flannagan vs. Crolla fight they are quick to tell you what other fights they want and never actually answer the question. In addition to this I have never heard Team Crolla say that they think Crolla could beat Flanagan. 
"In Prize-Fighter, had Crolla got to the final against Flannagan, Joe said that he was going to pull him out anyway." Maylett said, in regards to when both boxers entered the lightweight Prizefighter tournament in 2012, which Flanagan won, they never met in it, Crolla was outpointed over the three round duration by Gary Sykes in the semi-final.
Maylett continued: "I feel this fight must happen A.S.A.P if he doesn't want the fight he should just come out and admit it, instead of trying to make people believe that there are bigger and better fights out there, there isn't one bigger than this. Both fighters need each other, this is what sells! The History, the Story, Red vs. Blue, undefeated world champions, unification, pride and the the right to call themselves No. 1."
So where does that leave it? Is this a fight the fans want to see? Crolla and Flanagan's fans will, but will the neutral? It should defiantly fill out the 21,000 capacity Manchester Arena, given the correct build-up and could possibly be deemed PPV on Sky? If as expected we anticipate quite possibly, the fight of 2016
Carl Froch and George Groves were far from Box Office fighters until they tapped into the psych with a controversial back story and the fight caught the public imagination and it clicked, if people want to see something so much, they will pay for it. The fairytale Crolla-Flanagan history tale is nice, both these lads won't do a Froch-Groves, they like each other. There will be no bad blood between the boxers, they just want to compete and test themselves against the best, the good money comes with the territory, with that mentality.
Is controversy and rivalry what sell a fight big? Box Office or not both will make a hefty purse, but with a top class undercard and a perfectly executed build-up, that tells the story of two Manchester lads from the same streets, same school, one a Red, one a Blue, who both against the odds and after years of struggle, became world champions in the same year, Plus if they fight each other, the winner could be regarded globally as the best lightweight in the world, now that sounds like a story and a BoxOffice fight just waiting to be made!
WHAT DO YOU THINK? DO YOU WANT TO SEE THIS FIGHT?
Why is Hearn talking about "options" when everyone is screaming for Crolla/Flanagan. Just make the fight you poof

— Paddy Barnes TBE (@Mattbowes80) May 12, 2016