The Finest Gym in Ancoats Manchester and run by Steve Maylett, recently produced their first world champion when Terry 'Turbo' Flanagan claimed the WBO lightweight title.
Terry is leading the way under Maylett but the gym also boasts a number of professional boxers trail blazing Terry and hoping to one day become a world champion too.
[sam id="1″ codes="true"]
One of them boxers is unbeaten Super-middleweight prospect Dale 'Canelo' Coyne (5-0, 1KO) – A strong super-middle, he has good speed for a big lad and has impressed many in his early pro career.
Tagged with the 'Canelo' nickname, after Mexican Saul 'Canelo' Alvarez. 'Canelo' meaning Cinnamon in Spanish, relating to the red hair. – Dale is also an admirer of Alvarez, and he says style wise he is a boxer but who likes to have a scrap sometimes and give the fans a good fight.
Watch the full interview video with Dale above.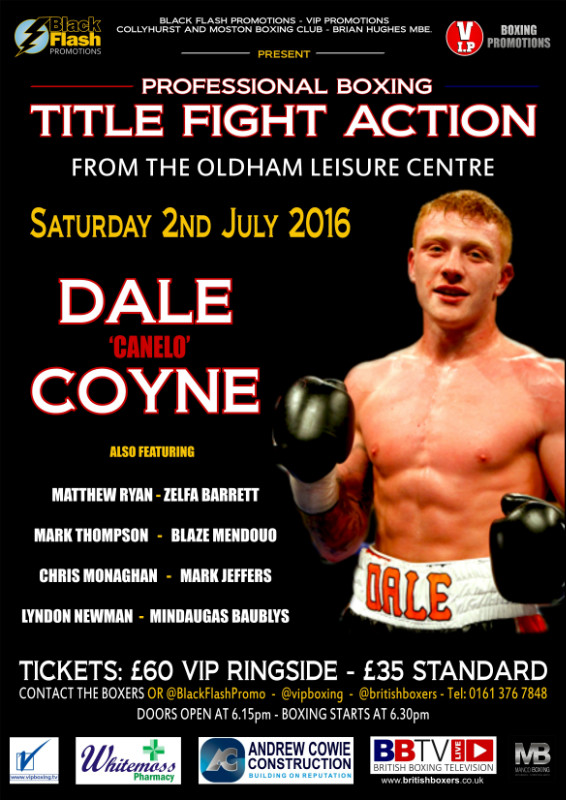 The Ancoats Alvarez's next fight will be on July 2 at the Oldham Leisure Centre on the upcoming Black Flash Promotions and VIP Promotions joint show, which features some of the most promising rising talent in Manchester.
Also on the bill: The card header will be a Championship Challenge contest between former Collyhurst and Moston Gym mates Matthew Ryan and Sam Omidi. Both these Mancunians trained together under Pat Barrett and sparred countless rounds together and fireworks are expected in this one, a fight that is being labelled as a real 50/50 battle.
Busy rising talent Zelfa 'Brown Flash' Barrett will also be making an appearance as he looks to storm his way up the super-featherweight rankings. Barrett is tipped as a future champion and one of them fighters you will want to watch now, and say, 'I saw this kid from the start on the small hall shows!
British contender Mark Thompson is a special feature on the bill, as is exciting Collyhurst and Moston fighter Chris "fat Boy' Monaghan.
Lyndon 'Light-out' Newman, Mindaugas Baublys and Philip Sutcliffe Jr make up the bill.
For Tickets from Dale direct call: 07565 102 156 – or @Dale_Coyne
Or visit: Tickets Online here: www.britishboxers.co.uk/product-category/boxing-event-tickets/
[sam id="1″ codes="true"]