In the second part of our three-part series, we take a closer look at Jorge Linares, his rise to becoming Venezuela's new Lightweight star. Not yet a decade in passing from the untimely and shock death of Venezuela's greatest ever pugilistic product, Edwin Valero, his younger compatriot and compadre, Linares is ready to assume his position as his nation's pride and hope.
Born amidst the flames and violence of the caracazo, with the anger and hunger that pillaged the senses of its people, Jorge Linares would join a group fighters who brought the hope back to Venezuela's ruined streets with their fighting pride and talent.
Introduced to the family sport from an early age, initially being taught by his father and then also his brother, both of whom were boxers, Linares took to the art of fighting exceedingly well and became one of his nation's brightest amateur boxers, winning two gold medals in national competitions by the age of sixteen.
From the non-paid ranks of the sport, Linarez now signed his name on paper to turn his means to fight into a means to fight for a prize, aged still seventeen. He left a score total of 89 wins and only 5 bouts lost in his wake, and began to walk in the steps of those just a few years ahead.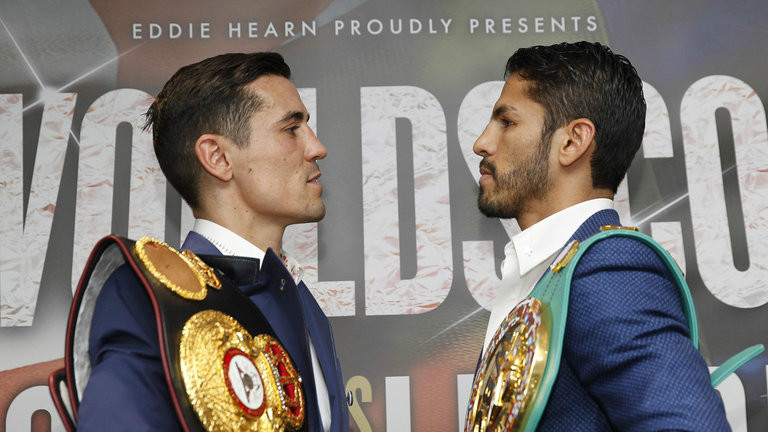 Anthony Crolla vs Jorge Linares
Plying his trade almost exclusively for the next half decade in the halls and arenas of Japan, Linares fought his way up the rankings and to a world title aged twenty-two. His style kept those that watched him entranced, seemingly fighting on the tips of his toes as he presented his opponents with his dual fisted gift of peril.
The knockouts continued, matched in parallel and blow for blow by fellow Venezuelan Edwin Valero. After only one defence, Linares moved up a weight class and immediately challenged for his second world title versus Panama's Whyber Garcia at super-featherweight. The straight punches of Linares had little difficulty in meeting the robust chin of the Panamanian, who preferred to carousel his hooks, swinging wildly.
In the fifth round, Linares sent a combination of punches to the jaw of Garcia, led in attack by his accurate straight punching. Garcia stunned, valiantly fought back off the ropes. But his wide punches were little deterrence to Linares, who skillfully sent more devastation back to Garcia, moving him into the corner as his defences began to crumble. Before they could go completely, the referee stopped the battering and a second world title was with Jorge Linares.
Returning to Tokyo for his second defence of his new title, Linares was for the first time to face defeat and be on the wrong side of a stoppage.
Fighting undefeated Mexican, Juan Carlos Salgado, Linares was dealt a left hook in the opening minute of the bout to drop him onto the canvas. Rising unsteady to beat the count, he was completely unaware of the charging Salgado who pounced on him as soon as the referee provided permission. 
Without the time to raise his guard, he found himself down onto the canvas for a second count. With the corner of the ring providing firm support to his wavering legs, he forced himself to stand once more, his unconscious pride taking over the reigns of his body.
But his inability to protect himself was as clear to the referee, who would not allow the Mexican to pummel his opponent, waving the fight to its conclusion.
In a remarkable defeat, Linares was for the first time stopped and left without a title to his name.
Determined to turn it around, he worked to improve himself and was soon on a winning streak again, this time in the lightweight division and on a quest for a third world title at consecutive weights.
[sam id="1″ codes="true"]
Almost two years to the day that he was stopped so viciously, Linares would have the opportunity to achieve this feat against Antonio De Marco, aided by his new coach and one of boxing's finest, Freddie Roach. De Marco already being known to Linares, the Mexican having fought in the year before Linares' close friend and knockout king Edwin Valero.
In a gruelling fight, the Mexican displayed his guts to the audience as he battled to stay on his feet amidst the denting blows hammering away at him. Slicing open the flesh of Valero with an elbow strike early in the fight, he created a bloody-faced Mestizo warrior red with his own blood and fury. Valero exacted revenge for every drop of blood lost without pity for his young opponent. By the end of the ninth, exhausted, and hardly able to carry himself back to his corner, De Marco retired on his stool unwilling to face another three rounds of terror.
Now the two were competing for the WBC World lightweight title. The belt had been made vacant following the shock death of Edwin Valero after he had been arrested for murdering his wife and found hanging in his cell the following day.
In his chance to keep the title with the Venezuelan people, and become a three weight title holder, Linares made good opening ground on De Marco. Evading the Mexican's punches and creating space for himself, he paid De Marco with the same gifts he had distributed freely amongst fighters in the lower divisions.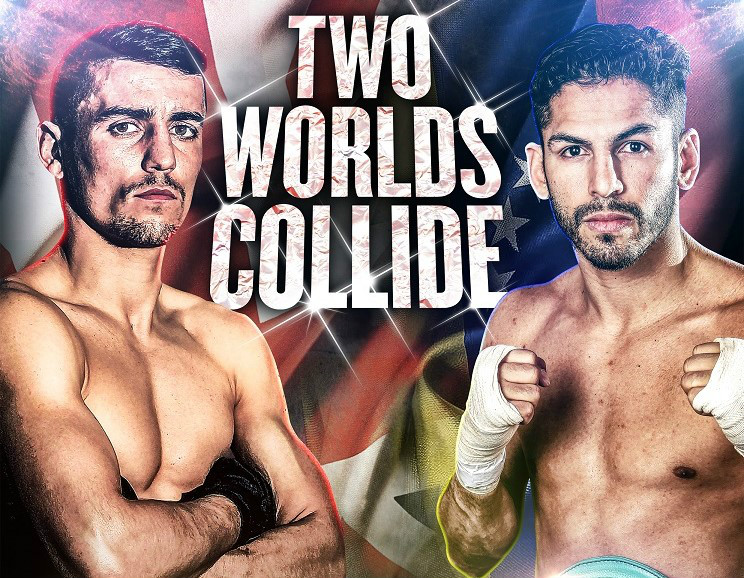 By the sixth round, De Marco began to come to terms with the whirling speed with which Linares moved. Finding him now, he caused a cut on the bridge of his nose, and swelling around his left eye. Although De Marco continued to bludgeon the face of Linares, glistening him in his own blood, Linares was meeting him blow for blow to maintain his hard-won lead.
Stepping out for the championship rounds, De Marco now firmly behind on the scorecards, was desperately implored by his corner to go for stoppage. Eschewing restraint, he pressed forwards, and with success, landing uppercuts and hooks the blood caked face of Linares. In a mixed display of Latin machismo and Japanese stoicism, Linares stood his ground and returned what he received.
But for all his pride, the toll of punches was undeniable. Sent to the ropes by a myriad of left hands, Linares was clearly wilting. Another burst battered the butcher's block that had become Linares' face, sprung the referee into action, waving an end to the fight and his hopes.
His next fight to follow brought a shocking question mark to Linares over his career. In the second round of his fight with Sergio Thompson, he was caught by an overhand right that stunned him, a punch invited by his now low held left hand, the placement of which advised by his trainer Freddie Roach. Thompson with the ferocious yearning of a hound on the fresh scent of blood pounced atop of Linares, landing with fury to seat him on the canvas.
A deep gash caused by the violence was immediately seen to by the doctor after Linares beat the count. After an inspection, the doctor produced his red card to announce Linares was not fit to continue.
Losing by stoppage in two straight fights, and with the expectant weight of a nation resting on his shoulders, Linares sought time out. Travelling back to Venezuela, he settled back amongst the country as it rebuilt itself, taking inspiration from his countrymen's labours to fortify himself from his recent scars, and revitalising his quest for a third world title.
[sam id="1″ codes="true"]
What followed was a series of four knockout victories in six successful bouts. Once again positioned to fight for a lightweight world title, Linares was now as determined as ever. Outclassing his opponent Javier Prieto, keeping him out of his range and fighting largely on his own terms, Linares found the knockout punch that won him his third consecutive weight world title.
A right straight caught the side of Prieto who collapsed onto his back, shielding his head as he lay on the canvas, counted out. Not the exceptional of opposition, Linares was awarded a bigger challenge in his first defence, a fight that would draw out old memories.
His opponent would be England's Kevin Mitchell. 'The Hammer' true to his nickname had used his fists to stop all of his recent opponents before they heard the final bell. Fighting away in front of a baying army of fans, and with Mitchell's recent form in mind, this was an opponent that would give a stern test to the mental and physical fortitude of Linares.
Linares seemed sharp from the outset landing combinations on Mitchell without taking many in return, but something seemed to have blunted his tools, beginning to lose sense of his range by the fourth round. In this round too the pair knocked their heads together, causing a cut on the scalp of Linares and swelling on the left eye of Mitchell.
The following round, Mitchell too sensing Linares was throwing with less accuracy, began to commit himself more to his attacks. His tactics paid off as he caught Linares with a left hook that sat him down to the cheers of an expectant crowd. Up at the count of eight, Mitchell shaded reflections of Thompson and De Marco smelling a finish, eyes fixed on Linares as he pounced.
But Linares, well seasoned and with a renewed strength of mind, was quick to recover and left Mitchell only able to take what felt like a conciliatory two point advance in that round after flooring his opponent.
Mitchell continued confidently, but by the latter rounds, the tide began to turn back in the favour of Linares, with every heavy blow landing on Mitchell's face increasing the weight of vaseline layered atop the bulge on his left eye. With the fight still relatively even, Mitchell began taking greater risks than he had been, stepping closer to Linares.
On cue, in the tenth round, a right straight moved Mitchell landing on his swelling, moving him back into the corner. With the roles switched, Linares exorcised his demons out onto the head of Mitchell, punishing them back with a ferocious combination of over a dozen punches.
Blood poured down the side of Mitchell's face, as the punches continued to land. Linares paused, hunching his body with Mitchell in his sights. His target was the bloody bulge on Mitchell's left eye. Creeping forward, he stalked Mitchell before moving into position to fire. A right straight landed with precision with Mitchell unaware, Linares displaying the right glove following the attack to let him know what had struck him.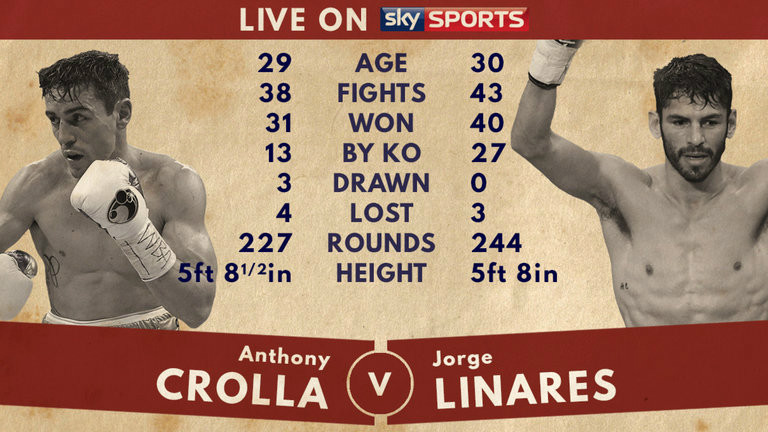 The shock, and the pain, forced Mitchell to the ropes curled tightly behind his defences as he awaited the next wave of attack. Still, he remained resolute, and with the proud roar of his supporters set upon Linares. The gritty display forced Linares on the defensive, but the grotesque disfigurement present on Mitchell was a constant supply of confidence for the Venezuelan who set his sights again.
On his feet and circling the ring, with Linares just outside of his reach, Mitchell was desperate to see out the final moments of the round. But Jorge Linares stepped into the breach of battle once more, tearing into the body before striking hard at the head, for the final time.
Mitchell, pushed to the absolute limits of the threshold of pain, took a knee. Countless hours of drilling and a deep pool of courage brought him to rise before the count, but a glance from the referee at his disfigurement brought an end to the bout.
Now having cemented his place as a three weight world titlist, Linares takes on Anthony Crolla at the Manchester Arena on the 17th of September, to compete for their respective belts as well as the highly coveted Ring Magazine Lightweight Title. But whilst these two will be fighting, there remains an interested figure in the division, as keen a spectator as the rest.
Read Part One – Here
Also featuring on the bill are John Ryder and Jack Arnfield as chief support, Isaac Lowe, Hosea Burton, Marcus Morrison, Conor Benn, Mark Jeffers, and Nathan Wheatley.
The show will be screened live on Sky Sports.
---
If you like what you read, subscribe to our newsletter by clicking the link in the menu at the top of the page. Also follow us on twitter @ITCBoxing. Feel free to comment below and join the conversation on our forums.