Des Rea made history when he became the first British Lt.Welter Champion by beating Vic. Andreatti 
It was sad to hear of the passing of Desmond Rea recently, he was 72-years-old. Des was a wonderful boxer and a gentleman. Born in Belfast, he grew in Liverpool and had 69 pro-fights between 1964-1974. He won the Irish title in his 10th fight and went on to face some stiff opposition, including John H. Stracey in 1972.
Des became the first British fighter to hold the recently introduced British light-welterweight belt in 1964 by defeating London's Vic Andretti for the vacant title, a man he went on to fight twice more, losing the Lonsdale belt to him a year later.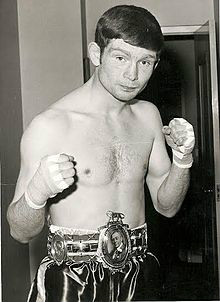 I first came across Des (left) in 1959 when I boxed for De Havilland ABC against a boy from the Maple Leaf ABC in Bootle called Johnny Murray who I believe was relation of Pat Dwyer. I think Des took part in a school boy contest. Also on the sow was Martin Ventre and Marty Dowd, and Johnny Cook worked the corner for some of the Maple Leaf boys. 
On the show that night was a member of the Ungi family who have been associated with the Golden Gloves ABC for years.
Years later I saw Des box World Class Welter Josef Stable of Cuba at the Old Stadium, Des put up a sterling performance only to be stopped on cuts.
That night, Johnny Cooke brought out a cameo performance to KO Canadas Peter Schmitt, who had previously given Ralph Dupas a tough bout. Another top class bout on the bill was Harry Edwards's (Smethwick) win over Swindon's Ricky Porter. 
In 1970, I was working for Simon Carves building the new Coke ovens at Shotton and Des was working in the office, whilst there and in-between bouts he trained Mold ABC with that well respected stalwart of Welsh boxing Mr Gerry Greaves. Gerry and Des hit it off at once and what a boon it was for Mold ABC to have Des around 
Yes, they were great days and happy times. It was a different era but what days they were. 
Oh yes, I beat Johnny Murray on points, later that night the late Harry Scott was on hand just prior to him boxing Lowe House's Ray Shiel on the big Maple Leaf show at the stadium, The Maple Leaf was one hell of a club.
Until next time, bye for now.
Yours 
Tommy Dix 
P.S Des turned pro with Nat Yess as his first manager and went in at short notice to force a draw with that other first class Liverpool boxer Brian McCaffery—no mean feat. I also believe at the Maple Leaf Show that night I met a schoolboy called Terry Wenton who went on to become a wonderful boxer and father of those two top class boxers Nigel and Richie Wenton. Richie created great history as Britain's first Super Bantam Champion and winner of a Lonsdale belt outright.
[sam id="1″ codes="true"]
The legend Tommy Dixs will be adding his regular take on boxing past and present with articles and video interviews exclusive to British Boxers.
[sam id="1″ codes="true"]