Sugar Ray Leonard knows a thing or five about winning world titles at different weights and going up against some of the most feared opposition in boxing history, he is an expert on the subject. Leonard (36-3-1, 25KOs) shared the ring with many great fighters including Roberto Duran, Thomas Hearns, and stepped up from welterweight to middleweight to defeat the uncompromising Marvin Hagler in one of the most memorable fights of all time.
So when the man speaks, boxing listens. Today British boxing listened intently when he answered the interviewers question on Sky Sports News HQ, "What does Kell Brook have to do to defeat Gennedy 'GGG' Golovkin?" in their eagerly-anticipated clash at the O2 on September 10.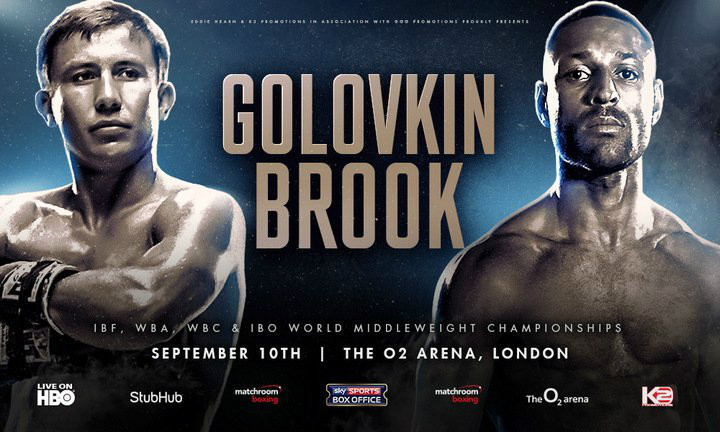 IBF welterweight world champion Kell Brook, 30, (36-0, 25KOs) is doing what Leonard did in April 1987 and stepping up to middleweight to take on the divisions unified No1 fighter and arguably boxings pound for pound king, Gennedy Golovkin, 34, (35-0, 32KOs)
The bookies make Brook a big underdog, just as they did when Leonard came out of retirement to take on Hagler, but Leonard believes this and many other factors could work in the Sheffield boxers favour and says he too can pull off a legendary win.
"The general consensus is that he does not have a chance, he can't win, but he has to believe in himself. For me, I fought at my best when I was the underdog. I was more focused and determined." said Leonard.
"For Brook, if he feels the same way, that is a plus. He also has to be in the best shape ever, capital E, to maintain the tempo and the pace of Golovkin. He has to be mobile, in and out, and try to confuse GGG.
"He has to do what he does best and be himself, but faster, quicker, smarter, more economical." advised the former five weight world champion.
[sam id="1″ codes="true"]
Asked if the step up in weight would be any issue for Brook, Leonard answered: "To maintain the weight was quite difficult, I was kind of a natural welterweight. My weight would not go beyond 155 so it was very difficult trying to maintain 160. I was trying to figure out what weight I should be. As the fight got closer, I weighed in at 158, which didn't take away from my speed and didn't take away from my mobility.
"Brook has to understand what weight is he most comfortable at, what weight won't take away his speed or his movement. I kept moving, I could not stand toe-to-toe with Marvin Hagler. The times I did, was just to release my combinations, and then get back out. I could not be a stationary target because it wears you down against a bigger guy, a heavier opponent.
"Golovkin has so much power. He has such a foundation when he delivers his body shots." continued Sugar Ray.
"I love his body shots, that is something that has been missing in boxing for so long. Throwing body shots, I slowed a lot of my opponents down. Tommy Hearns, (Roberto) Duran, what have you."
"That is what makes these fights so remarkable. Both guys believe they can win, at any cost."
Gennady Golovkin v Kell Brook, is live on Sky Sports Box Office from The O2, September 10.
[sam id="1″ codes="true"]
THE SUGAR RAY LEONARD STORY