As I get older and I hear of ex boxers passing on, my mind goes back to when I saw them box. I can still remember how they fought and I can relive what I saw. 
This week I heard Sheffield's Billy 'Cowboy' Calvert had passed away this month aged 82. His nom de ring was because he gave the impression of having bow legs!
Billy was a real competent pro who could give anyone a hard bout. On three occasions, he crossed gloves with world title holder Howard Winstone. He lost all three, the last one was a defence of Winstone's British title and was a great bout.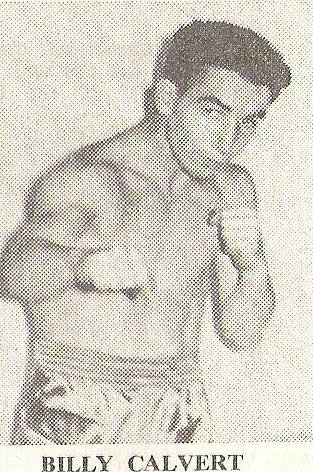 Winstone's first defeat was a KO by American Leroy Jeffery, it took place in Leeds. If my memory serves me right Billy Calvert boxed Jeffery after and lost a 10 round verdict. 
One bout of Billy Calvert's that sticks out in my memory is when in the sixties he topped the bill on the annual eve of the Grand National show at the old Liverpool Stadium. He was down to box Ireland's Freddy Gilroy. A couple of days prior Gilroy dropped out and the replacement was ex-Empire champ Roy Jacobs of Nigeria, another top class fighter. When it was announced that Billy had waved forfeit when Roy could not make the weight the whole crowd rose to give him a rousing ovation. 
What a ten rounder that was with Jacobs' elegant boxing and Calvert pushing forward. At the start of the 10th once again the whole stadium erupted in cheers. It was an epic contest that was won by Billy Calvert. 
Also on the bill that night in the joint top liner, Cork's Mick Leahy got the verdict over that top class American from Ohio, Cecil Shorts, who had defeated the ill-fated World champ Benny 'Kid' Paret on two occasions. That too was a great fight that was in contention until the end with Mick getting the verdict, though it could have gone either way. 
Yes, you only have to look at the opposition that Billy faced to realise what a quality boxer he was. Men like Chris Elliot from Leicester, Danny O'Brien, what a boxer he was, and drawing with Percy Lewis, the Empire champ who lost two narrow verdicts to Hogan 'Kid' Bassey and Floyd Robertson from Ghana who gave Sugar Ramos fits in a World title bout. 
Billy was a fighter, straight from from Fightersville!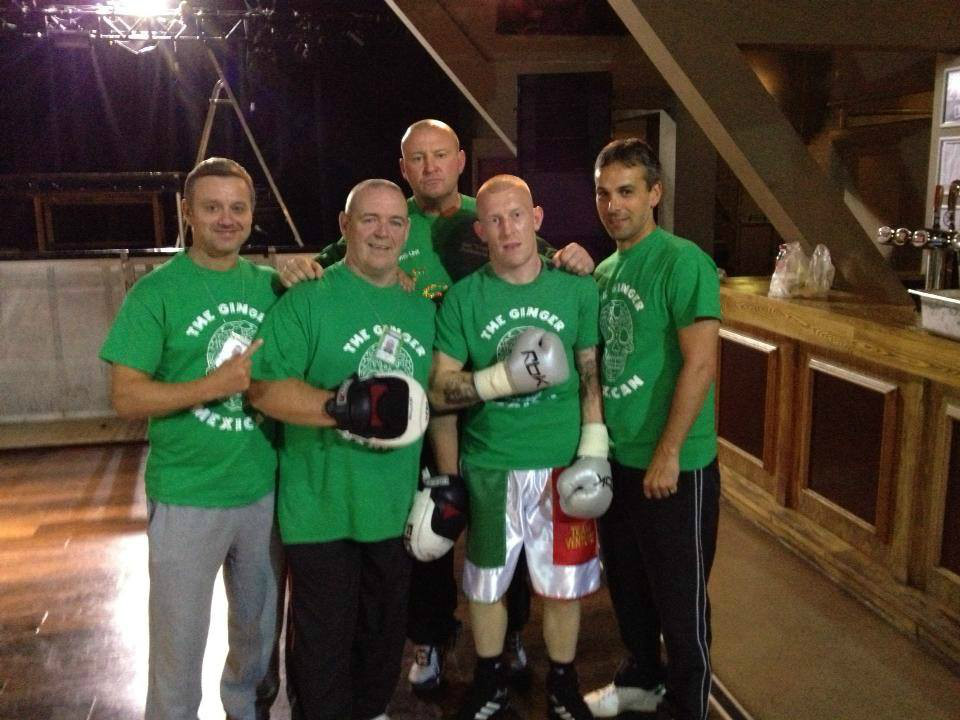 Sean Lewis with team Venture, Birkenhead 
I am very interested and intrigued in the VIP show at Wigan on Saturday 3rd September 2016. Why? Well, I am wondering if lightening will strike twice. – Fight Preview HERE
Last September a boxer trained at the Venture Gym, Birkenhead by Danny Kelly and Sean Trodden, stepped up from a 6 round support on a Matchroom bill at Liverpool's Olympia to take on Gary Buckland who was to challenge Scott Cardle for Scott's British title. Sean 'Masher' Dodd was the fighter.
[sam id="1″ codes="true"]
'Masher' won a wonderful contest and earned a shot at Scott. 'Masher', with a minute to go, was stopped after taking a shot and was off balance. The referee never bothered to count or even look into Sean's eyes to see if he was OK and could not jump in quick enough to stop the bout. He was in front according to all Sky's pundits. 
'Masher' received a draw in the return again when the majority of fans and pundits thought he won. Since then Sean has won a title and appears on the big Echo Arena bill in October. 
Birkenhead's Sean Lewis, once again trained by Danny Kelly and Sean Trodden, has stepped up to box Adam Ismail for the central area belt after being down to box a 6 round support on the show. 
I have been watching Sean working out and have been impressed to say the least. 
Just to think 'Masher' Dodd stepped up to the plate and not only scored an upset bout but proved that it was no fluke by proving his class in subsequent title fights. 
Now 12 months later his pal and gym mate Sean Lewis comes in to step up to the plate. I find this very interesting.
Thats it from me for today.
Until next time.
Goodluck, God bless.
Yours
Tommy Dixs
[sam id="1″ codes="true"]