Manchester's Alex Rutter put on a controlled impressive display of boxing to claim the vacant Central Area super-featherweight title when he outpointed Yorkshire's Brad Botham over 10 captivating rounds of action at the Victoria Warehouse in Old Trafford on Saturday night.
Topping the bill and going 10-rounds for the first time, Rutter took a well earned 97-94 points decision on referee John Latham's scorecard in hard fought toe to toe battle, a credit to the Central Area belt and it's council. Rutter barely took a backwards step and neither did his battle hardened opponent Botham, who had already challenged for the belt last year.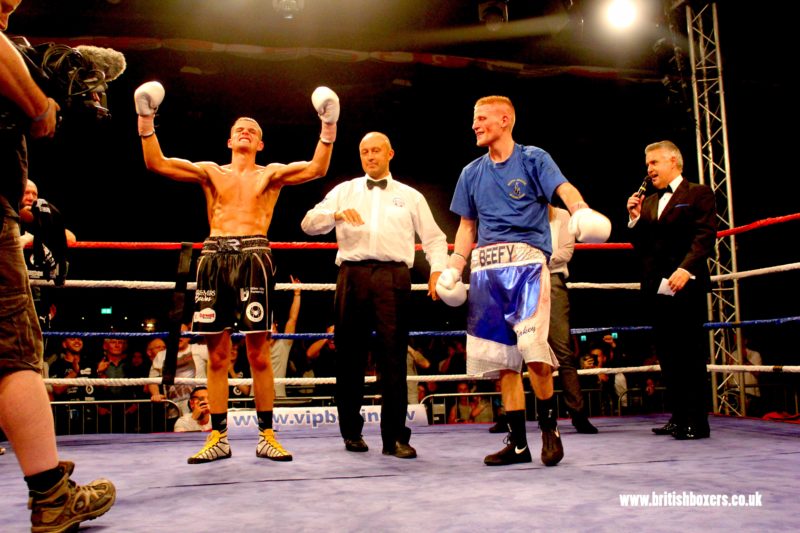 Rutter's defensive work was cute and he was able to stand in range, slip close range shots and counter with his own whipping punches. Rutter's work to the body was particularly impressive and the Middleton man put on an entertaining performance in-front of his home support in the biggest night of his 10 fight career.
"I really happy to win the win and lifting the Central Area Title in front of all my family and friends was the best moments of my career so far." Rutter told British Boxers.
"It was always my aim when I turned pro to win an area title and to see that vision come true is a real personal achievement and now I want to fight my way to an English and British titles and just keep progressing.
"I felt comfortable in there and felt I could mix it with him. I was probably guilty of fighting too much with him and not sticking to my jab and boxing skills which were winning me the fight. But everyone knows I like a scrap and when he wanted to fight inside with me I was happy to oblige him.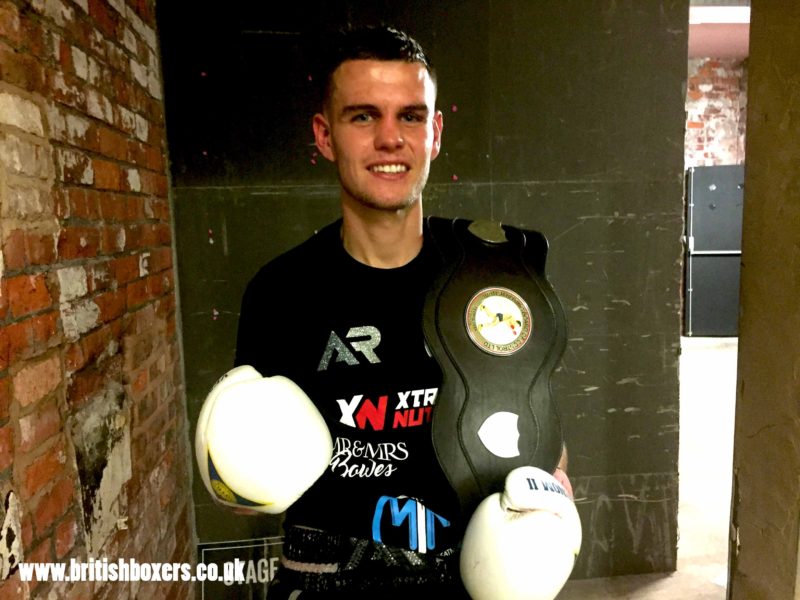 "It is all a learning curve and I will be better again for doing a full ten rounds for the first time in my career.
"I must give massive credit to Brad, he came into this fight at only ten days notice after my other opponent pulled out and he came to Manchester to win. He pushed me all the way and took some hard shots and kept coming. He is one tough lad, but I think my fitness, plus the inside fighting work and defensive training that Pat (Barrett) and Paulie (Da Silva) have been doing with me paid off.
"I'm fighting again in my home town Middleton on Bonfire night, November 5th and after this it can't come quick enough. I am going away on Wednesday for a week to Benidorm with my mates, then it's straight back in the gym and off we go again. I couldn't be in a better place at the moment in my career and it seems things are really starting to happen for me and I am confident of the future. But I will take it one step at a time and do whatever Pat and Paulie tell me to do." added Rutter.
Results from the Victoria Warehouse
Luke Evans

 

W

PTS

4/4

Kristian Laight

John Telford

 

W

PTS

4/4

Dean Gillen

Alex Rutter

 

W

PTS

10/10

Brad Botham

Lee Carter

 

L

PTS

4/4

Radek Varak

Zelfa Barrett

 

W

TCO

4/6

Reynaldo Mora

Adam Machaj

 

W

TCO

1/6

Lukas Horak

Jake Bulger

 

W

PTS

4/4

Ibrar Riyaz

Chris Monaghan

 

W

PTS

4/4

Robert Studzinski

Ben Sheedy

 

W

PTS

4/4

Dan Blackwell

Lee Oldham

 

W

PTS

4/4

Danny Little

James Farrell

 

W

PTS

4/4

Dmitrij Kalinovskij

Arthif Daniel

 

W

PTS

4/4

Matthew Ashmole

Adam Evans

 

W

PTS

6/6

Matt Seawright