There is going to be plenty of 'Fireworks' and big bangs when pro boxing heads back to the Middleton Arena in Manchester on November 5th, when Black Flash Promotions present a night of fistic bonfire night action, with some local star performers gracing the canvas.
In the main event Matthew Ryan and Darryl Sharp two local lads who live a stones throw from the arena and grew up together in the same street with the same set of friends, clash for local bragging rights and put their friendship to one side for the night. This match-up has split mutual friends opinions and has all the makings of a classic scrap with the winner going on to challenge for the Central Area title.
Making his Middleton Arena return will be the popular Prestwich banger Sean Ben Mulligan, who returns to the place of his first four fights and where he made his pro debut in January 2015. In his last fight, Mulligan appeared on the undercard of Anthony Crolla's world title win against Ismael Barroso in May this year.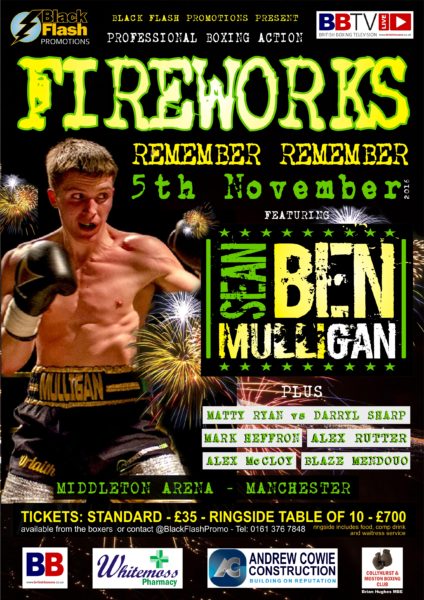 After getting over a recent illness, having his wisdom teeth pulled out and having to deal with the recent deaths of his uncle and good friend, Mulligan is ready to get back in the ring with a new added focus and determination to accelerate his career to bigger heights.
Mark Heffron is regarded as one of the most exciting and hard hitting super-middleweight prospects coming through the ranks. In his 11 unbeaten fights, he has knocked-out 9, with 8 of those coming in the first round. Heffron carries such dynamite in his fists, it will not be long before he has blasted his way to a domestic title shot.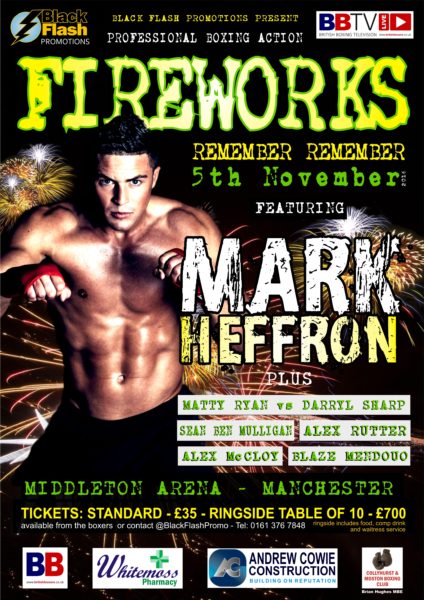 Still only 24-years old, Heffron who is ranked 11th in the British 12 stone division, surprisingly turned professional in 2010 at just 18, but his career has been stop start and he has failed to build up any momentum after a solid start. But age is on his side and under new trainer and promoter Pat Barrett, he has been given the chance to resurrect his promising career and make a serious move up the rankings starting on Nov 5th. Heffron will also be back in action on December 10th in Bury.
Bill updates and interviews to follow.
Tickets are available from the boxers or by contacting @BlackFlashPromo
[sam id="1″ codes="true"]