Former WBA world super-featherweight champion Scott Quigg (31-1, 2, 23 KOs) is fast on the comeback trail after his loss to two weight world champion Carl Frampton in February. The Bury fighter suffered a broken jaw in the contest with Belfast's 'Jackal' an injury which has kept him out of the ring since. But after recently getting the all clear to start sparring, he is ready for a second assault on a world title.
Quigg, 27, has a busy schedule ahead in the rehabilitation of his career and his desire to reign at the top of the world once again and such is the determination and application of the fighter, there should be no denying him. This week he announced he would be attending a boxing show in Newcastle at St. James' Park football ground. The event is a Black-Flash and Steve Wraith joint promotion and Scott is making a star appearance in support of his friend and former trainer Pat Barrett, the Black-Flash promoter.
"It's great what Pat and Black Flash Promotions are doing not only in Manchester but now expanding up and down the country to help get young talent developed." Quigg told www.britishboxers.co.uk.
"I'm glad to be supporting these small hall shows which in my opinion are the bread and butter of boxing these are the shows where as a fighter the foundations can be built and gain experience at the right speed for that individual fighter before being let off the leash not to early but at the right time into becoming champions.
"This is how I was developed at the start of my pro career on Pats shows then along with Wally Dixon and learnt my trade and the fundamentals before stepping up onto the televised platform and fighting for titles and when I did I was ready.
"It's great to see the young prospects coming through under the radar because there learning the trade no pressure on them and they keep that hunger because they want to be on the big sky shows or box nation. For example Zelfa Barrett a very good friend of mine someone who is going to have a massive future who started of under the radar on blackflash promotions shows now is on the big stage box nation and is talked about as one of the most exciting talents in the country."
The show is on Sunday September 25th and will feature some of the hottest rising boxing talent in the Northeast. – More Details on the show here:
[sam id="1″ codes="true"]
"Having Scott come up to Newcastle is great and we appreciate his support, he is a boxing man so he will look forward to seeing the boxers perform too. Scott is a big name in boxing and in Newcastle they love him. Every-time I'm there, people are always asking me about him and I know everyone will be happy to have him at the show." said Pat Barrett.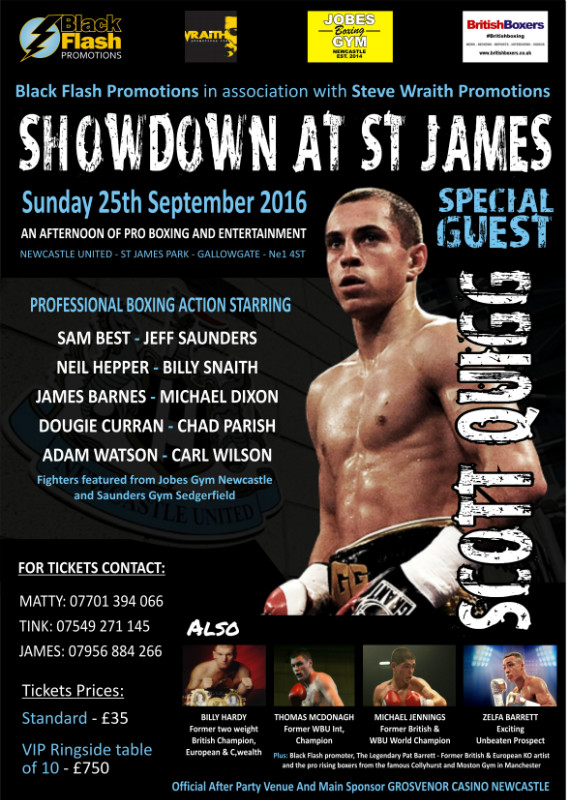 "I know Scott will go on to win a world title again, absolutely no doubt, he is a boxer wounded and he will come back better than ever. After he has won a world title again, I can see him moving up to featherweight eventually to face Frampton in a rematch. The fight would be massive again if both remain unbeaten and Scott's route back to the top is as successful as I believe it will be.
"I know next time he will beat Frampton, because he would have learnt so much from the last fight and his determination to wipe the slate clean will drive him to heights he hasn't reached yet.
"As well as Scott, I'm also pleased to say my my partner at the gym and former champion Thomas McDonagh is also a special guest in Newcastle and another friend Michael Jennings the former WBU world champion is coming with us. These are two lads I also used to train and their support for Black Flash promotions is appreciated. As well as that all the current boxers from the gym will be coming up with us too.
"We are also happy to announce that Northeast boxing legend Billy Hardy, the former two weight British champion, European and Commonwealth title holder will be joining us, at what promises to be a great Sunday afternoon's boxing at the home of Newcastle United with some great prospects I'm looking forward to seeing." added Barrett.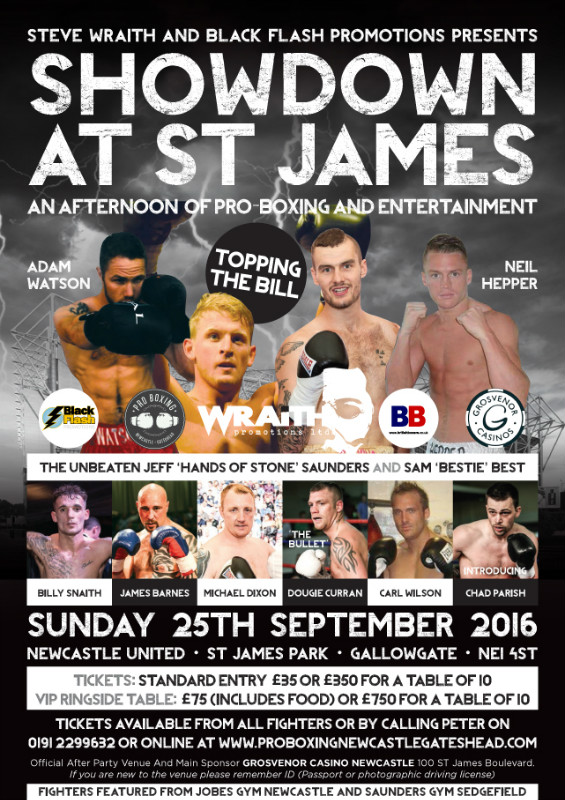 Quigg who this week hinted at a return to action in November, spoke about a potential fight against new WBA World super bantamweight champion Nehomar Cermeno (24-5-1, 14 KOs) who now holds his old World Boxing Association 122lb belt. Cermeno claimed the vacant title last June after stopping Jun Qiu Ziao in the last round, and Cermeno has stated his interested in facing Quigg after he has made the first defence of his title against Anurak Thisa (17-0, 5 KOs) on 30th September.
"I was supposed to fight him once before and it never materialized, I think due to visa problems at the time. It's a world title fight, so I would snap their hand off for it," said Quigg when asked about the potential matchup with Cermeno recently.
As for as moving up in weight which Barrett believes he will eventually do, Quigg didn't rule out the possibility, although he has plenty of options to consider as he plots his return.
"Coming off a loss, you would think the options would dry up, but I've got some big fights at featherweight that we have been offered and we're looking at, and also there is a world title fight at super-bantamweight." Quigg added.
"There are plenty of options, but it's just about making the right decision, whether to move up or to stay at super-bantam."
Quigg's return to the ring is welcome news to British boxing fans and the sport will be a better place for it when he finally steps through the ropes again. But before then if you want to see him, then get yourselves over to Newcastle on September 25th to what is expected to be a great day for Newcastle boxing..
Follow Scott Quigg on Twitter: @scottquigg
@britishboxers on Twitter
Related:
[sam id="1″ codes="true"]