EGGINGTON: I'LL PUNISH GAVIN FOR PERSONAL JIBES
 Sam has 'Savage' plans for Frankie ahead of Birmingham showdown
Sam Eggington has vowed to punish Frankie Gavin for the personal comments he made and KO him when they meet for the WBC International Welterweight title at the Barclaycard Arena in Birmingham on Saturday night, live on Sky Sports.
The pair were set to meet last year for Eggington's belts but Gavin pulled out with a foot injury. Eggington saw off late replacement Dale Evans before Gavin's old foe Bradley Skeete took the titles here in March.
Eggington and Gavin finally meet in a crucial clash for the vacant WBC International title, with the winner opening the door to major title shots in 2017, and for the Stourbridge man, there's a personal edge to the fight – even more so after Eggington branded Gavin 'unprofessional' after he failed to make the weight for the contest, meaning only Eggington can claim the strap tomorrow night.
[sam id="1″ codes="true"]
The pair boxed on the same bill in Leeds in July and in a post-fight interview, Gavin appeared to call his hometown rival 'dumb'. 'Funtime' said that he was referring to Eggington's ring-IQ, but Eggington is having none of it and says he'll make Gavin eat his words tomorrow.
"A few people called me up to say that Frankie had been having a dig at me," said Eggington. "He normally does that about the way I box but to get personal is out of order. If he wants to go down that route, fine, that's just spurred me on to beat him even more.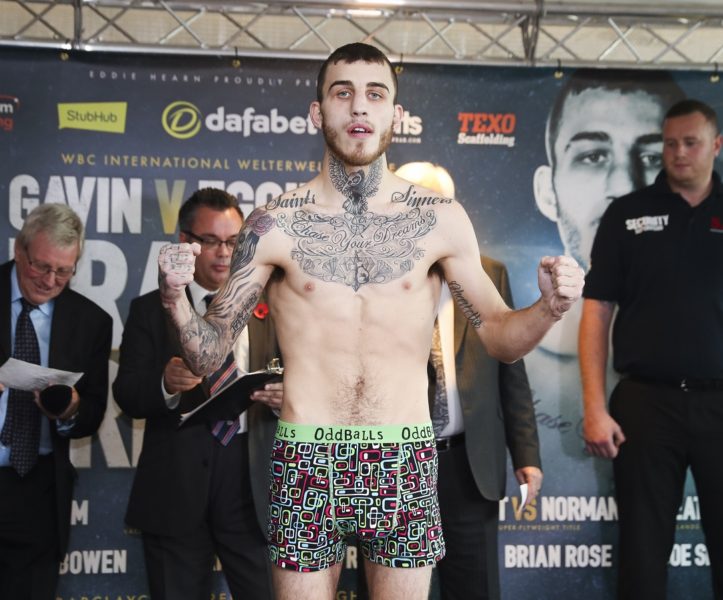 "I could mention him losing to Kell Brook or Leonard Bundu, it doesn't matter, it's in the past. If he's taking confidence from my fight with Skeete, leave him to it. At the start of my career I was a bit gung-ho and raw, and I think that I lost a bit of that by trying to be a perfect boxer but I'm never going to be that, so I've brought that back now and I'm going through the gears now and i feel that it's going to bring the best out of me.
"Something has got to give and it's going to be him. I know it's a hard fight but I am going to do a job on him, I'll do anything it takes to win this, bragging rights is the best name for the fight because I'd have boxed him  for no belt, I just want to beat him. 
"I have more power than him. Frankie couldn't punch through a wet paper bag, he's on about KO ratios but it's who you are knocking out, people who are coming for a payday or people that are coming to win titles. The power will tell."
Gavin and Eggington clash on a huge night of action in Birmingham with the chief-support provided by Olympic bronze medal star Anthony Ogogo and Birmingham man Craig Cunningham meet for the vacant WBC International Middleweight title.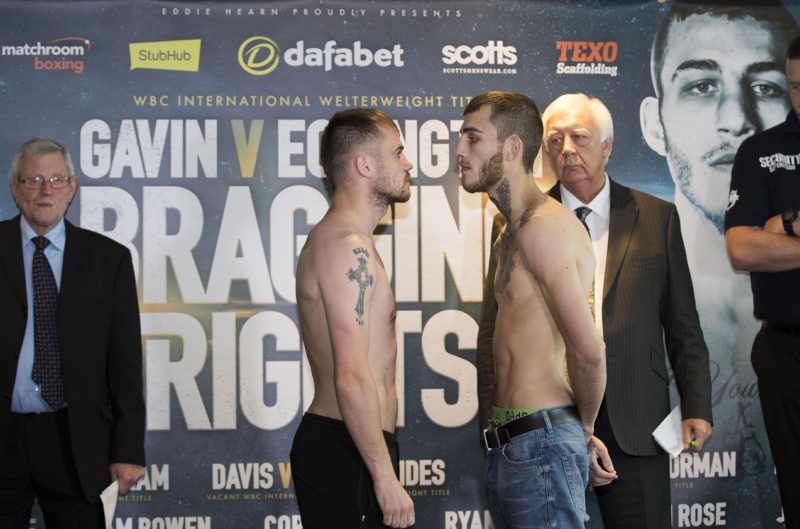 A host of Birmingham boxers are in title action as Sean Davis faces Paul Economides for the vacant WBC International Super-Bantamweight title, Marcus Ffrench and Robbie Barrett meet for the vacant English Super-Flyweight title, Don Broadhurst and Louis Norman fight for the vacant English Super-Flyweight title and the vacant Midlands Area Super-Lightweight crown is up for grabs between Jordan Cooke and Andy Keates. 
World-rated Super-Flyweight Kal Yafai looks for vital rounds, former World title challenger Brian Rose is in action alongside Cori Gibbs, Sam Bowen, Ryan Kelly, Joe Sherriff and Lennox Clarke.
Tickets are on general sale priced at £40, £60 and £100 and are available from http://www.barclaycardarena.co.uk/whats-on/matchroom-boxing. VIP tickets priced at £150 are exclusively available from www.matchroomboxing.com
Face value tickets for October 22 are also be available from http://www.stubhub.co.uk/matchroom-boxing-tickets/ . StubHub is the official ticket partner and marketplace of Matchroom Boxing and Anthony Joshua.
[sam id="1″ codes="true"]
WEIGHTS AND RUNNING ORDER (TIMES SUBJECT TO CHANGE)
5.05pm                 4 x 3 mins Super-Lightweight Contest 
CORRI GIBBS (10st 1lb 11oz)        v              MICHAEL MOONEY (10st 11oz)            
(Birmingham)                                                    (Worcester)
5.20pm                 8 x 3 mins Super-Welterweight Contest 
BRIAN ROSE (11st 5lbs 6oz)          v              STILIYAN KOSTOV (11st 3lbs)
(Blackpool)                                                         (Bulgaria)
5.50pm                 6 x 3 mins Super-Middleweight Contest 
JOE SHERIFF (12st 4lbs 14oz)       v              TZVETOZAR ILIEV (12st 4lbs 5oz)
(Coventry)                                                          (Bulgaria)
6.15pm                 4 x 3 mins Middleweight Contest 
RYAN KELLY (11st 9lbs 11oz)        v              TOMMY CARTER (11st 6lbs 6oz)
(Birmingham)                                                    (Tideswell)
6.30pm                 10 x 3 mins Vacant English Super-Flyweight Championship 
DON BROADHURST (8st 2lbs 11oz) v        LOUIS NORMAN (8st 1lb 12oz)                    
(Birmingham)                                                    (Leicester)
7.15pm                 6 x 3 mins Super-Featherweight Contest 
SAM BOWEN (9st 6lbs)                  v              REYNALDO MORA (9st 9lbs 8oz)
(Ibstock)                                                              (Nicaragua)
LIVE ON SKY SPORTS 2 FROM 8pm 
                                10 x 3 mins Vacant WBC International Super-Bantamweight Championship 
SEAN DAVIS (8st 9lbs)                    v              PAUL ECONOMIDES (8st 9lbs 11oz)          
(Birmingham)                                                    (Connah's Quay)
Followed by
                                8 x 3 mins Super-Flyweight Contest                
KAL YAFAI (8st 5lbs)                        v              JHONSON TELLEZ (8st 10lbs 10oz)    
(Birmingham)                                                    (Nicaragua)
Followed by
                                10 x 3 mins Vacant WBC International Middleweight Championship 
ANTHONY OGOGO (11st 5lbs 3oz) v       CRAIG CUNNINGHAM (11st 5lbs 8oz)           
(Lowestoft)                                                      (Birmingham)
Followed by
                                12 x 3 mins Vacant WBC International Welterweight Championship 
FRANKIE GAVIN (10st 9lbs 11oz) v            SAM EGGINGTON (10st 6lbs 5oz)
(Birmingham)                                                    (Stourbridge)
LIVE FLOAT         6 x 3 mins Super Middleweight Contest 
LENNOX CLARKE (12st 12oz)        v              ADAM JONES (11st 13lbs 10oz)
(Birmingham)                                                   (Denaby)
TO BE SCHEDULED 10 x 3 mins Midlands Area Super-Lightweight Championship 
ANDY KEATES (9st 13lbs)               v              JORDAN COOKE (9st 13lbs 12oz)
(Leek)                                                                   (Coventry)
10 x 3 mins Vacant English Lightweight Championship 
MARCUS FFRENCH (9st 8lbs 11oz) v         ROBBIE BARRETT (9st 8lbs)             
(Birmingham)                                                    (Darfield)
[sam id="1″ codes="true"]