I've always drawn parallels between the life of a championship calibre boxer and that of a mountaineer who spends his time attempting to scale the world's most difficult peaks.
Although the preparation is arduous and takes years and the climb itself is agonising, I've always felt that the biggest price is paid by those who manage to make it to within touching distance of achieving their lifelong dream – those who can actually see the goal right there in front of them – before being forced to turn back and make the long, slow journey back down the mountain.
It takes unimaginable determination to begin the whole process again in the belief that next time, things will be different. It hasn't been easy this time, but Martin Murray (33-4-1, 16KO's) once again finds himself preparing for an assault on the summit of the sport.
Despite his protestations that he initially found it difficult to steel himself for what he knows will be a fifth and final push for a world title, Murray  – maybe subconsciously trying to persuade himself – rattles off reason after reason for him to enter his November 12th rematch with Arthur Abraham with as much motivation as ever.
"I'll be honest with you. Recently, I've struggled with my motivation. I really found it hard to get back into camp the first few weeks this time," the 34 year old told British Boxers. "My motivation has never been so low. I had to force myself to go to training. Eventually, I turned a corner with how I'm feeling and the way I'm training a couple of days ago.
[sam id="1″ codes="true"]
"Physically I'm alright. I feel things but I'm experienced and I know how to get through things. Four weeks before the George Groves fight I peaked. Oliver [Harrison his trainer] is always telling me to slow down but my problem is that I over train. I've put too much into every session for far too long.
"I've learned to just take a minute and give myself a little bit more time. I'd rather go in with no training than being over trained because I felt absolutely dreadful when I fought George Groves."
There used to be a certain stipulation in wrestling that would see certain fights labelled as 'Loser Leaves Town' bouts. Abraham – Murray 2 certainly has that feel.
"You're right when you say it's a loser leaves town kind of match. I really don't know where my motivation would be – or if I would have any left – if I lost this fight. I know I'm not a spent fighter. I just know I've got more left to give and so much more left to prove…….."
Murray's voice trails off.
Watching the fight between Murray and Groves [which Groves won by unanimous decision in June] was a frustrating experience. Having spent months speaking to Murray about his most likely route to victory against 'The Saint' , he seemed to do the total opposite. What made his performance that night even more puzzling was that he has always been a stickler for carrying out a pre-fight gameplan to the T. As we'll hear later, even when that gameplan doesn't seem to be providing the results he had initially hoped for, Murray pins his trust in the tactics provided by his trainer and friend, Oliver Harrison. The frustration viewers felt watching Murray that night was nothing compared to the discomfort the man himself felt.
"I've been in a fight with Groves which is a fight I've got regrets about. I wasn't 100% fighting. It went completely against the game plan we'd set and that was my fault. It had nothing to do with Groves. It was me. I finished a [second] course of antibiotics the Wednesday before the fight but I still took it. I didn't do anything. I fought Sergey Khomitsky for the second time when I was ill and that and Groves are my two worst professional performances.
"I felt so weak and frail. There was nothing I could do. The idea with Groves was to get in there and make him work early and take over in the second half of the fight. Because I was that weak, I was an empty shell. I was really feeling everything. I knew I had to be careful or else I might end up getting knocked out with feeling that weak. I had nothing in me."
After his previous high profile defeats, Murray was forced to return to base camp and plod through eight rounders while waiting for his next opportunity. This time, he is returning at high elevation. Despite the razor thin nature of his defeat to Sergio Martinez in Buenos Aires and the draw he recorded with Felix Sturm in his first world title bid, the rematch with Abraham is the first time Murray will have the chance to combine Harrison's tactical nous with his own in-ring experience and have another crack at one of the sports big names.
Although Murray remains convinced that he did enough to beat Abraham in Hannover, don't expect to see him stage a repeat performance in Monaco as he bids to overturn the split decision loss he suffered last November. He should be able to rely on being given a fair shake by the judges in the Principality, but the frustration he evidently still feels when he remembers the first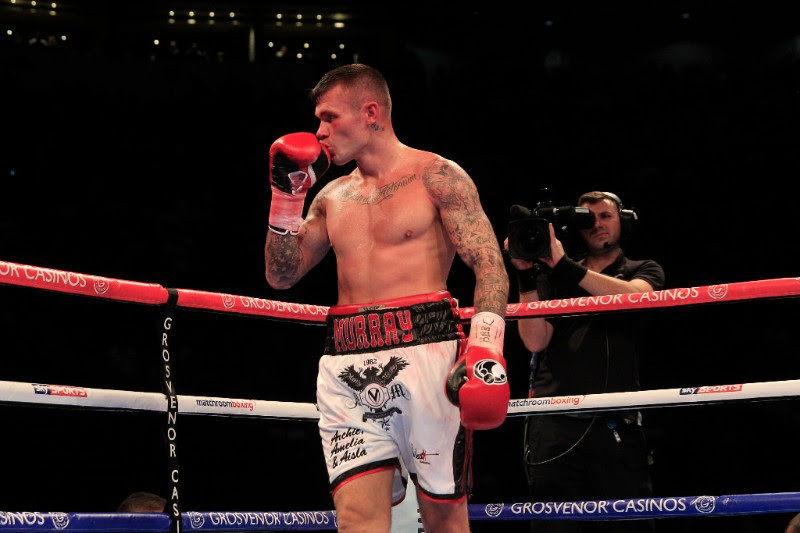 fight is driving him to produce something different next time around.
"Obviously it's not for a world title this time – it's an eliminator – but it's unfinished business. I thought I won the fight first time but I do look back at the fight and regret certain things about it.
"I definitely have to change things. I have issues with myself with the first fight. I thought I won but I thought some of the tactics, and I boxed completely to orders that night, but I had a couple of issues with the tactics. Oliver's take was that I had to stay as safe as possible because he felt I was so far in front that if I took a shot and he wobbled me, they'd jump in and stop the fight. That didn't lie well with me.
"When I fought Sturm, when I fought Martinez, when I fought Gennady Glolovkin and even when I fought Groves, although I was on my arse, I left everything in there. With Abraham I didn't feel that. I didn't feel like I'd left everything in there. Obviously, I've got issues with myself and there are things I want to change. There was too much holding. I didn't want to hold but that was part of the tactics so I did it. There are things I'm going to change. I've just got to put it properly straight."
There may not be a world title on the line this time, but beating Abraham would still be the biggest victory of Murray's career. Winning a world title has taken on a more personal significance since the days when he was competing with the likes of Sturm and Martinez. Then, boxing was mainly a business. Murray enters the final phase of his career with the respect of the entire boxing world but when speaking to him, the motivation he has been searching for finally becomes clear. He wants to leave the sport with more than back slaps and well wishes.
"It is still a big win and I don't think my career has ever had that. My career has been bittersweet and my greatest moments have been when I've been beaten. It isn't right. It doesn't sit right with me. I've still got loads more I want to do and achieve and I'm looking at things in a positive way and want to put things straight."
[sam id="1″ codes="true"]