WATCH FULL SHOW FIGHT VIDEO ABOVE >
In the mid fifties an American singer and heart throb Johnny Ray had a hell of a following, one of his greatest hits was 'Oh what a night'. – On November 5th I had such a night that reminded me of those misty 50's nights when great nights were had at Manchester's Free Trade Hall and Liverpool Stadium. In those days the visiting boxers received an ovation when introduced into the ring and knowledgable fans were 100% sportsmen and women at such events.
November 5th 2016 was like one of those unforgettable 50's nights when sportsmanship and impeccable behaviour was the order. However the venue was not at Manchester's Free Trade Hall or Liverpool Stadium but at Middleton Arena in Manchester at a 'Black Flash Promotions' event. 
Over the years I have been to many great shows however this show I am sure will keep in everyone's memory who attended. The atmosphere was 110% and the fans, true sportsfans, and how the boxers responded. 
First on was young up and coming prospect, Blackpool's Alex McCloy and Stourbridge's Kevin McCauley. 
Alex won by a score of 40 – 36 after 4 rounds. Yes, young Alex has a future and is a lovely mover with a smashing jab, nice combinations off the jab, and he carries a good right cross. However, in Kevin McCauley he was facing one tough old ringwise veteran who had given many a young prospect a hard bout. 
pic: Jane Warburton
For all young McCloy's class, Kevin made him work for every point and was only too willing to join in fierce two handed exchanges. Though the score line was correct I am sure that young McCloy will know that 4 hard rounds' learning bout will be chapters in a book when he steps up in class, a great learning fight for him. 
In the Lt Heavy contest, though it only lasted a round, was an eye opener. Lyndon 'King' Arthur of Manchester stopped Lincoln's Mitch Mitchell at 2 min 35 seconds of the opening round. Lyndon came out moving smoothly and throwing every punch with intent. His fast left jab and hooks to the body were sent with venom. The experienced Mitchell showed good evasive tactics and fired back when able to.
Both boys were in top physical shape. Just before the 2 minute mark Lyndon trapped Mitch in his corner and a flurry of punches culminating with a left to the body, forced an 8 count. On rising, Mitch was met by Lyndon in full flow and hardly a shot missed and a lovely right cross dropped Mitch.
pics: Aneel Ahmad
Though he beat the count, the referee did the right thing and stopped the bout. Not many stop Mitch Mitchell whose record is like a who's who of British boxing and is always in top class shape. 
I was very impressed with Lyndon 'King' Arthur, his balance and poise with precise punching remind me so much of a wonderful light heavy of yesteryear Eddie 'Bossman' Jones. 
Next on was Oldham's Mark Heffron against Hungary Attila Tibor Nagy. Though Heffron forced a stoppage, he met stern resistance from the Hungarian who was not afraid to exchange hard, hurtful shots. These super middles didn't bother with feeling each other out, they went straight into battle. I was very impressed with Mark Heffron's jab and powerful hooks to head and body.
pics: Aneel Ahmad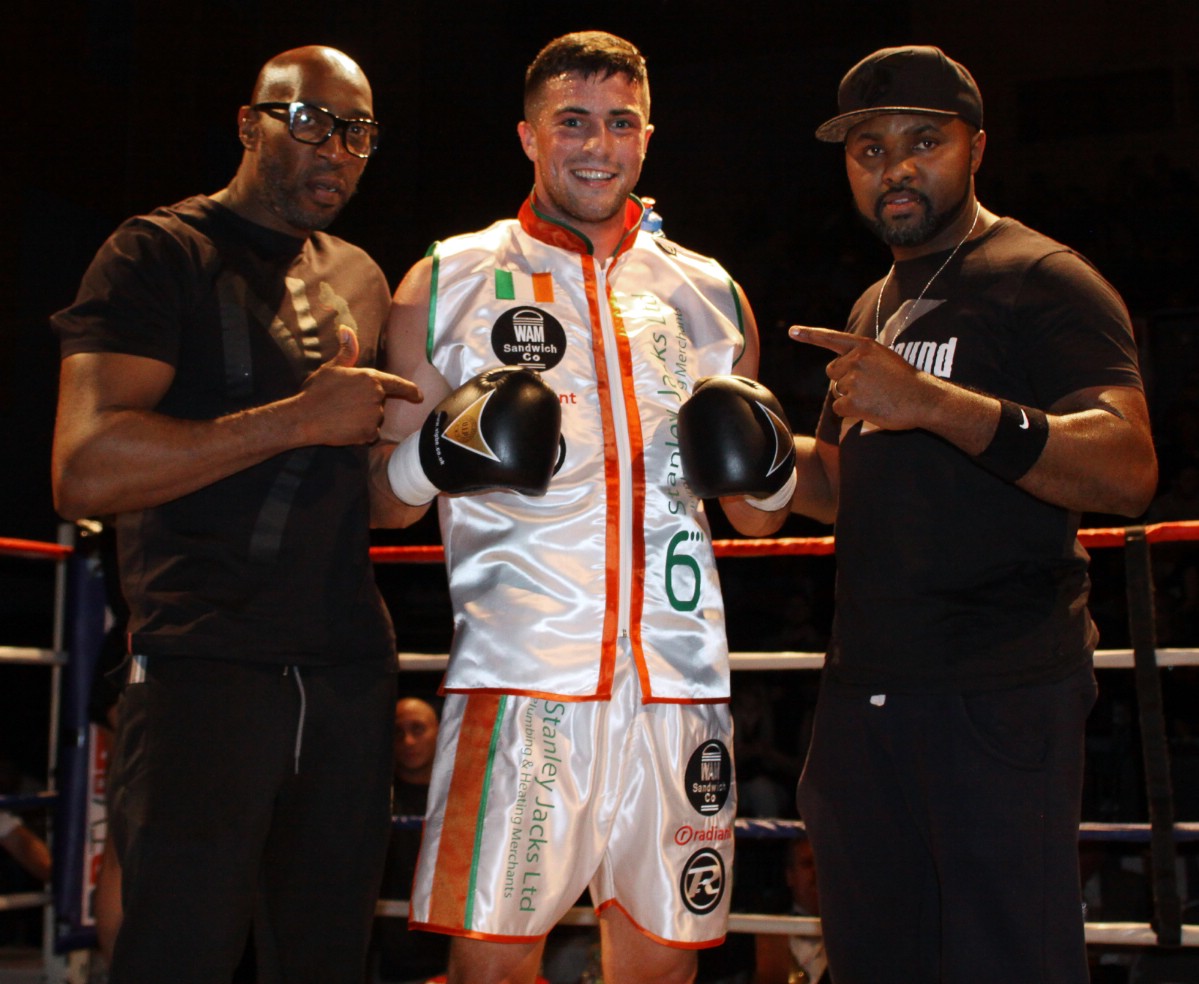 pics: Jane Warburton pics: Aneel Ahmad
Nagy was no slouch in defending himself and fought back hard and was by no means found wanting in any way. However, it was Mark Heffron whose power prevailed and after two visits to the canvas the referee stopped the contest in round two to save a worthy opponent from unnecessary punishment.
I feel sure that Heffron can go a long way in boxing and definitely has the power, what's more he could not be with a better team or learning gym. 
pics: Aneel Ahmad
The main event was a real local derby with two Middleton boys from nearby streets meeting over 8 x 3's. What a bout these two super welters put up. Matthew Ryan got the verdict over Darryl Sharp by 80 – 74 however, though the scoring was correct it does not reflect the contribution that Sharp put in.
Ryan used his elegant hard left jab to good effect, his combinations off the jab were sharp but he was in with a foe who fought as if his life depended on the outcome and met him head on and used his southpaw jab and left cross to good effect. I gave up doing my notes after the first round, I just wrote 'One hell of a round'. 
Halfway through the fight I wrote 'What a cracking bout, tremendous local derby', and what a bout it was with Matthew's elegant boxing skills and Darryl's aggression, they gelled perfectly. Ryan on more than one occasion in almost every round was happy to engage in a fierce exchange and both scored with massive hooks to the body as they fought the full duration of every exhaustible session. 
To be honest it was a breathtaking bout that will stay in my memory.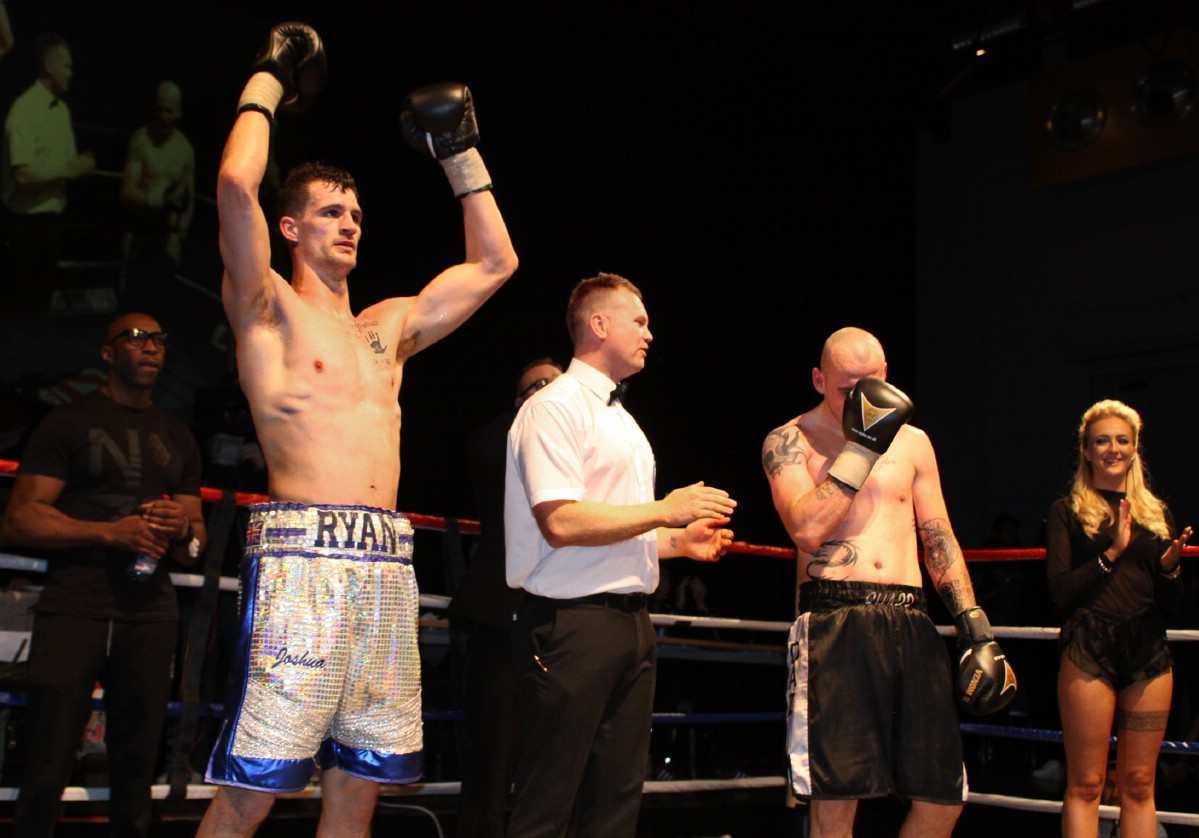 pics: Jane Warburton
The crowd roared their boxers on and how Mark and Darryl responded in a great sporting contest that was a credit to all the gyms and trainers to get their charges in such shape and quality form and for the boys, their 100% commitment. Though the score of 80 – 74 was correct, Darryl fought one hell of a fight. This one will stay in my memory and a fitting finale to a wonderful night, where the Manchester people shone as sportsmen and women par excellence.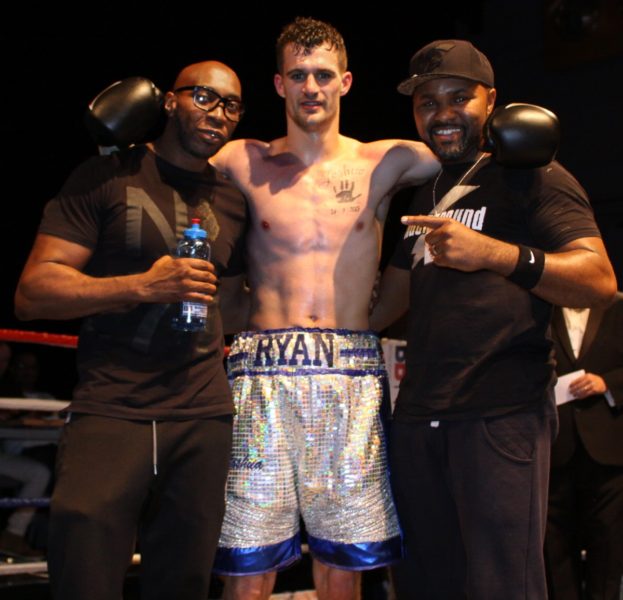 It was wonderful to see my old friend Pat 'Black Flash' Barrett and Chris Maylette and that young champion in waiting in Zelfa 'Brown Flash' Barrett. 
However one sobering thought that I was sorry to hear was that young Sean Ben Mulligan could not box. I have watched this young man train and box on a show, I feel he has the tools to go a long way in the game. As with the other boys in the Collyhurst Gym, his manners and outlook in life is spot on, he is a credit to his family, the sport and the Collyhurst Gym. 
Looking back on a great night I cannot thank Pat and Chris and all involved in the show enough for putting on such a show and the fans responded in such a wonderful way, not a boo all night. 
That show laid a red rose on my father's grave. It was so nice to meet that wonderful, talented boxer Thomas McDonagh. I said to him 'Thomas, who'd have thought this when we first met up?' 
In the next week or two I'll be visiting Birkenhead's Venture ABC and the Collyhurst and Mostin ABC as I am interested in these clubs that are turning out such talented boxers.
Good luck, God Bless
Tommy Dix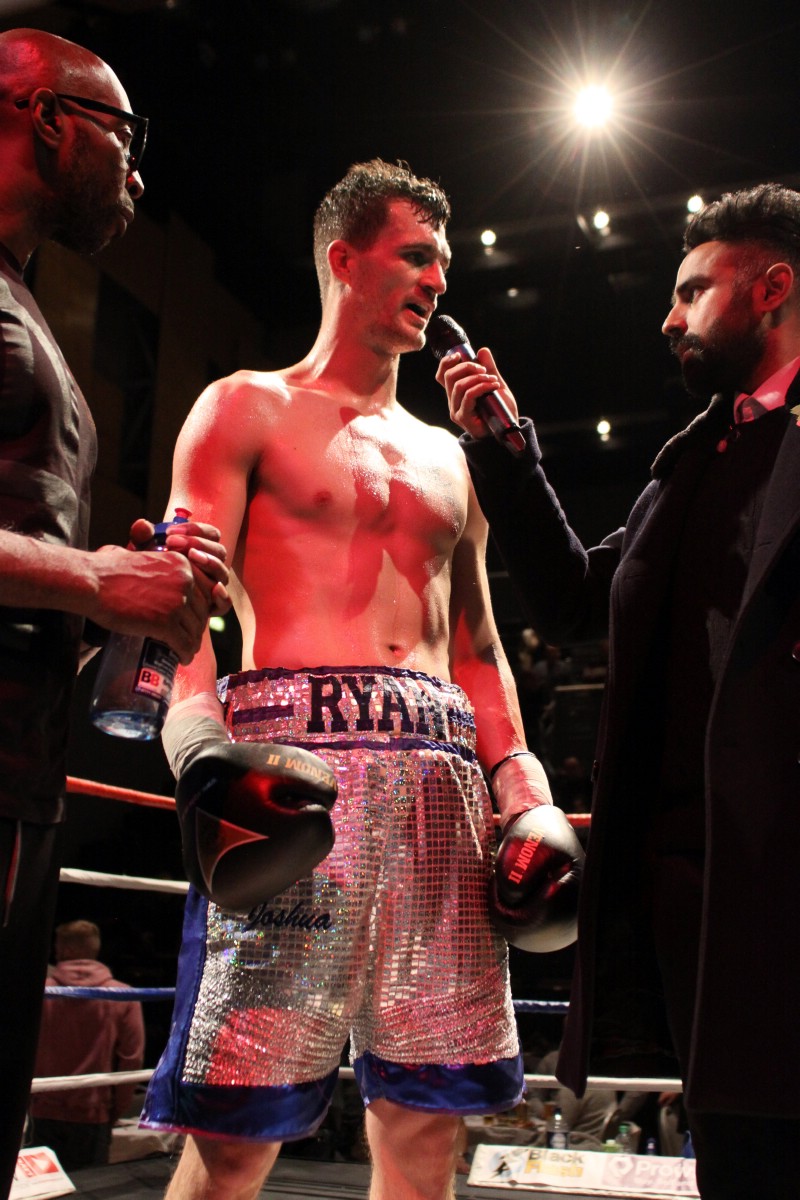 pics by: Jane Warburton and Aneel Ahmad
[sam id="1″ codes="true"]