Just when at 77 years young people start looking at the past I am as excited by the sport as I was when I was a young boy when I first donned a pair of gloves.
Ok so the game has altered. However being around the game as I am, being vice chairman of Birkenhead's Venture club and visiting Collyhurst and Moston Gym and attending Pat Barrett's Black Flash Promotions, I am always with younger people. 
This past week was no exception. The Venture Club's lady boxer Caitlin Lane Smith won the NABG Club's championship and Ben Burnham scored a 3rd round KO against a Dublin Select. Both these bouts took place on Friday 9th December 2016. Many people are expecting Ben to do well in his quest for this season's ABA title. 
Caitlin is an exceptional talent and more than one respected and knowledgeable ex boxer – Danny 'Boy' Peters among them – has spoken to me of Caitlin's talents. The way in which the Venture coaches led by Sean Trodden are bringing the boxers through is a credit to them and it was a joy on Wednesday night to see it all for myself at the club. 
However, I was soon back in harness for the Saturday night show at the Black Flash Promotion at Newcastle Racecourse and what a venue it is and how the show lived up to it's lavish venue was super. 
The bill had something for all tastes. First up was that brilliant prospect from Liverpool Marcel Braithwaite who received a 39 – 38 verdict over the experienced Craig Derbyshire over four enthralling rounds. 
[sam id="1″ codes="true"]
Marcel showed wonderful defensive qualities and snappy combinations off his jab. Craig more than played his part with his tenacity and was not found short in trying to mix it up.This was a great learning bout for Marcel and he'll realise when a talented boy like himself puts his reputation on the line the bout becomes a title bout for his opponent. 
I was very interested in the Lyndon 'King' Arthur bout with Elvis Dube, the reason being when a young prospect goes in with an experienced boxer like Dube you can gain an insight in to the prospects' capabilities. Former GB Team member Lyndon scored a 2nd round KO when Elvis failed to beat the count.
In the first Lyndon used an excellent jab and threw fast combinations off it. His balance and footwork was first class and his jab is not just a point scorer but a damaging punch. Yes the first was Lyndon's feeling out round. In the second he was all business and wasted no time in bringing his vaunted right hand in to play to end proceedings with a minute to go in the second. Not many stop Elvis Dube, I was impressed. 
Another boy who made a great opening statement was Newcastle's Jamie Humble who scored an excellent 4 round win by scores of 40 – 36 against a tough Lithuanian Simas Volosinos who gave his all. Humble has a good future in his chosen sport.He has a quick left jab and I was impressed with his powerful body punching. Many an opponent would have succumbed to his array of hard punches but his Lithuanian counter part stuck to his task and fought back when able. He was one tough resolute opponent who well deserved his ovation at the end of a very good contest. 
Next up was that champion in waiting Zelfa 'Brown Flash' Barrett and what a talent this boy is. He forced his Spanish opponent Rafael Castillo to retire after 4 rounds. Once more Zelfa treated us to a feast of his silky skills, he boxed well within himself scoring well with his hurtful jab and his hooking to the body is something to be admired.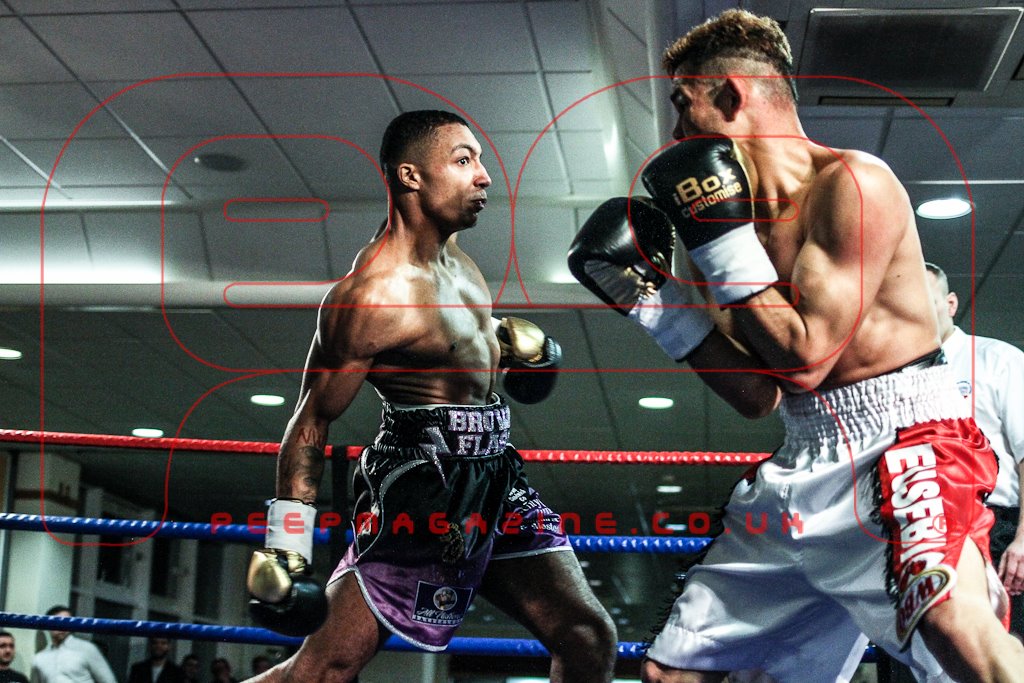 The footwork is beauty to behold and the silky movements in defence is a gift that can't be taught. This boy has power too and though his opponent gave his all and showed gameness above the call of duty it was only a matter of time before Zelfa's undoubted class and punching power told and his adversary's corner made a good call in retiring their man at the end of the fourth. 
The other two bouts, both 4 x 3, were both full of endeavour and thrills. In the show closer Sam Best was defeated by his opponent in another give and take contest that had the crowd roaring in earnest non stop during the rounds and minute intervals. Both men gave their all and deserved the ovation at the end. Best worked well in spasms but allowed his opponent to outwork him. 
The second bout on the show also over 4×3 were two heavyweight boys who though lacking in technique gave all they had in a bout full of thrills and spills. Jone Volou (4-1) a Fiji born Northeast resident and the home boxer lost against Halifax's debutant Josh Sandman. The wholehearted commitment of the two lads was commendable. Yes once again it was a real value for money show and Black Flash Promotions and Jobes Gym and all associated with the promotion should be commended for giving the opportunity to the North East fans to enjoy seeing the outstanding talent on show.
After the show I spoke to all the boys and both Marcel and Zelfa felt they could have done better, well that is a positive attitude because every boxer who wishes to succeed always feels that in pursuit of perfection. 
Goodluck, God bless
Tommy Dix.