Liverpool's Paul "Smigga" Smith (38-6, 22 KOs) has put his ninth-round TKO defeat to Andre Ward in June of 2015 behind him by reeling off three wins in 2016. Sure, the opponents has been modest, but there is still a good chance that the "Real Gone Kid" could secure himself a third world title shot in 2017 and he has also mixed in full-time punditry duties for Sky Sports.
In the meantime, the Smith family has seen Liam pick up the WBO light-middleweight title courtesy of a win over John Thompson in October 2015. Two wins later, "Beefy" stepped into the lion's den for his third defence when meeting Saul Alvarez in Texas earlier this year, a ninth-round KO loss. Stephen Smith has also vied for world honours, dropping decisions to Jose Pedraza and Jason Sosa for the IBF and World Super featherweight titles respectively after keenly contested bouts. With youngest brother Callum rated at number one by the WBC there is a strong chance that the fourth of the fighting brothers will go for world honours in 2017.
First, though, the British Super middleweight Champion has to get past mandatory challenger Luke Blackledge, who has nothing to lose and the world to gain at the Manchester Arena on Saturday night. Paul will be there in his punditry role for Sky Sports Box Office and the 34-year-old got right to the point when Britishboxers asked him what he wants to see from his brother.
"A good, quick performance, to be honest with you," he answered. "Get in there and get it done, look good and then focus on the big one against the winner of [James] DeGale and [Badou] Jack.
"No disrespect to Blackledge, but I feel that Callum is levels above him, he is the number one Super middleweight with the WBC so he should go out and show that, get a payday before Christmas and show people what you can do because your next fight will be for all the marbles. Just enjoy it."
On the flipside, Blackledge came through the unlicensed circuit and recently told Britishboxers how nothing ever came easy for him, he believes he learned a hard lesson when being dismantled in a single round by Rocky Fielding in November 2013 and has vowed to produce an upset.
"I've sparred Callum, you think you're safe at distance only to find that you're not safe. Then you might think you can get inside, but he's one of the best inside fighters in the country, which is unusual for someone his size."
"It is all good saying it beforehand, then you get in and see the magnitude of what you need to do," answered Smith when asked if he expects Blackledge to raise his game for this one.
"You might think you're safe and away from Callum, then the right hand comes or the left hook, you don't think they'll land but he has great reach. I've sparred Callum, you think you are safe at distance only to find that you're not safe. Then you might think you can get inside, but he's one of the best inside fighters in the country, which is unusual for someone his size.
"They've sparred in the past—I've also sparred Luke myself—and he's a tough, game lad who works hard, wears his heart on his sleeve and comes to win, but we expect a performance from Callum. The class should tell, he has a very good pedigree. He's a very good listener who came through the ranks at the Rotunda with the likes of Tony Bellew and my brothers, your Selkirks and the others, he is well-schooled."
Should he win, and he is expected to, Smith will meet either DeGale or Jack next year. He lost to DeGale in December 2012—a ninth-round reverse in a British Super middleweight title defence (later picking the belt up for a second time after beating local rival Tony Dodson)—but he told me that Callum does not have a preference and if he were to get DeGale he would not be able to hand down any insider knowledge from his fight against "Chunky".
"He's said it doesn't make a blind bit of difference who he gets," started Smith. "Regarding DeGale, he is a different fighter to me, I'm a different fighter than I was six years ago and DeGale is too; he is a better fighter who has settled into his style, so it is completely irrelevant. If we hadn't improved in the past six years we may as well pack it in."
"I'll fight again, I'm just waiting for Eddie [Hearn] to confirm a big fight in February so can't wait for that, but I am enjoying my work with Sky."
As for Smith himself, he told me that he is looking forward to a "big" fight in early-2017 so is not planning on hanging his gloves up just yet. He went close against Arthur Abraham in his first world title fight in September 2014, went the distance with him again in February 2015 and hopes to make it third time the charm in 2017 if promoter Eddie Hearn can nail down a world title tilt against one of the belt holders.
"I'll fight again, I'm just waiting for Eddie [Hearn] to confirm a big fight in February so can't wait for that, but I am enjoying my work with Sky," he said. "The ideal outcome is win a world title early this year, defend it in Liverpool in the summer then get one more and maybe hang them up and retire to work for Sky Sports.
"I really enjoy working with them, it is a great team and I'm happy to be part of it. Jim Watt has retired, he did brilliantly in his career and if I can do half the job he did then I'll be a very lucky man. All I'm doing is watching boxing like the rest of yous and trying to say what I see, I'm being honest and people see to like it.
"The likes of your Barry Tompkins, Georgie Vaughns, Billy Grahams and [current trainer] Joe Gallaghers are good, straight-talking people who don't bullshit—they say it as it is. Joe is one of the best people I've been around when it comes to reading a fight and since I've joined Joe I feel I've come on tenfold as a boxer and as a pundit as well when it comes to reading a fight.
"Joe has me in the corner so I see things I may not have seen before. I can use that and put it across to the man sitting on the couch watching the fights on TV. I like doing it, I'm happy with the job at Sky and am signed up full-time now so hope I can do it for the rest of my life."
In some ways, punditry must be as hard as fighting, you put yourself out there and have to expect the unexpected. In the studio, you get more than one take, on fight night you have to fly off the cuff at times, and Smith prefers it that way.
"You know, I like the live stuff better," admitted Smith. "If you mess up and it isn't live then you can do it again. If it is live, you just have to carry on and move on to something else. It shows that we are all human, we stutter and say or see the wrong thing.
"Look at [Denis] Lebedev the other day, his skin went really red above the left eye and there was a crease in his skin so I thought he was cut and said that. I called it when it was a bit of reddening and bruising. It happens, sometimes you may score a round that could have gone the other way, on the night you just saw it differently.
"I'm open to making mistakes and I'm open to criticism when I make them. We're only human, but I love explaining about boxing—how a fighter won or lost—and I like people to have opinions, as long as they're educated ones and not stupid."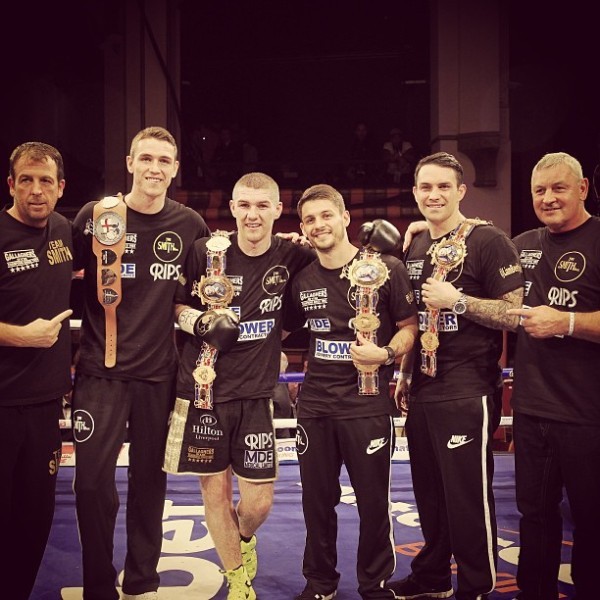 Like many boxers, Smith embraced the world of social media early, posting on forums, Facebook and now exclusively on Twitter. There have been bust-ups, blocks, banter and blow-ups online, and fans stil vent their frustration at him on forums on a regular basis.
The general consensus is that Smith will not tolerate the opinions of people who haven't fought, which is not the case, but he can be harsh. However, he told me that it is not as straightforward as it appears and that his online persona has become twisted in some sections in recent times.
"People on social media are quick to correct you. They think you're just a stupid boxer so you put something up that's wrong and they say 'How can you say that, you're stupid' even when I've put a little fishing rod up on the post. There's a bit of subtlety to the fishing game, when people bite and you point it out to them they don't like it and abuse you."
"I can totally understand where people are coming from, but then the same person will tell me something totally ridiculous when arguing over fights and opinions," said Smith when the issue of Twitter was raised.
"My opinion on this fight is that Anthony Joshua will stop Molina early, I think that is what will happen, but someone who I don't know will say: 'That's bollocks, Molina will win in the second round'. That's not an opinion, you are telling me what will happen like you've got a crystal ball. It's the way they put it across sometimes, it can be very cocky and patronising.
"If you said to me 'Joshua will win this in three rounds' then walk away then that's very patronising. It's cocky and I don't like to be spoken to like that, like most people don't. When it comes to social media, I've been brought up to treat people like you'd want to be treated yourself, I don't say nothing on Twitter that I wouldn't say to their faces and I don't give them stick on there unless I get it myself.
"My problem is that I expect people to treat it the same way and get involved in arguments when they don't. You can't really get your true feelings across on social media, especially in 140 characters, but, to back the point up that I've made, no one has ever come up to me at a fight and said I'm a gobshite or said I've blocked them—all I get at shows is 'Can I get a picture? Good to meet you. Your brothers are great' and comments like that.
"People ask me what I think about certain things and I like to stand there and have a chat and interact with them, it is great and it's what I like about boxing fans. The ones who give you abuse online never come over. If they did come over they'd see I'm a normal person and the person you see on the social media is sometimes me biting."
Smith also likes a bit of online fishing, he will deliberately make an erroneous statement, add a fishing rod icon and wait for the replies to roll in. He enjoys fishing in real life, and definitely gets a kick out of doing it online too.
"I love that, it's a little wind-up," he said. "People on social media are quick to correct you. They think you're just a stupid boxer so you put something up that's wrong and they say 'How can you say that, you're stupid' even when I've put a little fishing rod up on the post. There's a bit of subtlety to the fishing game, when people bite and you point it out to them they don't like it and abuse you. That's social media, that's how it works and you just have to play the game."