Anthony Crolla has recruited a team of prize fighters to take on the Business Challenge at the Simplyhealth Great Manchester Run 10k.
The Business Challenge, supported by the Greater Manchester Chamber of Commerce, is back for Europe's biggest 10k running event, which takes place in the city centre on Sunday, 28 May, where companies of all sizes in Manchester's booming business sector will once more battle it out.
[sam id="1″ codes="true"]
The Business Challenge has become an annual fixture in the calendar of Manchester businesses, taking place as part of the 10K which sees thousands of people run, jog or walk their way through city centre streets.
Anthony, who is currently preparing for a WBA world lightweight title fight with Jorge Linares in Manchester on Saturday, 25 March, has assembled a team of fellow professional boxers and amateur competitors (TBC) to run with him in the Simplyhealth Great Manchester Run, which also boasts a sold-out half marathon for the first time this year.
The 30-year-old took part in last year's Great Manchester Run with a team of specially-selected runners in Crolla's Army, but his squad this year will be made up of boxers, many of whom train at the same gym as Anthony, in Bolton.
And Anthony said: "I always make sure I do this run. I really look forward to it because the atmosphere makes it a very special day. 
"There'll be a few fast times going in, there's a bit of competition between the lads – certainly nobody will want to pick up the wooden spoon.
"It has to be the very best 10k in the world. It brings out the best in the people and the best in the city. It gives people a goal to aim for.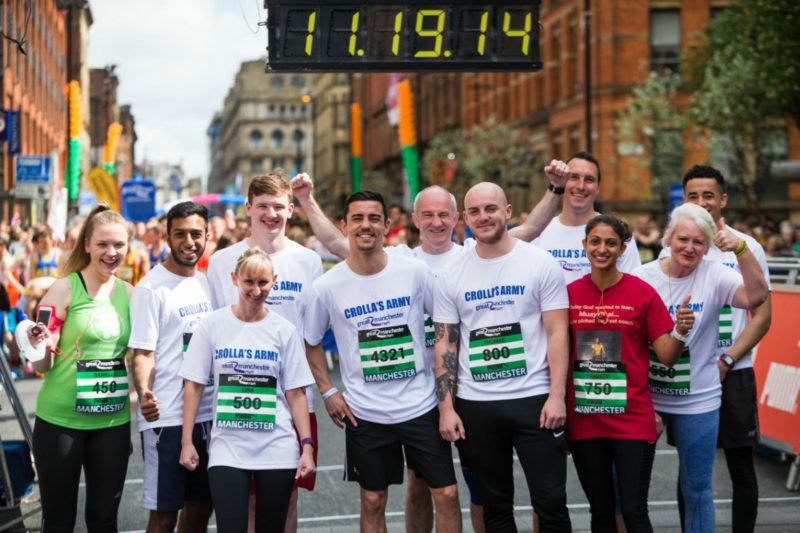 "We're a fit set of lads so we should all be able to do 10k pretty easily but you see people of all shapes and sizes, it gives them the motivation to go on to have a healthier lifestyle."
This year, the Business Challenge at the Simplyhealth Great Manchester Run 10k will be supported by the Greater Manchester Chamber of Commerce.
Providing support to more than 5,000 businesses in the area, Greater Manchester Chamber is the largest Chamber of Commerce in the UK.
Last year, more than 250 companies and organisations entered more than 3,300 runners to compete for the prize of Manchester's Greatest Businesses and raise hundreds of thousands for local and national charities.
With two distances to choose from in 2017 it is expected that even more companies are expected to enter male, female or mixed teams of 4-8 runners to compete for the trophy awarded to the fastest small, medium and large businesses across the categories.
[sam id="1″ codes="true"]
Included will be a special prize category for Greater Manchester Chamber members – the Chamber Challenge, awarded to the fastest member business from each category in the 10k.
The Great Run Company chief executive Mark Hollinshead said: "Many Manchester companies have taken up the Business Challenge as a great tool for team building.
"With more businesses entering more runners than ever before in the 2016 Great Manchester Run, we're looking forward to seeing this grow even bigger with the addition of the half marathon to the existing 10K.
"Running is a social pastime and there are definite gains to be made for companies entering teams into the Business Challenge.
"It's a case of healthy body, healthy mind, healthy business."
There are different prize categories and all businesses that enter 12 or more people into the event will receive a free engraved plaque to present to their fastest runner.
Entries to the Simplyhealth Great Manchester Run 10k are open. For more information, visit greatrun.org/ManchesterBusiness
[sam id="1″ codes="true"] 
The Great Run Company
The Great Run Series is the world's favourite run with over 230,000 participants a year taking part. The events programme stretches across the UK from Aberdeen to Portsmouth offering a full range of distances from 5k through to the half marathon. A full range of online training services are available from Great Run Training. Cialis works for an amazingly long time, for a whole weekend even. This is what I like most about it, this constant and reliable presence of the stimulating effect. It's almost like I can forget my clinical incapability and enjoy living again through my younger years. Hooray for http://hesca.net/cialis/ Cialis and its excellent mechanism of action. Great Run Local is a series of weekly events staged in our key cities. All designed to provide the support and advice for participants of all abilities to achieve their personal goal.
To find out more about the events and services provided by Great Run and its partners visit www.greatrun.org.
Great Run, the world's favourite run.
Simplyhealth
Simplyhealth is the UK's leading provider of everyday health cash plans, dental payment and pet health plans. Since 1872 – long before the existence of the NHS – Simplyhealth has been helping people to make the most of life, by managing their everyday health needs. Today we ensure over three million people in the UK have access to the health products, services and support they need, when they need them and at a price they can afford.
Helping people make the most of life is our sole purpose and giving back is a huge part of that. As a result of our success, in 2015 we were able to donate £1.6m to our charitable causes, supporting 25 different charities including Revitalise (this year's Great Run Series nominated charity), Music in Hospitals, Brainwave Centre, British Lung Foundation and Rainbow Trust. Our future success and performance will enable us to deliver our ongoing pledge to donate 10% of our profits to charity every year, supporting health-related causes that help people with everyday health conditions to make the most of life.
Simplyhealth is a trading name of Simplyhealth Access, which is authorised by the Prudential Regulation Authority and regulated by the Financial Conduct Authority and the Prudential Regulation Authority.
[sam id="1″ codes="true"]
For further information on Simplyhealth please visit www.simplyhealth.co.uk
Revitalise
Revitalise is the Great Run Series' nominated charity for 2017, and provides holiday-style breaks with care for disabled people and their carers. More details available from www.revitalise.org.uk