Ian 'Lay em out' Lewison has thrown himself back into training since his loss to Dillian Whyte last year. However, missing out on the British heavyweight title had a deep emotional impact on the fighter. 
"To tell you the truth, after the fight, I went home and cried for about a month. I didn't do anything, I was locked up in the house, didn't go out. I was emotionally broken." Lewison told British Boxers.
Although badly affected by the 10th round stoppage, Ian gave credit to his team for making the decision. 
"At the end of the day, you employ your corner team so that they can pick up on things that you can't see. They've got that outside look and sometimes when you look at things from a distance you see more than when you are inside.
[sam id="1″ codes="true"]
"I place my faith in my corner team. They felt it was relevant to pull me out, so you know what, credit to them." 
Having now picked himself back up, it was clear from watching his training session that the heavyweight is focused, determined and definitely means business. 
Appearing fitter, stronger and leaner than back in October, the fighter is now ready to line them up and 'Lay em out' Hoping to step into the ring within the next few months, he has made it clear who, and what he has his sights set on. Calling out for Eddie Hearn to hand over his 'first-born' David 'The White' Rhino Allen Lewison is pushing for a chance to go against the 24-year-old.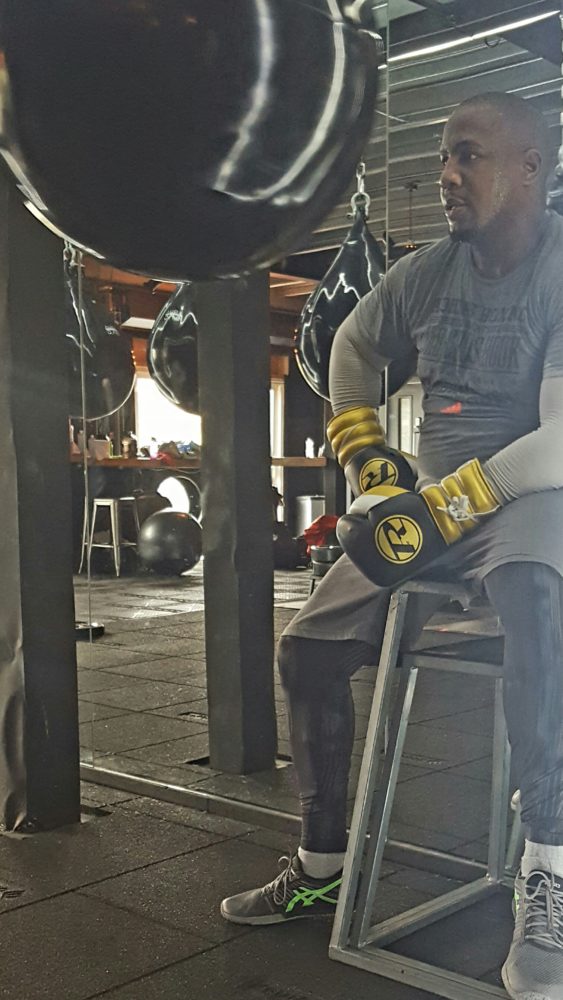 "I just want to say to Eddie yeah, stand on the mountain and sacrifice your first born i.e. Allen. Give him to me mate, give him to me, you can sacrifice him mate. I will actually put him out there for you, I will put him out and put him on his back. Eddie, make the fight happen" 
Speaking about his strong desire to fight the Doncaster heavyweight, Ian says the urge lies with the current media interest surrounding his potential opponent. 
"I just want to fight him for the simple fact that he's got a bit of media surrounding at the minute. And obviously I want to take his scouts so that I can progress on and get the British title, and he's a stepping stone in doing so." 
With his eyes on the now vacant British heavyweight belt, Ian believes that the possible upcoming title fight between Sam Sexton and Gary Cornish is the wrong choice for boxing fans. 
"That's got to be one of the most boring fights in the whole of British boxing, Sexton and Cornish." 
His belief is that ideally, it would be himself and Allen that battle it out for the belt. 
"If we're talking in terms of my personal opinion and we're talking stylistically, and value for money for the fans, then obviously I'd say it would be me and Dave Allen. If we're talking in terms of who do I think should definitely fight for it in terms of what they've done and how they've had their winning streaks going so far then I would say, me and Allen." 
Allen isn't the only one that Lewison wants to go to war with. 
"The ultimate fight I want back is Dillian Whyte, obviously when I'm in better condition like I am now. But you know what, it's a fight where under the circumstances I took it and I went, actually Ian Lewison's not 100%." 
"I just want to put myself in a position where I'm 100% next time and if I can get a fight with him again I'd like to see how and what could be produced from a fight with 100% Dillian and 100% Ian" 
With his determined attitude and strong desire to reach the top, it could be safe to say that the focused heavyweight will be taking all steps possible to ensure he gets his career back on track.
[sam id="1″ codes="true"]