On May 16th 2017 the Golden Gloves ABC in Liverpool were holding a show at the Fusion nightclub and my wife and I were looking forward to attending. I always take a glove when I attend shows as in Liverpool as in Manchester you never know who you will meet up with. We got on the bus in Handbridge, Chester, and who was on it but Teddy Waters.
We both belonged to the same club in our youth and Teddy along with his brother Tommy was very handy with his "Dukes". Both Teddy and Tommy when doing National Service said they were glad of the tuition they received at the old club. Teddy said 'when I was put in the Kings Regiment I needed a good grounding to hold my own'. Well we chatted and we talked about something that happened years ago and we had the bus in stitches.
There was a lad in our club called Jimmy, I won't mention his surname, well Jimmy was a hod carrier. Jimmy had one hell of a fighting heart, he did not care about records, everybody was the same size to Jimmy. Well there was a bricklayer and his nickname was 'On your honour', not because it rhymed with his surname but because he attended court on a regular basis as a defendant.
Joe was a brilliant bricklayer and he took me under his wing as he was a pal of my dad's. In fact Joe not only showed me the skills as a brickie but also took me to court to show me how to conduct myself in court and I learned alot off him as you'd have thought he was running the show.
When my mother asked him how my apprenticeship was going Joe replied 'He's doing well with Newton as a wing half, shaping alright at the boxing club and not doing bad at dancing'. When my mother said 'Joe but what's he like as a brickie? He's got to earn his living!' Joe came out with a cameo, 'Rosemary, there's more to laying bricks than putting one brick on top of another. I am up in court next week and I am going to take young Tom with me to show him how to conduct himself as every bricklayer worth his salt has a spot of bother'.
I will never forget that day at court, you would have thought Joe was running it. It was a lesson that stood me in good stead.
Well, Joe had come across a pair of old boxing boots. He told Jimmy in front of a cabin full at dinner time that those boots belonged to Sugar Ray Robinson. When asked how he'd got hold of them he said in front of the whole cabin that when he was in the army that he'd given a 15 round exhibition with Sugar Ray and Joe Louis was the referee (he'd never had the gloves on in his life!) and after the 3rd round Joe Louis said 'Joe don't throw anymore left hooks to the body you're doing him, take it easy'. After the exhibition Sugar Ray gave his boots to Joe.
That night we were in the club and I told Teddy about the boots. Jimmy was wearing them and after the sparring Teddy said 'Jimmy I'm glad I never sparred with you tonight, your footwork was great!) To this Jimmy replied 'It's the boots kid, they were Sugar Ray Robinson's.' Everybody kept a straight face . Jimmy always believed they were Sugar Ray's, nobody had the heart to tell him different. Jimmy is dead and gone now but to me he was one good guy.
As my wife and I bade farewell to Teddy, who else should we bump into but ex Olympian Robbie Davies and his son, champion in waiting Robbie Davies Jnr, out comes the glove – 'sign here lads, get the photo taken Margaret'. Once again the banter was good and naturally it got around to the Montreal Olympics when Robbie asked Princess Anne, who was competing in the equestrian team, how her ma was?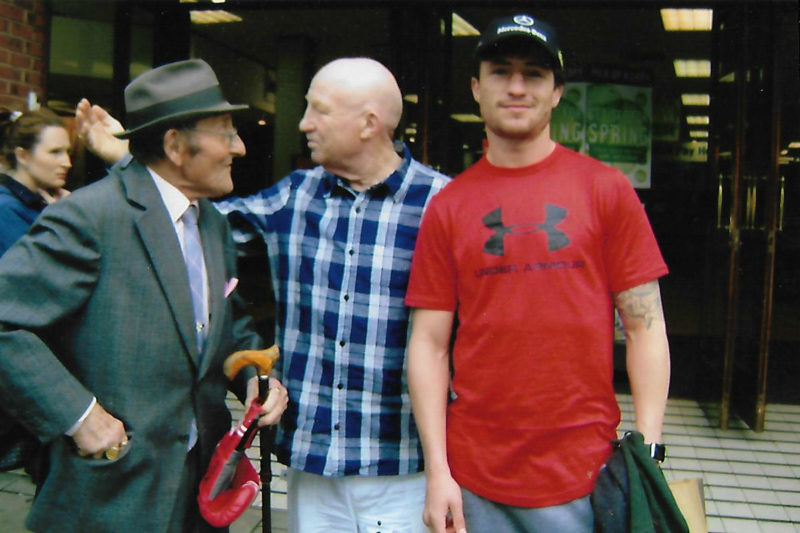 Here bumping into Robbie Davies senior and junior.
Yes Robbie was like that and his son was smiling when we chatted about old times. Yes all this happened before we got on the train to Liverpool. When we boarded the train Margaret said 'Tom we don't see people for years then we bump into them'. Yes it was great to meet up with Teddy Waters and then with Robbie and Robbie Junior. The Golden Gloves show was a cracker and the sportsmanship of boxers and the capacity house was wonderful, not a boo all night.
What a wonderful game the fight game is. It doesn't matter what happens it's like being in love with a beautiful woman, you'll always carry that torch.
Good Luck, God Bless,
Tommy Dix.
LATEST BBTV VIDEOS