Joe Wood honed his skills in the working men's clubs and sports centres of amateur boxing and satisfied his urge to fight in the nightclubs of the unlicensed circuit. On September 16th, the 25 year old super welterweight will leave his changing room and walk out into Liverpool's cavernous Echo Arena.
Don't expect Wood to get carried away by the occasion, however. The 'Rydal Psycho' is simply concentrating on treating the fans who have bought tickets for the World Boxing Super Series quarter final between Callum Smith and Erik Skogland to his own unique mix of aggressive counterpunching.
"I'm made up about getting on this show. Absolutely made up," Wood (6-1, 3 KO's) said, "I haven't really thought about the occasion to be honest. I'll just relax the best I can and see what happens when I come to it. I find that the more you think about something the bigger situation it becomes. It's easier to take each day as it comes, get the training right and make sure that I'm confident in my preparation.
"I'm always exciting. I'm always in good fights. I'm a box fighter and I like to throw in fours and fives and keep a high workrate. I like to take the centre of the ring and be authoritative. I like to be the boss.
"I could always punch a bit and I was always strong. I'd end up smothering my work, especially in the amateurs where it was all fast paced. Once I settled down and worked on my counters and coming over the top I started hurting people. Now I'm just tweaking things. What's that Bruce Lee term? Be like water. You have to be able to adapt to your opponent."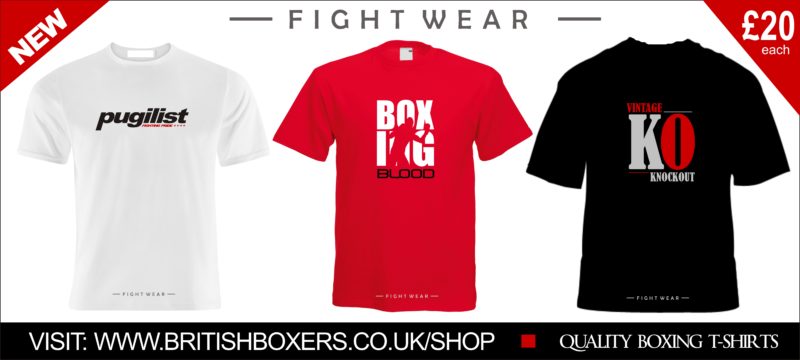 Wood may like to be the aggressor but he is also a thinking fighter. The ability to think through a problem and come up with a solution isn't limited to combat scenarios. Wood also holds a Masters degree in Exercise Physiology. 
"I use the exercise physiology in my own training and also do personal training. I had an internship with Wigan Warriors under 19s so I spent a year there. I eventually got some sponsorship for my boxing and the next thing I know I'm doing something that I have to go to school for," he laughed.
The qualifications will come in handy when Wood has to plan for a life away from boxing but at the moment he is fully focused on accomplishing his goals in the ring. The competitive fire he took into his amateur and unlicensed bouts has been stoked by the success of some old rivals.
"I just want to see how far I can go with the boxing. You're only young once and I want to give it a bash. Especially when you're sat there watching kids you used to box in the amateurs winning all sorts and you think to yourself, 'I could have done that.'
"I don't wanna be a 'Coulda'. I see kids who were on the same club shows as me and getting to the same level of the ABA's as I did winning allsorts [as professionals]. Kids you'd see in the ABA's every year and think they weren't great but then never get matched up with them.
"That's what boxing is about. It's a mental game. I just try and relax and take things as they come. I've usually seen my opponent but I never take that for granted. Sometimes people can have an awkward timing on their shots or they have a jab that looks lazy on the TV but suddenly it's landing on you. 
"I just want a title out of boxing. Any form of title. I just want to see how far I can get. I'll aim for the area title and if I can get that, I'll look for the British. If I can get that I'll look at the European title. If I can get that I'll look at Commonwealth and world honours. I try not to sit here and think that I'm going to be a world champion. Everybody does that."
Wood will be sharing the biggest stage of his career with promotional stablemate Zach Parker (12-0, 9 KO's). The unbeaten super middleweight from Derbyshire takes on the well respected and highly ranked Luke Blackledge and Wood is confident that Marsh has chosen the perfect time and opponent for Parker to announce himself on the domestic scene. 
"I think Zach can win that fight. I've not seen much of Blackledge but I know he's only been beaten by top kids. Zach is talented. He's a bit of a banger and he switches a bit and he's slick. If he wins this he's right up there. This is his gatekeeper fight. 
"Neil's brilliant at what he does, He's a top manager. I always say to him that the manager should manager, the trainers should coach and the boxer should box. I like to stay as far away from the business side of the sport as possible. It's not my job to be calling people out or saying I wanna fight somebody on Twitter. I hate Twitter! I'd love a step up and every boxer dreams of winning a Gatti-Ward type fight but I know Neil is a very good manager so I just let him get on with my career."
Joe Wood fights on the Sauerland Event promoted World Boxing Super Series card featuring Callum Smith v Erik Skogland at Liverpool's Echo Arena on September 16th. The show will be televised on ITV 4 and will feature an exciting super middleweight clash between Derbyshire's Zach Parker and Darwen's Luke Blackledge. Blackpool's Adam Little will also appear. Tickets are on sale now priced £35, £40, £60, £80, £100, £150, £200 and £350 (VIP) via Liverpool Echo Arena or from Joe on 07815565864.