"I have a come forward style but I can adapt it to whatever is in front of me."
There are many stars in boxing but less and less fighters. British Welterweight champion Johnny Garton (23-1-1, 10 kos) did not get where he is today on the back of a high profile Amateur experience and with the support of big promotional outfits and TV networks. He worked his way up applying to his career the same attitude he has in the ring: constantly coming forward, no matter what. And even now that he has earned the backing and the exposure, his feet remain on the ground. Ahead of his first defence of the title on March 8th Warren Promotions show at the Royal Albert Hall, the man from Peckham is not looking any further than challenger Chris Jenkins (20-3-2, 8 kos ). 
BB: How did you get into boxing and become a professional?
JOHNNY GARTON: I have always been a fan. A relative of mine boxed so when I was a kid my grandma used to take me to see Amateur fights. I only took it up to lose weight, because I enjoyed drinking and eating, and it went from there. I had around 35 Amateur fights, losing 10. My mindset entering the Pros was "if it works, it works; if it doesn't, it doesn't". But I had to give it a go rather than looking back one day and regretting not trying. Thankfully it paid off.
BB: How far do you see your career going? What are your short and long term objectives after winning the British title?
JG: Right now I have Jenkins in my way and that's all I care about. I never thought I would get this far when I began and I still don't like to think too far in front. I am just taking it one step at the time. As far as I can possibly go but only one step at the time.
BB: With Skeete and Eggington out of the way, do you feel you are now the man to beat at Welter in the UK? Who do you see as your direct rivals at domestic level?
JG: Of course I'm the man to beat. I am the British champion so anyone who wants the belt has to go through me. But I am not taking anybody lightly. I won't call out names but I consider a potential threat anyone who is behind me in the domestic rankings and will deal with them accordingly if need be.
BB: How do you feel about Skeete's latest performance? Can he come back and at what level?
JG: Bradley is an incredible fighter and is definitely coming back. He got caught with a lucky shot. It was just one of those things that can happen in boxing, sometime it only takes one punch. He cleaned up the domestic scene already, he should come back straight at European level and push on.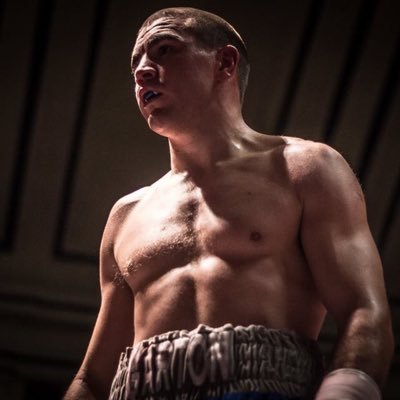 Pic: Johnny Garton on twitter.com/Johnny_Garton
BB: What do you consider your major assets in the ring?
JG: Strength, fitness and work rate. Mental toughness also. Even when I faced someone technically better than me, I knew I would break them at some point. I have a come forward style but I can adapt it to whatever is in front of me.
BB: Your style has basically been the same since your Amateurs days, nevertheless you lost only once as a professional and are unbeaten since 2014. What tools did you implement to refine it and make it successful?
JG: I cannot change what I really am and my style consequently, also as it works for me. We just had to focus on minimising incoming damage and punishment by working on the basics. Footwork has been a key improvement, by which I mean coming forward at angles rather than a straight line. In general, it is just a matter of being more cautious and patient. Also, I can vary and tailor my defensive tools according to what I have in front of me. I am and always will be a come forward fighter but I am not as predictable as some might think.
BB: Was Corcoran a step up from your previous level of opposition? How do you rate Jenkins in comparison?
JG: Corcoran was a massive step up. Few of my previous opponents were at British title level and he also fought for a world title, although unsuccessful. I don't rate Jenkins less. He is a totally different fighter and brings a different set of problems. He is an aggressive boxer who fights at high pace, a handful. It could even be a tougher fight. While I always knew I could drag Gary into a war, I need to be smarter with Chris.
BB: You and Jenkins know each other from sparring. Is this an advantage to you?
JG: We only sparred once more than a year ago, it doesn't really matter. I still have to work hard and be at my best.
BB: Conor Benn has expressed interest in your belt lately and called your name out. Would you fancy a scrap with him? Do you think he belongs at your level?
JG: He is a good fighter but he has not earned his shot, a lot people are in front of him. But I do fancy the money he brings to the table. I would take that fight in a heartbeat.
BB: What is your assessment of the division at world level? Who is the real champion?
JG: There is an incredible depth at the top but I think you can narrow it to Spence and Crawford. I can't really pick one over the other until they share a ring.
BB: What is your pick for Khan vs Crawford?
BB: Amir will take the early rounds opening fast as he does but it won't go the distance. Crawford will be the last man standing.
BB: What do you like to do in your spare time and what are your plans after retirement?
JG: I'm a Millwall fan so I watch all the games, other than that I spend all my time with my wife and my daughter. Retirement plan? Getting fat!
Follow Johnny Garton on Twitter https://twitter.com/Johnny_Garton
"HE'S VERY ENERGETIC AND A BIT OF A CRAZY FELLA!" ?@Johnny_Garton discusses his upcoming British Title defence against Chris Jenkins on March 8th at the @RoyalAlbertHall ? pic.twitter.com/v87aPejUma

— Frank Warren (@frankwarren_tv) February 8, 2019