If you are one of those hardcore boxing fans who felt alienated by the frenzy surrounding the events in L.A. this week, MTK had the perfect antidote for you and came to the rescue by providing a healthy shot of solid UK professional boxing yesterday night in London at York Hall.
The menu offered something for every taste: domestic, international and world level contests, to be consumed directly at the venue or delivered straight to you home for free on YouTube by IFL.
The honour of opening the broadcasted part of the show went to Northampton's finest, namely Super Lightweight Chantelle Cameron (12-0, 7 KOs), featuring in a WBC final eliminator and considerable step up in class.
Former Katie Taylor's victim and two times world champion Anahi Ester Sanchez (19-5, 11 KOs) brought an important record to the table, although her better days were at lighter weights. Cameron looked the stronger fighter all the way and produced a shut-out win never looking in trouble.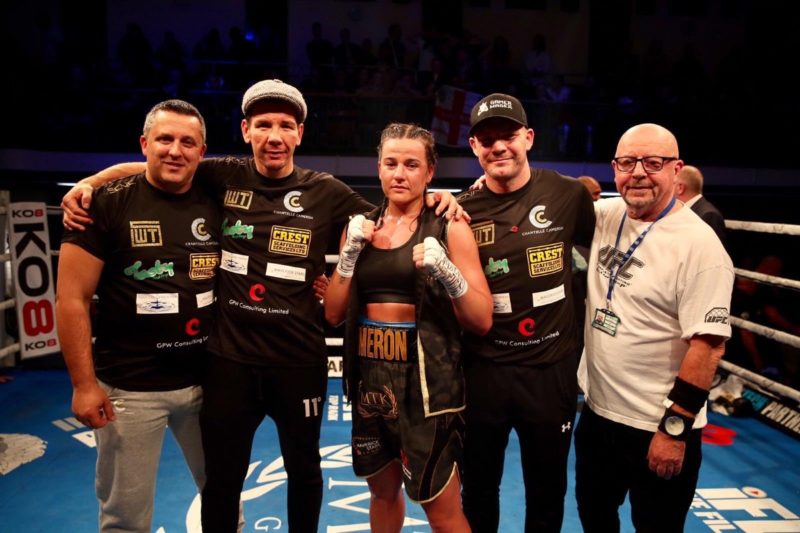 She went on the offensive as soon as the first bell rang but Sanchez was unwilling to back up and returning fire with fire, although Chantelle's shots were more accurate. They smothered each other's work in the second by standing too close but the Northampton former IBO champion took the role of the aggressor in the third and stalked her opponent landing hurtful straight punches.
They stood and traded Mexican style in the fourth, again with Cameron having the better of the exchanges. This pace kept up for the next 3 rounds with Anahi looking increasingly more tired and tentative. In the eighth, Chantelle circled around the ring initiating and disrupting the action at her will. Sanchez was counted in the ninth going down from what looked like a push, which prompted her corner to protest vehemently.
Cameron's pressure was suffocating in the final round and lead her to an undisputable victory with scores of 99-90 and 100-89 twice. Chantelle proved she can more than mix it at world level and made a legitimate claim for a showdown with Irish star Taylor to happen in the near future.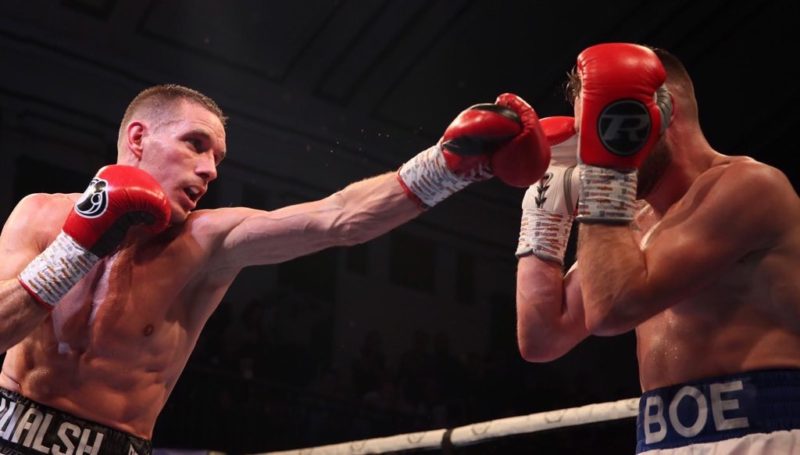 The next bout saw former world title challenger Liam Walsh (23-1, 15 KOs) successfully continuing his Lightweight campaign against southpaw Maxi Hughes (19-5-2, 4 KOs) with the vacant WBO European title on the line.
Make no mistakes, Hughes was a very tough nut to crack. The key to victory for Walsh, aside for his physical advantages against a shorter opponent, had to be his supreme condition as he spitefully laughed at anything Maxi landed on him coming back each time with more venom. The first three rounds were cagey as both struggled to solve the riddle of each other and find a comfortable range to work.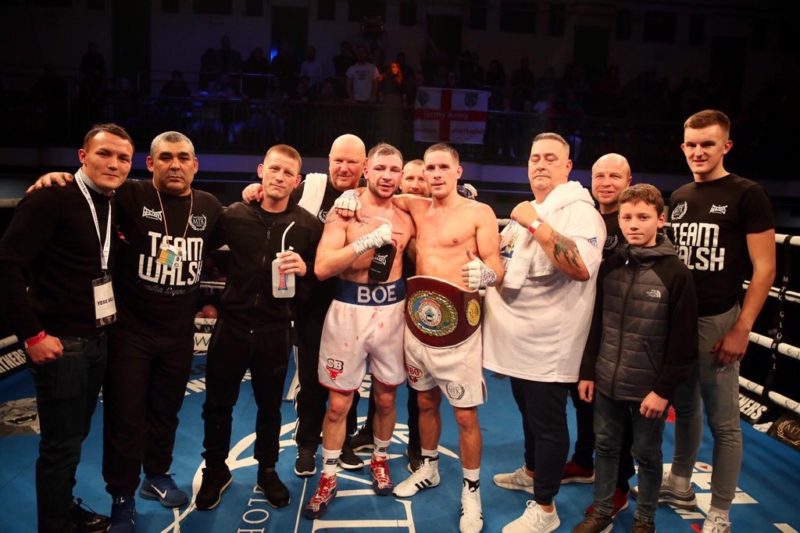 Hughes broke the impasse coming through with his left hand in the fourth which prompted Walsh to up his work rate and throw volumes back, although not all of his shots were accurate. This seemed to become the pattern of the fight, with some good back and forth action all the way through. Hughes best spell was probably in the seventh where he found a home for his uppercut time and time again.
By the end of the eight, though, his nose was bloodied and his face marked up as tiredness seemed to settle in while Walsh was as fresh as a daisy and took over till the end of the fight. Overall, Maxi landed the heavier single shots but Liam never took a backward step and his level of activity levelled the rounds earning him a hard fought unanimous decision by scores of 96-94, 98-92 and 97-93.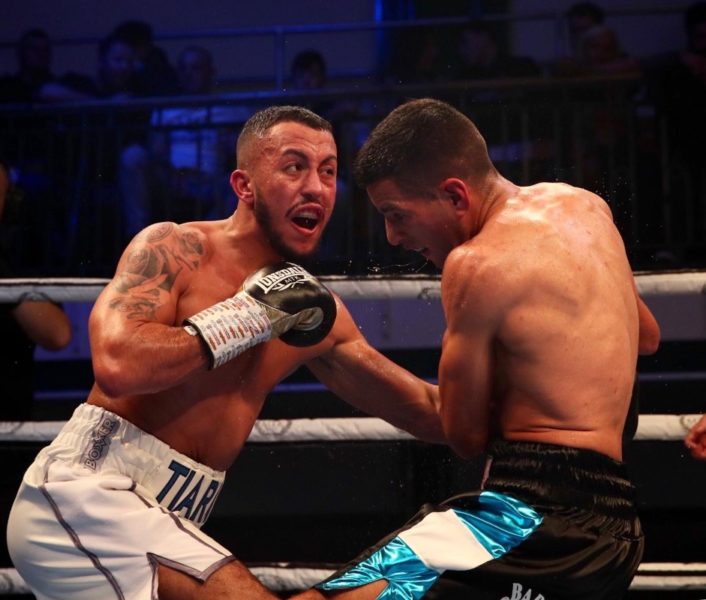 The gap in class between Michael McKinson (18-0, 2 KOs) and Argentinian Luis Alberto Veron (17-1-2, 8 KOs) was too wide and did not make for an entertaining Welterweight contest.
Veron's main assets were huge heart and chin but unfortunately they did not make up for his technical shortcomings. While he was swinging wildly and missing by a mile, McKinson effortlessly tagged him with a short right hook in the very first round prompting the South American to touch the canvas with a glove and get counted. Luis kept coming forward with disorganized attacks, occasionally landing, but by the third Michael's counters were perfectly timed and placed. Aside for another knockdown in the fifth, each round looked very much the same as McKinson cruised to a unanimous decision by scores of 98-90, 97-91 and 99-89.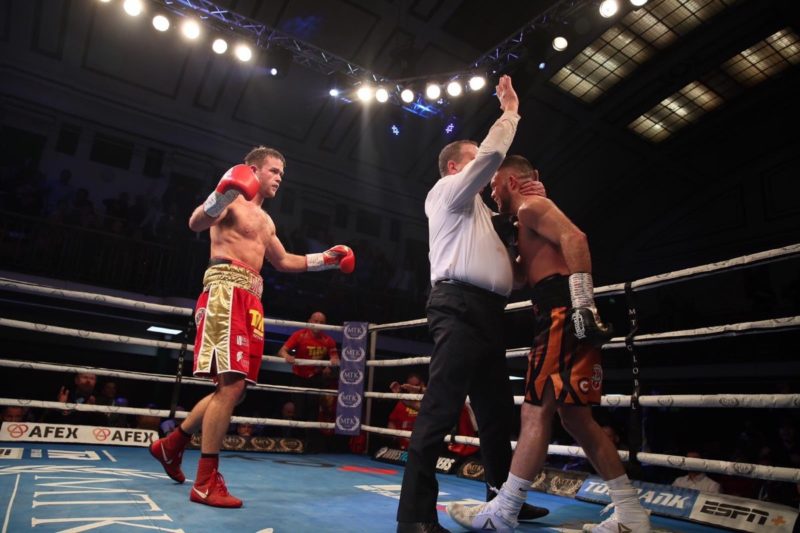 The main event saw Middleweights Conrad Cummings (17-4-1, 7 KOs) and David Dignum (12-0, 6 KOs) square off for yet another vacant WBO European title.
It was an untidy affair from the start with lots of holding, wrestling and pushing down from Cummings, who was deducted a point in the second for use of the elbow. Conrad's approach was completely physical as he kept pressuring and rushing in all the way through, although mainly to spoil, while Dignum landed all the clean punches when able to create room between them.
Cumming's best round was probably the third, where he managed to land some hooks with David's trapped on the ropes but his rough tactics did not pay off as he got clocked with a straight cross and stopped on his feet at 00:31 of the fifth. It was a good call from the referee, as he was visibly dazed when walked back to his corner.
Earlier on the undercard
Daniel "Danny Darko" Egbunike (6-0, 3 KOs) faced Billy Allington (8-1-2) for the vacant Southern Area Super Lightweight title in what turned out to be an absorbing fight and possibly the best bout of the night.
A very determined Allington started strong by taking the centre of the ring and opening up quickly, working accurately behind the jab. Daniel appeared over eager and a bit frustrated in the first as Billy was also cute defensively. After beating Egbunike to the punch regularly with his jab, Allington scored a perfect 1-2 combo in the second and proceeded to unload with Danny looking dazed and in trouble on the ropes. It looked like a stoppage win was on the cards for him but he slowed down the tempo in the third and reverted to jabbing while Daniel was taking his time to regroup.
The fight was up for grabs at the end of the fourth, which Egbunike took by landing his right hand repeatedly. It was hard to split them in the fifth but Danny started his ascendance in the sixth rocking his opponent with a right hook. Now Allington looked in trouble as he got caught time and time again by solid right hands.
To his credit, he never stopped forcing the pace till the final bell but Daniel looked in control all the way scoring the more telling and effective blows to lift the Southern Area bell with a score of 97-93. A mature performance from Egbunike who was able to think and survive an early crisis passing this test with flying colours.
We look forward to be back at York Hall with MTK for the next instalment of the Golden Contract series. Stay tuned!
All Results from the Night
Danny Dignum WON TKO5 VS Conrad Cummings
Liam Walsh WON UD10 VS Maxi Hughes
Michael McKinson WON UD10 VS Luis Alberto Veron
Chantelle Cameron WON UD 10 VS Anahi Ester Sanchez
Daniel Egbunike WON PTS 10 VS Billy Allington
Liam Wells WON PTS6 VS Ohio-kain Iremiren
Frank Arnold WON PTS6 VS Jose Aguilar
Dan Azeez WON TKO5 VS Edgars Sniedze
Jack Martin WON PTS4 VS Zygimantas Butkevicius
Aaron Prospere WON PTS4 VS Stuart Greener
George Fox WON PTS4 VS Artur Kubiak
Alex Bellingham WON PTS4 VS Carl Turney