Staying ahead on the cards when it comes to the latest in British boxing news can be a heavyweight task, but never fear as whether it's a big fight announcement or the latest in engaging video content, the BBTV boxing news bulletin has you covered.
Fowler and Flatley to meet in Manchester
Anthony Fowler has been given a tough test in Manchester on March 7, when he takes on Bolton's Jack Flatley.
Taking place on the undercard of Scott Quigg vs. Jono Carroll at Manchester Arena, Fowler's WBA International Super-Welterweight Title will be on the line in the fascinating domestic clash.
Having only lost once in his 18-fight career, the former English champion represents a tough test for the highly touted Liverpudlian, who will be hoping to set himself up for a rematch with bitter rival Scott Fitzgerald.
Fowler said: "I watched his fight with Troy Williamson in the ABA Final as an amateur and when they boxed as pros, he's a tough lad with a big heart and he comes to fight.
"Fans will definitely see a change in me since teaming up with Shane, I don't wanna give too much away but it should be evident on the night.
"Obviously styles make fights, Flatley couldn't cope with Scarff's awkwardness when they fought but I could because I've seen it all before, that was for the English title, I see myself a much high level than that and I'll show it when we fight.
"The only fight I want is the Fitzgerald rematch. A good win against Flatley sets that up nicely for the British Title, let's tell Scott to give the fans what they want."
Flatley added on the contest: "I'm massively excited to be taking on Anthony Fowler at Manchester Arena. I know how good he is, and I know he's waiting for the big rematch with Scott Fitzgerald, but this is my chance to go in there and upset the apple cart.
"I'm going to prove that I belong at this level. He's ranked in the top 13 with the WBA so it's a great opportunity for me and to be fighting in front of millions of people around the world on Sky Sports and DAZN in a massive incentive for me.
"I've been training hard and waiting for a big opportunity like this so naturally I grabbed it with both hands when it presented itself. I'm not reading too much into him changing trainer to Shane McGuigan because Dave Coldwell is a brilliant coach anyway. I'm just focusing on me and what I've got to do."
The pros predict Fury vs Wilder 2
As one of the most anticipated rematches in boxing history looms, BBTV gained the insight of some of Manchester's top pros on how they foresee Deontay Wilder vs Tyson Fury playing out.
MTK's Golden Contract continues to throw up intriguing clashes
Intrigue over Friday's Golden Contract semi-final clashes was elevated by Tuesday afternoon's draw, as the tournament continues to capture the engagement of fight fans.
The featherweight draw left many surprised as undefeated Tyrone McCullagh was selected by the tough Ryan Walsh. A decision which subsequently means a fascinating fight between Leigh Wood and Jazza Dickens as the other semi-final.
Additionally, Ohara Davies also kept everyone guessing by not opting to take on Jeff Ofori, instead of rival Tyrone McKenna. Meaning that the flamboyant southpaw will clash with Mohamed Mimoune in front of a sold out York Hall on Friday.
MTK Global Professional Development Coordinator Jamie Conlan commented: "Tyrone McKenna was telling me that Ohara Davies prank called him two weeks ago! So I was expecting Ohara to pick him, so that was a surprise.
"It's probably a good tactic move from Ohara to then set himself up nicely for the final. At featherweight I think Wood and Jazza will be Fight of the Night. British Boxing has been speaking of these men for a while, and Jazza has been the dark horse in the tournament.
"Walsh and Wood had the pressure on their shoulders from the start, and Jazza against Wood is a very good British match-up so it has played out nicely for the public.
"Tyrone McCullagh is an enigma. People may think they know what he's going to do, but I don't even think he knows what he's going to do! He's with Pete Taylor now and is more seasoned and honed in, so I think it's a tough pick from Ryan Walsh."
Amateur star Ellie Scotney signs with Matchroom
Ellie Scotney has signed a long-term promotional deal with Matchroom Boxing.
Being trained by Adam Booth, the London prospect will make her debut alongside new stablemate, Josh Kelly on the undercard of his clash with David Avanesyan on Saturday March 28.
Scotney enjoyed a decorated amateur career, capturing the 2017 Elite national amateur title at 57kg and the English Title at Youth level having entered after only four amateur bouts.
She was also in serious contention for a GB Olympic qualifying place for Tokyo 2020 before leaving the programme last year to pursue her pro career.
She commented: "I'm over the moon to be joining the Matchroom stable. I can't wait for my debut at The O2, it all seems surreal at the minute! I'm counting down to fight night already.
"I'm joining a team that boasts a two-weight World Champion in Katie Taylor, the first British woman to win a World Title in Terri Harper and rising start Shannon Courtenay so I know that the sky is the limit with Eddie and my team."
Eddie Hearn added: "I'm excited to announce the signing of gifted Adam Booth protege Ellie Scotney who will make her highly-anticipated professional debut on the undercard of Avanesyan vs. Kelly at The O2.
"Women's boxing is absolutely flying at the moment and this is the perfect time for Ellie to start her journey in the professional ranks.
"We saw Terri Harper create history in Sheffield last week by dethroning long-reigning WBC Super-Featherweight Champion Eva Wahlstrom to become the first ever British woman to win one of the major World Titles and Irish hero Katie Taylor has been flying the flag for women's boxing in recent years."
Costa, Eubank and Jeffers part of explosive Ultimate Boxxer lineup
An explosive collection of super-middleweights have been unveiled as part of the most high profile Ultimate Boxxer lineup yet.
Fresh off his thrilling Contender VIP victory, power punching Diego Costa heads into the tournament with an abundance of momentum, as does Manchester's Mark Jeffers who earned his first professional title just last month.
The competition will mark an opportunity for former Love Island star Idiris Virgo to affirm his status as a serious contender in the domestic division. That will be no easy task however, as he is joined in the lineup by the experienced former Commonwealth champion, Luke Blackledge and the highly rated Celtic Champion, Tommy Philbin.
Exasperating the high profile nature of the card, Seb Eubank will be looking to upset the odds and take home the prize money, he and Ben Ridings of Manchester represent the most inexperienced fighters on the lineup having two and three fights respectively.
On the other hand, having had 16 bouts as a pro, classy operator Charlie Schofield will be hoping his slick ability and experience can lead to him earning victory on the night.
Benjamin Shalom, Promoter at Ultimate Boxxer said: "We're excited to bring Ultimate Boxxer to a monster super middleweight division. The Ultimate Boxxer shows have been growing in popularity with huge ticket sales and now a sold-out pre-sale for this show.
"This time we decided to bring a group of high-profile names to the card to give something extra. There is no doubt this is our highest quality card to date."
He added: "Ultimate Boxxer has already proved it's a platform for boxers to go and compete at the very top of the sport. Shakan Pitters, Mikael Lawal and I hope Derrick Osaze will all be fighting for British titles this year. This year there will be even more opportunity for our winners on our shows."
Mike Le-Gallez confirms stacked Contender VIP Series
Billed as the 'Battle Of Manchester', promoter Mike Le-Gallez unveiled a stacked Contender VIP series to commence on April 4th.
Streamed live on the BBTV YouTube channel, the upcoming installment of the scintillating series will see highly rated prospects, Luke Evans, Dan Booth, Andrew Fleming, and Liam O'Reilly go to battle at Lancashire Cricket Club.
Speaking to BBTV, Promoter Mike Le-Gallez revealed ambitious plans to not only emulate, but surpass the immense levels of success of last year's tournament, to read the interview, click here.
McKinson, Edwards and Walsh confirmed for MTK's April show
Michael McKinson, Charlie Edwards and world title challenger Liam Walsh have been announced for MTK's April show in London.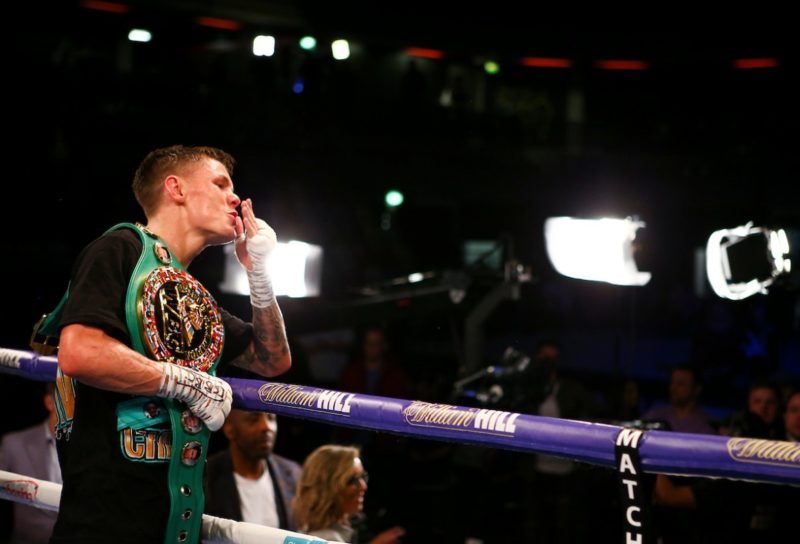 The card sees the stylish Edwards commence his campaign to become a two-weight world champion after vacating the WBC world flyweight crown.
Meanwhile, the #MTKFightNight, which will be broadcast on ESPN+ in the US and on iFL TV worldwide, sees the undefeated McKinson in a tough clash with Kent's Louis Greene.
MTK Global promoter Lee Eaton stated: "We've got the #GoldenContract semi-finals already booked in at York Hall and this is an absolutely cracking way to kick off the #MTKFightNight series there.
"Michael McKinson is already world-ranked and he'll be looking to make another impressive statement against Greene. We believe Mikey is going all the way and his Pompey army just keeps on growing.
"Charlie really needs no introduction because he's already been to the top of the sport. It's great to have him on one of our shows for the first time and there aren't many out there who doubt we're talking about a future multi-weight world champion.
"Probably the biggest noise of the night will come from the 'Farmy Army', who follow the Walsh brothers around wherever they go. It's going to be some atmosphere and as a promoter, it makes you proud to have such huge names on a show.
"My advice to fans is to move fast for these tickets."