What better way to kick off the new feature, "Fight of the day" than with this classic? It was just 3 rounds but Marvin Hagler and Thomas Hearns managed to stuff 12 rounds of action into what be later referred to as "The war".
Spoiler Alert! If you want to watch the fight and don't know the result, press the play button above to watch in high quality, don't read further just yet!
Widely considered the best opening round in Middleweight history, this fight was between two of the "Fab 4" fighters who competed with each other at Middleweight and welterweight (including "Sugar" Ray Leonard and Roberto "Hands of Stone" Duran). These bouts took place in the 1980's which was one of the best decades for the sport in terms of legendary fighters and electrifying fights.

The fight was characterised by enormous flurries of back and forth power punches with both fighters absorbing a great deal of damage.

Hagler tended to lack upper body and head movement on the attack and through this, "Hitman" Hearns was able to score with his lofty 6 foot 1 frame (large for a middleweight at the time) throughout round 1. Hagler was dangerously rocked and was marked with a forehead abrasion at the end of the first round. Hearns continued to pepper "Marvellous" in the 2nd with floaty quick boxing on the outside.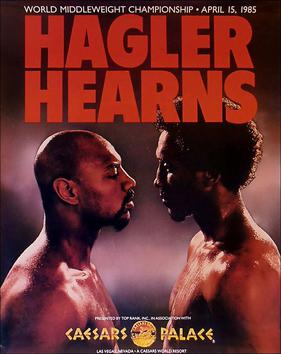 Hagler, on unsteady legs, began to Smother Hearns at the close of the 2nd and in the 3rd he increased his relentless activity. Seeking to rip at the body with hooks and bolo punches up close, he drained a noticeably fatigued Hearns. Hagler's excellent cutting off the ring negated Tommy Hearn's long levering reach and in this way Hagler was able to zero in on the larger man. The bout was brought to a dramatic end with a looping overhand right and crunching right hook combination from Hagler. Hearns is laid flat on his back facing the lights. The ref didn't need to see anymore. Watch the Full breathtaking fight on video at top of post. Thanks for your visit.
SUBSCRIBE TO BBTV
"PULEV WAS PUSHING HIS BUTTONS" EDDIE HEARN REACTS TO PRESS CONFERENCE HAND BAGS & PREVIEWS SHOW
"I BELIEVE I'M ONE OF THE BEST FIGHTERS IN THE WORLD!" EUROPEAN CHAMP ZELFA BARRETT WHAT'S NEXT?
"GET OFF MY STAGE NOW!" DEREK CHISORA AND KUBRAT PULEV CLASH AT PRESSER FACE OFF!!
CRUISERWEIGHT IAIN MARTELL PULLS NO PUNCHES AHEAD OF ENGLISH TITLE FIGHT WITH LUKE WATKINS!
BILLY DENIZ, JOSH HOLMES & NEW MAN IN CAMP RYZ LEWICKI - SAPRRING DAY AT PHOENIX CAMP MANCHESTER
SPARRING DAY! MATT & CAMPBELL HATTON ON GETTING READY FOR AUGUST 6th & BREAKDOWN JOSHUA USYK 2
ITS ON! SAVANNAH MARSHALL V CLARESSA SHIELDS OFFICIAL PROMO VID - SEPTEMBER 10th O2 LONDON
INTRODUCING CANCER SURVIVOR OWEN DURNAN - WHO NOW TURNS PRO AFTER THE ALL CLEAR 🙏
PETER FURY ON RICKY HATTON WEIGHT LOSS AND COMEBACK
NEW! JOE JOYCE IMMEDIATE REACTION TO STOPPAGE WIN OVER CHRISTIAN HAMMER
"NO! YOU DON'T NEED TO DO THAT!" DAVE ALLEN LIVES EVERY MOMENT DOING HIS FIRST PRO CORNER AS COACH
RINGSIDE ANGLE - JOE JOYCE FORCING KNOCKDOWN (v CHRISTIAN HAMMER) #shorts
THE WAR OF WORDS BETWEEN TYSON FURY AND THOR BJORNSSON CONTINUES-WILL THE TWO MEET IN AN EXHIBITION?
STEVI LEVI AND JOE HAYDEN CELEBRATE BIG WINS IN ROTHERHAM LAST NIGHT
HEAVYWEIGHT KASH ALI EXPLAINS HOW AJ BEATS USYK -ALSO REVEALS WHICH TITLE AND FIGHTS HE WANTS NEXT
"JACK CATTERALL HAS THE MENTAL EDGE OVER JOSH TAYLOR NOW" AQIB FIAZ ALSO TALKS RING COMEBACK
NEW! EMOTIONAL DAVE ALLEN OPENS UP AFTER DOING FIRST PROFESSIONAL CORNER
AMIR KHAN'S AMATEUR TRAINER HAS A MESSAGE FOR KELL BROOK
SOUTH AFRICAN BANGER ZOLANI TETE PLANS ON DERAILING THE ICE MAN JASON CUNNINGHAM
LIVELY! BIG JUGGERNAUT JOE JOYCE WEIGHS IN FOR SATURDAYS BOUT WITH CHRISTIAN HAMMER
"I ENJOYED WATCHING HIM GET PUNCHED UP" JOE JOYCE IS FIGHT WEEK READY & WANTS ALL THE SMOKE!!
THE JOURNEY CONTINUES FOR JASON CUNNINGHAM - WHO MEETS AFRICAN BANGER ZOLANI TETE ON SATURDAY
FRANK WARREN ON TYSON FURY'S OFFER TO TRAIN AJ - ALSO TALKS POSSIBILITY OF DUBOIS REMATCH FOR JOYCE
PROSPECT WATCH: KEVIN MITCHELL TRAINED ALFIE WINTER PREDICTS BIG FUTURE IN THE GAME!
AJ'S TRAINER ROBERT GARCIA REVEALS FIGHTS THEY ARE WATCHING TO PREPARE FOR USYK REMATCH!
"NO, I DON'T ENJOY BEING THE UNDERDOG" NEW! ANTHONY JOSHUA OPENS UP ON BIG OLEXANDR USYK REMATCH
NO DAYS OFF! A LEAN RICKY HATTON SMASHES ANOTHER SESSION DESPITE POSTPONED COMEBACK DATE
EDDIE HEARN OPENS UP ON USYK JOSHUA REMATCH - "IS IT THE BIGGEST FIGHT YOU'VE BEEN INVOLVED WITH?"
"IT'S STUPID TO EXPECT THINGS OF OTHER PEOPLE" OLEXANDR USYK ADDRESSES THE PRESS IN LONDON
NEW! CHAMPION & CHALLENGER! JOSHUA AND USYK MAKE THEIR GRAND ENTRANCES AT LONDON PRESS CONFERENCE