Fight of the day: Lennox Lewis and Frank Bruno clash on a massive night. The heavyweight 'Battle of Britain.' 1st October 1993.
Former world champion Frank Bruno's career is full of "what Ifs " and "Maybes". He came close to knocking out Mike Tyson in their first bout in the very first round before Iron Mike was infamously obliterated by underdog Buster Douglas.
Becoming a world title holder on his fourth try along with his magnetic personality made him a fan favourite of the British.

Often condemned for his stiff movements and over muscle-bound frame, Bruno was given little credit for his boxing ability. In actual fact, when you watch this bout with Lennox Lewis, it's easy to see why much of this criticism over looks the attribute Bruno did have.
It was the first time in history that two British-born boxers fought each other for a world heavyweight title. Lewis was a 4-1 favorite to bet on boxing terms. Lewis' purse was $8 million and Bruno's was $1.5 million. There was a crowd of 25,784.
The lead up to this bout was indeed a tense one. Labelled "The battle of Britain" The WBC champion Lewis was criticised by Bruno for "Not being a true Brit" as Lewis had fought for Canada in the 1988 Olympics and spent most of his time in Canada. Lewis responded with comments about wearing "Girl clothes" to press conferences; even going as far to call him an "uncle tom" (a racial motivated term) at one point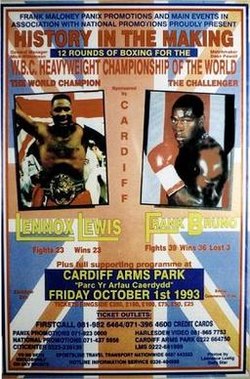 Bruno immediately took the fight to Lewis, trying to quell the long and powerful straight right hand from Lewis. Eating several stiff jabs from Lewis, the champion won the first.
The challenger came out even more aggressive in the second but brought his right hand closer to protect his eye that was marked in the first round by Lewis. Lewis went behind the jab but as was his trademark, was swinging it from his hip low- Bruno capitalised by throwing his right cross over the top of the jab. Now moving backwards, Bruno showed some great foot movement to close the ring down and get Lewis to straddle the ropes.
This continued successfully in the third round and as the the gap closed, Bruno landed a strong overhand right which landed squarely on Lewis unguarded head.
Round 4 and Lewis jab had come back with the marking on Bruno's eye becoming more apparent. As the gabp widened, Lewis landed some more rangy right hands as Bruno marched forward. Leaving the right hand out too long, Bruno's left hook (an underrated punch from Bruno) found it home to the body and head of Lewis.
Round 5 was a similar affair with Lewis at times looking unsteady on his feet. The gap continued to close between the two as Lewis moved backwards, jabbing on the move. Bruno upper body movement began to slow, and the jab was landing hard on the affected eye.
Bruno was still ahead in the fight at round 6, with both men landing decent shots. The right-hand snapped Bruno's head back, whilst the left hook of Bruno coiled Lewis right rib cage up.
At the start of the seventh round, Bruno hit Lewis with a left jab and continued with a series of short punches. Lewis then hit Bruno with a looping left hook which staggered him and continued with a series of punches. Bruno's right hand twined backwards to strike and left himself open to a big left hook from Lewis. In a momentary break during the onslaught, Lewis was warned by the ref for pushing. Upon resuming, Lewis finished off Bruno, who was by then on unsteady legs and completely unable to defend himself.
Many nowadays would never put Bruno and Lewis in the same league of fighters, with Lewis career becoming that of legend. But on this night in Cardiff there was many times he looked the classier, more polished fighter and not just a chinny bruiser.
SUBSCRIBE TO BBTV
"IT'S SH*T OR BUST" GLYN RHODES MBE PREDICTS USYK-JOSHUA 2
JAMES DEAN FURY & HEAVYWEIGHT WILLIAM HOWE - TRAINING UNDER PETER FURY - A WORK IN PROGRESS
"GET IN THERE AND HAVE A F*ING FIGHT!" PETER FURY RAW ON USYK JOSHUA 2 - FIGHT WEEK SPECIAL -
EUBANK JR VS BENN BOXING COACHES BREAKDOWN THE FIGHT, (ELITE BOXING GYM BOLTON)
EUBANK JR V BENN: UK BOXING GYMS PREDICT (ELITE BOXING GYM)
BRITISH HEAVYWEIGHT CONTENDER NATHAN GORMAN PREDICTS - USYK V JOSHUA 2
JACK FLATLEY VS NATHAN HEANEY, GOOD FIGHT ADDED TO JOYCE-PARKER BILL! . FLATLEY COACH ALEX MATVIENKO
CLIFTON MITCHELL - IN DEPTH ON JOSHUA USYK, BENN EUBANK, SANDY RYAN, ONE NATION BOXING GYM MISSION
"I DID AN ALI SHUFFLE, SO USYK CHINNED ME" DAVE ALLEN REACTS TO PUBLIC WORKOUT/ BREAKS DOWN FIGHT
UK BOXING GYM PREDICT USYK V JOSHUA 2 - FIGHT WEEK #rageontheredsea
ANTHONY JOSHUA POSTS VIDEO - LOOKING RIPPED IN FIGHT WEEK #usykjoshua2
USYK-JOSHUA 2 PREDICTIONS - ELITE BOXING GYM BOLTON COACHES
CLIFTON MITCHELL ON THAT RINGSIDE CONVERSATION WITH AJ BEFORE USYK 1 AND HIS BREAKDOWN OF REMATCH!
JAMIE MOORE BREAKS DOWN EUBANK JR VS BENN "I KNOW WHO I'LL BE SUPPORTING"
FIGHT WEEK! PAUL SMITH JR PREVIEWS BROTHER CALLUM SMITHS DATE ON THE DUNES (BBTV CLIPS)
"IF I WAS ANTHONY JOSHUA I'D BE BRINGING ROCKY III TACTICS!!" JAMIE MOORE FIGHT WEEK BREAKDOWN
PETER FURY'S EPIC BREAKDOWN OF OLEXANDR USYK V ANTHONY JOSHUA II
CALLUM SMITH "USYK'S FAVOURITE BUT AJ CAN DO IT" FIGHT BREAKDOWN & OWN MISSION IN SAUDI (BBTV CLIPS)
CHRIS EUBANK SNR - A LESSON ON NOT UNDERESTIMATING YOUR OPPONENT (BBTV CLIPS)
THE HATTONS PREDICT: USYK V JOSHUA II (BBTV CLIPS)
EXPERT BOXING ADVICE! BUDDY MCGIRT GIVING POWER PUNCHING TIPS TO HEAVYWEIGHT PROSPECT RICKY GORMAN
ANDY RUIZ JR POSTS VIDEO LOOKING LEAN AND RAPID ON THE PADS
MEET THE FUTURE STARS FROM TYSON FURY'S AMATEUR GYM (JIMMY EGANS BOXING ACADEMY)
TYSON FURY'S FIRST TRAINER STEVE EGAN -USYK JOSHUA II- EUBANK JR V BENN- TYSON'S LATEST TRAINER POST
ROMFORD BULL JONNY FISHER - "JOE JOYCE HAS BEEN UNDERRATED" (BBTV CLIPS)
BOXERS DISCUSS - EUBANK JR V CONNOR BENN! NOW IT HAS BEEN OFFICIALLY CONFIRMED
KAISEE BENJAMIN MANDATORY FOR DALTON SMITH'S BRITISH TITLE "LETS DO THIS, END OF THE YEAR"
BORN RIVALS! EUBANK JR V BENN IS ON! - BREAKDOWN WITH KERRY KAYES
TYSON FURY ANNOUNCES NEW TRAINER? MESSAGE TO HIS FANS
SHAKAN PITTERS WARNS DAN AZEEZ "IM NOT AFRAID TO MIX IT UP!" AHEAD OF BRITISH TITLE CLASH