Fight of the day: Lennox Lewis and Frank Bruno clash on a massive night. The heavyweight 'Battle of Britain.' 1st October 1993.
Former world champion Frank Bruno's career is full of "what Ifs " and "Maybes". He came close to knocking out Mike Tyson in their first bout in the very first round before Iron Mike was infamously obliterated by underdog Buster Douglas.
Becoming a world title holder on his fourth try along with his magnetic personality made him a fan favourite of the British.

Often condemned for his stiff movements and over muscle-bound frame, Bruno was given little credit for his boxing ability. In actual fact, when you watch this bout with Lennox Lewis, it's easy to see why much of this criticism over looks the attribute Bruno did have.
It was the first time in history that two British-born boxers fought each other for a world heavyweight title. Lewis was a 4-1 favorite to bet on boxing terms. Lewis' purse was $8 million and Bruno's was $1.5 million. There was a crowd of 25,784.
The lead up to this bout was indeed a tense one. Labelled "The battle of Britain" The WBC champion Lewis was criticised by Bruno for "Not being a true Brit" as Lewis had fought for Canada in the 1988 Olympics and spent most of his time in Canada. Lewis responded with comments about wearing "Girl clothes" to press conferences; even going as far to call him an "uncle tom" (a racial motivated term) at one point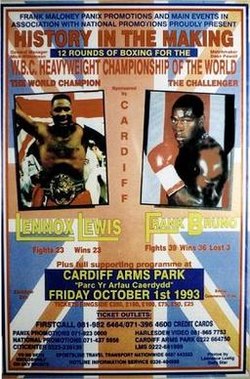 Bruno immediately took the fight to Lewis, trying to quell the long and powerful straight right hand from Lewis. Eating several stiff jabs from Lewis, the champion won the first.
The challenger came out even more aggressive in the second but brought his right hand closer to protect his eye that was marked in the first round by Lewis. Lewis went behind the jab but as was his trademark, was swinging it from his hip low- Bruno capitalised by throwing his right cross over the top of the jab. Now moving backwards, Bruno showed some great foot movement to close the ring down and get Lewis to straddle the ropes.
This continued successfully in the third round and as the the gap closed, Bruno landed a strong overhand right which landed squarely on Lewis unguarded head.
Round 4 and Lewis jab had come back with the marking on Bruno's eye becoming more apparent. As the gabp widened, Lewis landed some more rangy right hands as Bruno marched forward. Leaving the right hand out too long, Bruno's left hook (an underrated punch from Bruno) found it home to the body and head of Lewis.
Round 5 was a similar affair with Lewis at times looking unsteady on his feet. The gap continued to close between the two as Lewis moved backwards, jabbing on the move. Bruno upper body movement began to slow, and the jab was landing hard on the affected eye.
Bruno was still ahead in the fight at round 6, with both men landing decent shots. The right-hand snapped Bruno's head back, whilst the left hook of Bruno coiled Lewis right rib cage up.
At the start of the seventh round, Bruno hit Lewis with a left jab and continued with a series of short punches. Lewis then hit Bruno with a looping left hook which staggered him and continued with a series of punches. Bruno's right hand twined backwards to strike and left himself open to a big left hook from Lewis. In a momentary break during the onslaught, Lewis was warned by the ref for pushing. Upon resuming, Lewis finished off Bruno, who was by then on unsteady legs and completely unable to defend himself.
Many nowadays would never put Bruno and Lewis in the same league of fighters, with Lewis career becoming that of legend. But on this night in Cardiff there was many times he looked the classier, more polished fighter and not just a chinny bruiser.
SUBSCRIBE TO BBTV
HUGHIE FURY IN CAMP FOR COMEBACK FEBRUARY💥 FULL VIDEO AND INTERVIEW COMING
"GREEDY B*STA*DS!" PETER FURY OPENS UP! HUGHIE'S COMEBACK, TOM ASPINALL WIN, BOXING POLITICS & MORE…
CHLOE WATSON REACTS TO FIERY FACE OFF WITH JUSTINE LALLEMAND AHEAD OF EUROPEAN TITLE FIGHT
"BEFORE FIGHT I HAD 60 CALLS, AFTER I HAD 3" NATHAN GORMAN RAW ON LOSSES & HITS BACK AT FURY CRITICS
NEW! RICKY HATTON HONEST ON TYSON FURY V OLEXANDR USYK- CHLOE WATSON TITLE FIGHT- DANCING ON ICE!!
HEAVY DUTY! NATHAN GORMAN V BHODAN MYRONETS FACE OFF AT TODAYS PRESSER (WASSERMAN BOXING)
NATHAN GORMAN IS BACK IN ACTION AGAINST BHODAN MYRONETS - FULL PRESS CONFERENCE (WASSERMAN BOXING)
"HOPEFULLY COMMON SENSE WILL PREVAIL" EDDIE HEARN ON CONNOR BENN V CHRIS EUBANK JR
TUESDAY NIGHT BOXING: HEADLINED BY CENTRAL AREA TITLE FIGHT! | MAREE BOXING & FRANK DUFFIN PROMO
BIG LEFT HOOK! JOSH PADLEY LANDS A PEACH ON BATESON PROMOTIONS/ GSW LEEDS SHOW - FULL FIGHT ON BBTV
KO OF THE YEAR?!💥💥MICK LEARMONTH LANDS A DEVESTATING SALVO IN LEEDS
FULL FIGHT:JACK BATESON RETURNS AGAINST TOUGH RUSLAN BERCHUK | BATESON PROMOTIONS & GSW BOXING
BRUTAL! KO OF THE YEAR CONTENDER? MICK LEARMONTH RETURNS TO THE RING WITH A DEVASTATING FINISH!
PRO BOXING FROM LEEDS: JACK BATESON RETURNS, A BIG KO AND TOP PROSPECTS
KATIE TAYLOR DOESN'T RULE OUT CHANTELLE CAMERON TRILOGY FIGHT
"THEY ALL WROTE ME OFF!" KATIE TAYLOR FULL POST FIGHT PRESS CONFERENCE AFTER CAMERON UNDISPUTED WIN
KATIE TAYLOR RETURNS TO DRESSING ROOM AS UNDISPUTED CHAMPION! 🤩
KATIE TAYLOR ARRIVES FOR HER REMATCH WITH CHANTELLE CAMERON TONIGHT
EDDIE HEARN RESPONDS TO "WILL ANTHONY JOSHUA BE BACK TO HIS DESTRUCTIVE BEST" (Against Otto Wallin)
FRANK SMITH HINTS AT IMMINENT NEWS REGARDING CONNOR BENN V CHRIS EUBANK JR!
LEGEND! NIGEL BENN ARRIVES IN LEEDS FOR BATESON PROMOTIONS DINNER SHOW
"BIZARRE IF WE CAN'T MAKE CONNOR BENN V CHRIS EUBANK JR!" EDDIE HEARN ALSO PREVIEWS DUBLIN CARD
WAR! GARY CULLY AND REECE MOULD FACE OFF IN FIERY CLASH BEFORE TOMORROW NIGHT IN DUBLIN
PAT BARRETT MOVES LYNDON ARTHUR OUT OF MANCHESTER FOR BIVOL WORLD TITLE CAMP
TOMMY DIX PRODIGY ADAM RASOOL GETS ENGLISH TITLE ELIMINATOR CHANCE AT YORK HALL
FORMER FURY SPARRING PARTNER (STAN BERTENS) ON WHY HE THINKS TYSON BEATS OLEXANDR USYK
NIALL BROWN ON SPARRING LYNDON ARTHUR AND HIS GYM MATES BIG CHANCE AGAINST DMITRII BIVOL!
PETER MCDONAGH GOES IN! SLAMS CRITICS OF AJ /DAVISON LINK UP - TALKS SAUDI ARABIAN SHOWS DEC & FEB
EDDIE HEARN SURPRISES BOXING WORLD BY STICKING UP FOR FRANK WARREN!
"FRANK WARREN STUCK IT ON HIM!" EDDIE HEARN REACTS TO TALK SPORT SAGA…WILL AJ KO WALLIN? DUBLIN CARD