If you were one of the lucky fans to have a ticket for Eggington Vs Jkitou, you will be the envy of many fight fans around the UK. Sam Eggington Vs Bilel Jkitou has to be at the very top of the list for a place as Fight of the Year, with both men going hell for leather for 12 rounds in Coventry on Friday night.

Before I get into the fight itself, credit needs to be given to Mick Hennessy and Channel 5. What you are guaranteed with a Mick Hennessy card is entertainment, especially with his matching of the main events. Sam Eggington will always be in entertaining fights as long as he is in boxing, and he has been matched very well whilst fighting on Channel 5 with fights against Ashley Theophane, Carlos Molina and Bilel Jkitou. At 27 years of age, there is still gas in the tank of Sam Eggington, supported and backed by Mick Hennessy.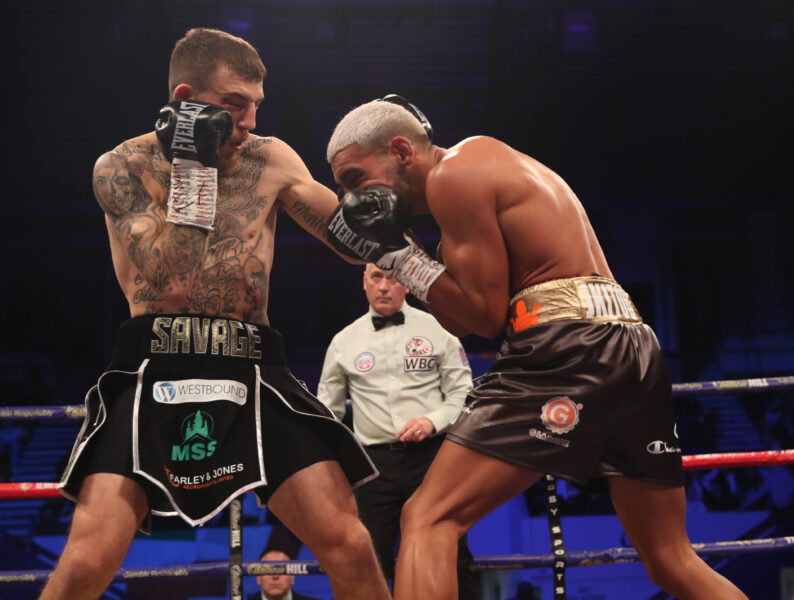 When you watch a fight like Eggington Vs Jkitou, two things are likely to happen. You forget about all of the nonsense and bad news in the sport of boxing such as politics, the best not fighting the best and dodgy dealings. The second thing is the thankfulness you have for sitting and watching it (or being lucky enough to be there live). Fights like this are few and far between, and they make you realise just why you fell in love with the sport in the first place. That's how good that fight was. Two warriors never giving in and leaving everything in the ring until that final bell rang.

Boxing fans know what Sam Eggington brings in a fight; hard work, blood and guts, resilience and a toe-to-toe fighting style. At times you could class it as reckless, but there is no denying that it is entertainment. With a record of 38/7 (18 KO's) across Welterweight, Light Middleweight and Middleweight, Eggington isn't afraid of losing a fight, but more so afraid of being in a boring one. This was again on display on Friday night.

Bilel Jkitou of Nanterre, France headed into Coventry with a record of 15/0 (6 KO's) and as a relatively unknown opponent on British soil. The 29 year old from the western suburbs of Paris however came over with a rowdy entourage and full of confidence, as seen at the weigh-in. With a record which had its fair share of opponents with losing records, it is still important to point out that he was an unbeaten Middleweight heading abroad to keep it that way. Any fighter who heads abroad to take a fight to showcase their ability needs recognition, and the confidence that Jkitou must have is clearly there to see.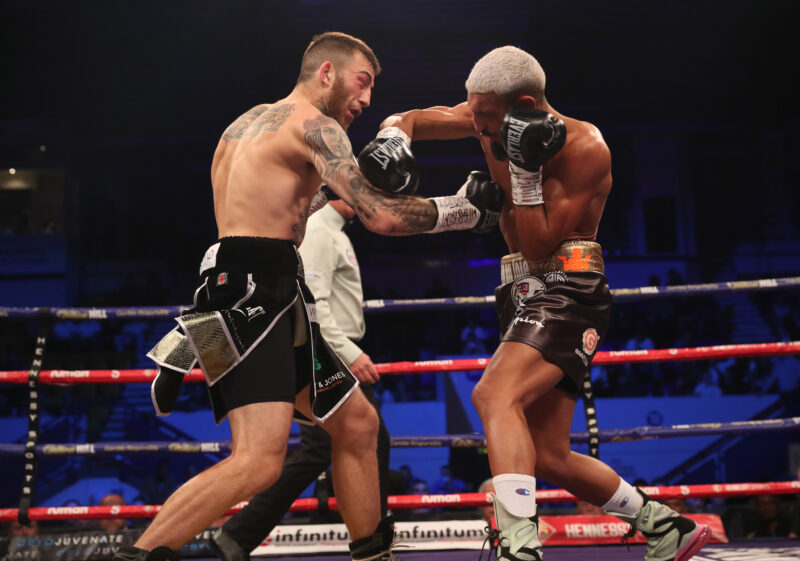 As Mark Lyson brought the two men face to face to give out his instructions and to touch gloves, I'm sure nobody could really anticipate just how good this fight would be. The first bell rang and both fighters set off for what would be a 12 round war. The first forty seconds of round one displayed both fighters utilising their jabs, and then they were straight into it. Left hooks, body shots and straight right hands were let fly, and this was the case from here on in through to the final bell. As soon as that first meaningful punch was landed, both fighters switched into a mindset of war.

Round 2 through to Round 6 was very much the same as both men went to work. Feet planted, punches exchanged and a complete war unfolded. Eggington continued to deliver his strong and meaningful left hooks to the head and body, whilst Jkitou continued to match him with his quick straight left hand and his own vicious body shots. Both men were out to hurt each other, and neither ever looked as though they wanted anything else.

The 7th round for me was the round of the fight. At one stage, Eggington was up against the ropes and the corner fighting not to toe-to-toe, but head-to-head with Jkitou for nearly 2 minutes straight. This round was the epitome of a 'fight in a phone box', with both men's foreheads continuing to sit on each others with ferocious uppercuts and body shots aplenty. It was as though they were testing each other to see just how far they were both willing to go.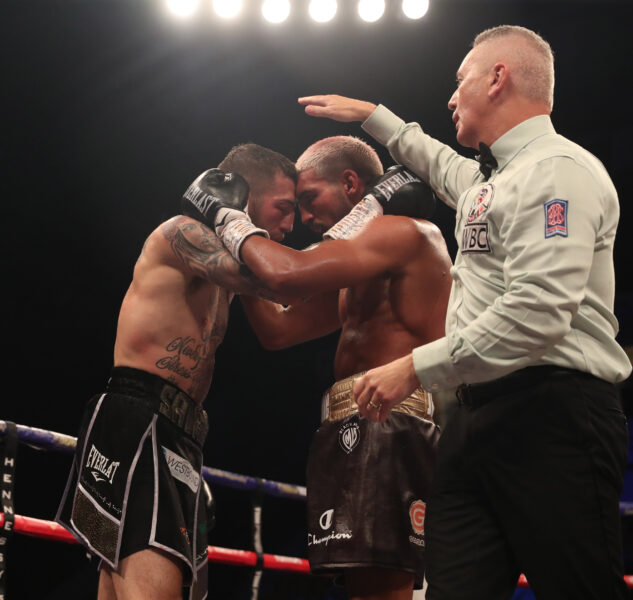 Round 8 to Round 12 did see the stamina of both men slow, but only slightly. They continued to push each other to the limit and continued their assault. At stages of the final four rounds it looked as though there was a breakthrough for both fighters, but they would then be met almost immediately with a stinging reply to settle the score. You hit me with a big shot, I'll catch you right back. Things you love to see in the ring.

As both men touched gloves for the final round, the appreciation from the crowd was heard and also seen by referee Mark Lyson, who was clapping as he brought both men together one final time. You sometimes expect a final round to be exciting for the first 30 seconds and then both fighters tire. This wasn't the case in this fight. Both men continued to land punches with mean intentions with stinging body shots and crunching rights and lefts to the head. When the final bell rang, I was gutted. I could have watched it for another 12 rounds. The embrace they shared come the final bell was beautiful to see.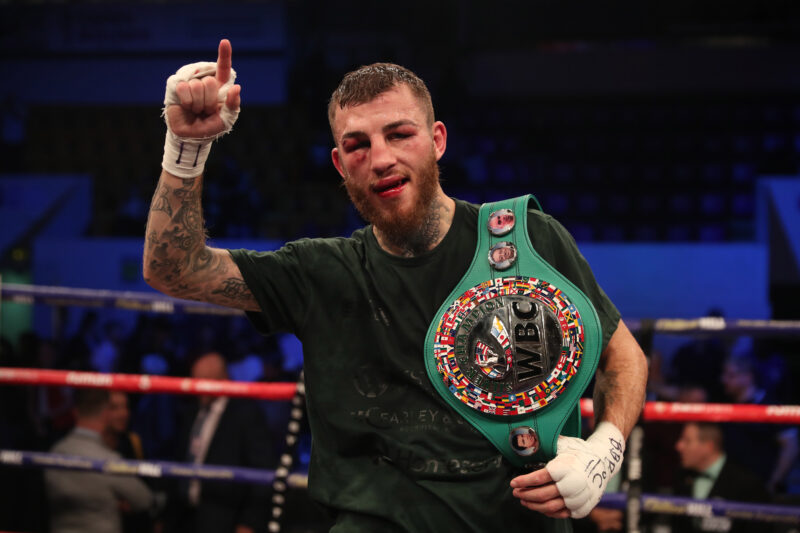 As both men were brought to the centre of the ring to confirm the winner, the MC confirmed a split decision;

* Jkitou, 116-112.
* Eggington, 117-111.
* Eggington, 117-112.

The Savage had done it. Those scorecards are really hard because it doesn't give the credit to both fighters. They were both exceptional and deserve every bit of credit and praise they get.

Whether they do the rematch or both go their separate ways, big fights should be guaranteed for both – especially Eggington. He is nicely working his way up the WBC Middleweight rankings, with more big nights surely to come.

Beautiful brutality. A fight that makes you sit and realise why you love the sport. Credit to both.

The Savage story rolls on!
Undercard… The live opener on Channel 5 saw Irish dynamo Stevie 'The Hitman' McKenna extended for the first time in his career as he won every round against tough Moussa Gary and took his record to unbeaten in nine.  McKenna looked to blow away Frenchman Gary with his big and heavy shots, but Gary, a quality operator with a granite chin, was an awkward customer and the Country Monaghan ace couldn't nail him, but going the extra rounds at full pace would have given him vital career experience. 
Also on the card: Birmingham Welterweight Kaisee Benjamin KO'd Jarkko Putkonen in the third round (1:09); Coventry Middleweight star River Wilson-Bent outpointed Gabor Gorbics over 10 rounds (100-90);
Birmingham's Former British Light-Heavyweight Champion Shakan Pitters beat Farouk Daku over eight (80-70); Brighton heavyweight Tommy Welch won every round against Alvaro Terrero (40-36);
Brixton light-heavyweight Isaac Chamberlain won by RTD1 against Ben Thomas; Sevenoaks Michael Hennessy Jr. won by first round KO (2:15) against Maksims Dembovskis;
County Monaghan middleweight Aaron McKenna outpointed Ivica Gogosevic over six rounds (60-52) and finally show opener County Donegal super-welterweight Brett McGinty won by third round KO (1:17) against Teodor Nikolov.