On Saturday night a packed Headingley stadium was meant to witness the redemption of Josh Warrington but it will be remembered fondly for different reasons. Maxi Hughes' victory over Jovanni Straffon was a lightweight clash which deserved higher billing. It writes the latest chapter in a Yorkshire fighter enjoying the best period of a snowballing career.
In November 2019, Maxi Hughes was back at square one. Liam Walsh had dismantled the Doncaster man over ten rounds and left him with his fifth defeat in twenty-six contests.
Not quite good enough for European level, Maxi would seemingly spend the rest of his career fighting up and coming contenders. A testing ground on those fighters way up to elite level. Jono Carroll was one of them and in August 2020 few gave Maxi a strong chance of overcoming the Irishman. But Maxi Hughes did it that night, outthinking and out hooking Carroll over ten competitive rounds.
Barely two months later, Maxi travelled to Dubai, once more an underdog against the unbeaten Kazakh Viktor Kotochigov. Hughes outclassed him before returning to the UK to knock out Paul Hyland Jr in Bolton earlier this year.
And on Saturday night that promising sequence was meant to end. The heavy handed Jovanni Straffon was fresh off demolishing James Tennyson in a round to win the IBO Lightweight title. His clubbing right would surely catch Maxi at some point. Maxi knew that wouldn't be the case, telling British Boxing TV he was confident he would adapt to whatever the Mexican threw at him.
Maxi Hughes was imperious. The lightweight boxed twelve rounds that will struggle to get the credit they deserve. Booming overhand rights from Straffon averted with ease and punished with accuracy. Peppering the champion's mid-rift, by the fifth round when the fight exploded Hughes had already tired the Mexican with energy sapping blows.
When a minute into the fifth Hughes pinged back Straffon's head and saw the champion's legs buckle it well looked like he may complete the job inside the distance. That he didn't says as much about Straffon's ability to survive as it does any failings on Maxi's part. A champion fighting for survival against a man in Maxi Hughes taking advantage of every inch of opportunity given to him. The victory over Carroll, the stopping of Hyland, the five weary defeats, every memory of a boxing life well lived let out in two fists flying knowing this was to be his night.
Straffon survived but Maxi persisted and by the twelfth the threat of the Mexican's booming right had dissipated into the Headingley sky. Hughes had punched the fight out of the champion. He had wilted the power of a dangerous opponent with his refusal to relinquish any slither of control.
Maxi Hughes is now the IBO Lightweight champion of the world and whatever you think about the standing of the belt, on victories alone he deserves huge credit. Not as a Cinderella man who has fought his way back into contention but as a talented boxer with limitless energy who has the power and skill to genuinely cause most opponents problems.
Maxi could be forgiven for walking away from the sport after his defeat to Liam Walsh but he didn't. Now he has earned his prize. Sean O'Hagan has played his part as has Josh Warrington and it is fitting that on Maxi Hughes's greatest night so far, it was out of Josh's shadow from which he stepped.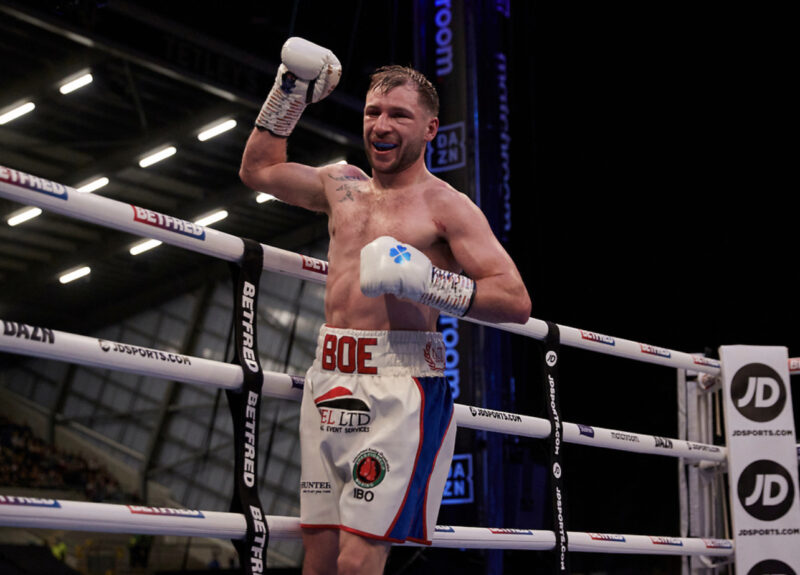 What's next for Maxi? Well now the tables have turned, who he fights next is within his control. That said, he shows no sign of backing down. His IBO title does hold merit, with Gennady Golovkin holding the belt at middleweight and the precedent that sets may invite some of the lightweight division's biggest stars, tempted by the prospect of unification.
Devin Haney was the name mentioned in the post-fight interview and with both Matchroom fighters it seems a fight that could be made. On paper it is also one Devin Haney may take with Teofimo Lopez otherwise occupied with George Kambosos Jr and Vasyl Lomachenko chasing a rematch against the winner.
Another option is Jorge Linares and that is a fight I believe makes sense and sells tickets. Whoever Maxi fights next they will be facing an opponent at the very top of his game, confident beyond measure. It is a combination that could surprise once more.