TAYLOR KEEPS HOLD OF UNDISPUTED CROWN AS CATTERALL'S LEFT DISGUSTED BY SCORECARDS:
The state of British officiating is once again under the microscope as a result of the mind-boggling scorecards put forward by Howard Foster, Victor Loughlin and Ian John-Lewis which found Josh Taylor a split-decision victor over mandatory challenger Jack Catterall after twelve rounds. Re-wind to an hour or so before, Catterall was the first to walk, donning an all-black robe and shorts to match, marching to the ring with real intent to a chorus of boos from the local Glaswegian fans. Taylor arrived shortly after, greeted with a bellowing applause from his adoring home fans, serenaded by a band of bagpipes as his four titles and ring magazine belt were paraded behind him.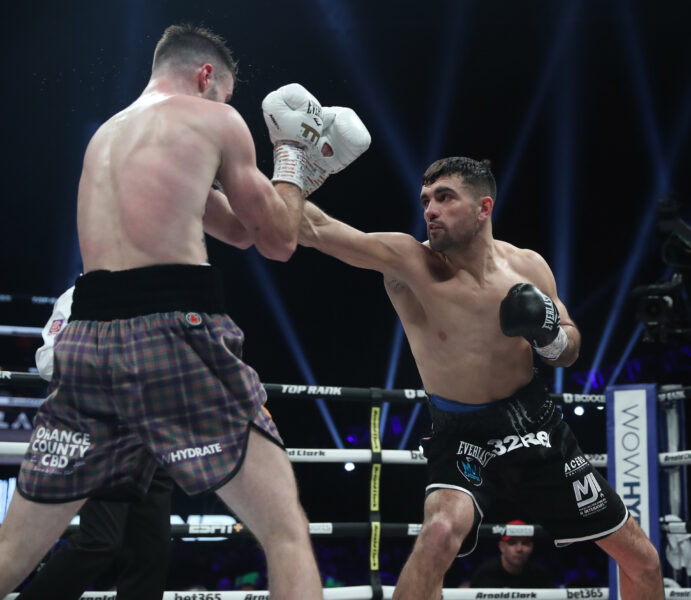 THE FIGHT:
Both men were soon stripped to the waist receiving their final instructions from referee Marcus McDonnell and the sound of the opening bell echoed around the SSE Arena. Catterall started lightning fast, firing out a sharp southpaw jab throughout the first two rounds, often following up with a pinging straight left down the centre which glanced the chin of the champion. The third was messy with not much clean work coming from either man, Taylor struggling to find the range with his own lead hand from southpaw. Catterall arguably did enough to nick the third as well due to work in the final minute, landing two straight lefts in an albeit closely contested round.
The fourth was soon upon us and McDonnell had already given warnings to both men for persistent holding and overall messy work on the inside. Taylor was already showing signs of frustration, with Catterall throwing real spite behind the one-two, again looking much tidier out of the pair. The fifth saw a clash of heads in the opening minute with Taylor gesturing to the referee, Catterall continuing to enjoy success with the straight left-hand, looking remarkably relaxed and settled despite finding himself at the centre of the lion's den. Taylor continued to put pressure coming forward but appeared to lack rhythm and find his range, raising questions about how much of an issue making 140lbs had become, especially given his weary condition on the scales the day before. Catterall backed Taylor up behind the jab at the start of the sixth, Taylor returning the favour moments later. Both fighters are again separated by McDonnell, much of the fight so far seeing the pair engaged in a clinch, both styles struggling to gel up to this point. Yet another straight left crashes against the chin of the Scotsman, a shot Catterall has been unable to miss with throughout the first six. There's real argument to say Catterall has won every round so far, with Sky revealing the challenger to have landed twice the number of punches of the champion so far.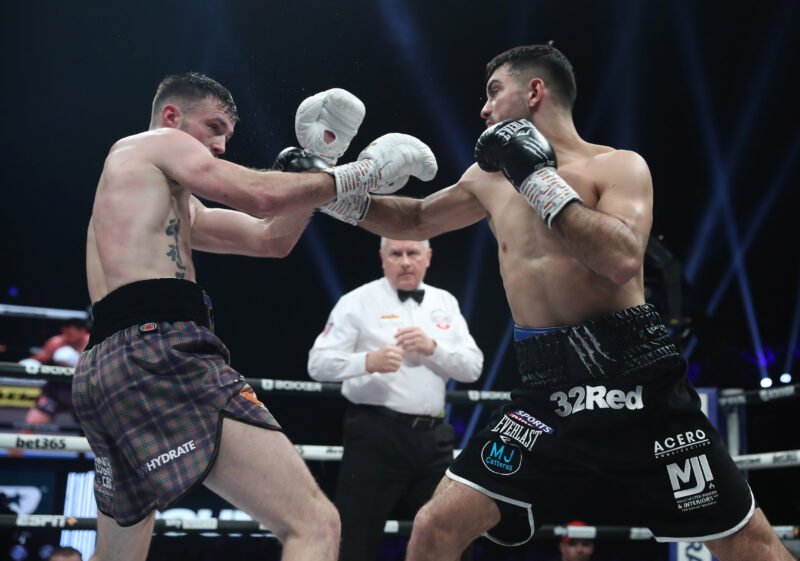 The holding of Catterall on the inside certainly hasn't helped Taylor's cause so far and his frustration at a lack of punishment handed down to his opponent from the referee may be understandable. Catterall enjoys more success with the jab, Taylor returning with a solid left hook on the inside in the final sixty seconds of a close seventh round, possibly Taylor's best so far. The eighth saw Josh Taylor knocked to the canvas for the first time as a professional, two short yet powerful left hooks rocking the temple of the Scotsman, a huge round for Catterall which extends his surely wide lead even further. Taylor shows incredible heart and determination towards the end of the round, flying forward as he attempts to exert his authority on the man who moments earlier had planted him on the seat of his trunks. Taylor starts the ninth as he ended the previous session, a hard left uppercut rocking the challenger's chin followed by a left hook to the body as Taylor seeks to slow down the so far evasive Chorley man in a round which again appeared to go Taylor's way. The tenth saw McDonnell issue a warning to Catterall for pushing the head of Taylor down with his glove, but after a repeat offense only moments later, the Englishman is deducted a point. The tenth was one of Taylor's best of the night so far, essentially a 10-8 given the point deduction midway through.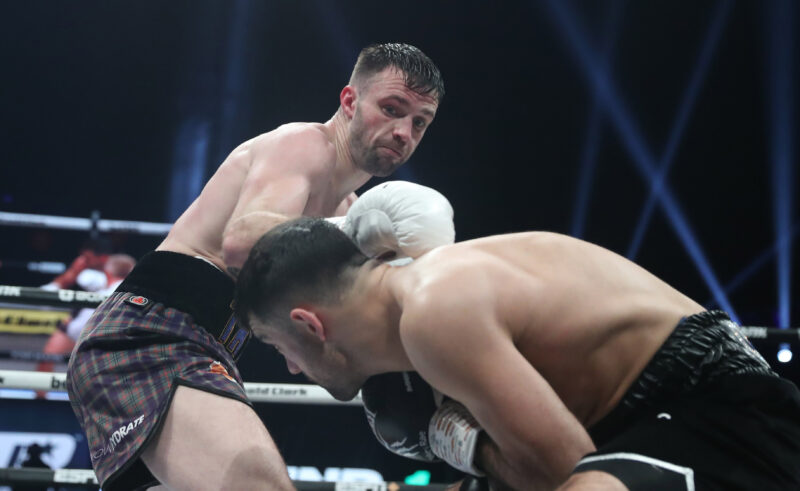 Catterall was back behind his jab at the start of the eleventh as he sought to set a similar pace to the one he'd worked at earlier on in the night, appearing to slow a little in the last two rounds. It was yet another scruffy round, but the challenger's use of the jab is enough to secure another big round for Catterall. Things got even better for the challenger when McDonnell deducted a point for Taylor this time after the champion struck the midriff of Catterall after the bell, yet another sign of the frustration boiling inside the home man. The twelfth and final round, one which Taylor surely had to result in Taylor securing a knockout if he was to keep his titles, was also messy with not much clean work from either man, making it difficult to score. However, with Catterall still on his feet upon the sounding of the final bell, the wide consensus both ringside and online was that Jack Catterall had not only beat Taylor in his own backyard, but that he had done so convincingly and by a wide margin.
Matt Macklin, on commentary duty for Sky, said he 'would be amazed by any outcome other than a unanimous victory for Jack Catterall'. The fighters were forced to wait for a fairly long period while the judge's scores were counted, never a good sign when an away fighter had appeared to win so comfortably.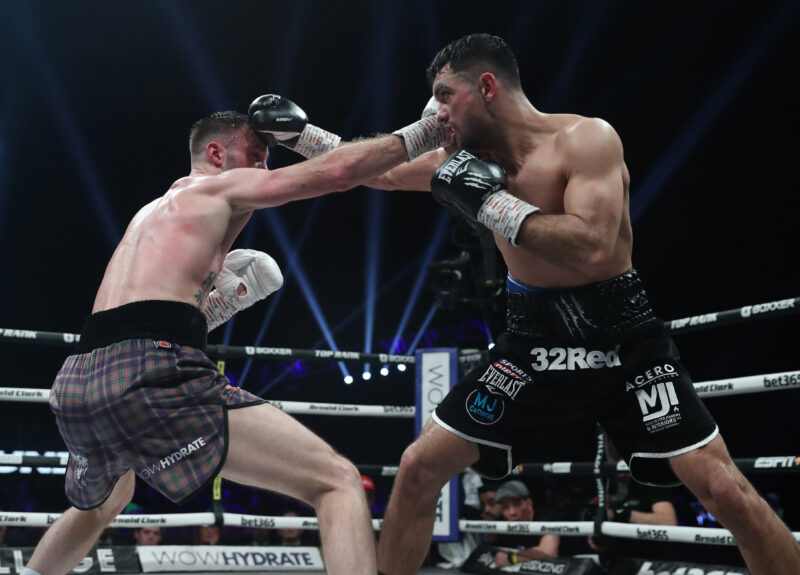 Finally, the MC announced the scores: Howard Foster finding it 113-112 to Catterall, Ian John-Lewis judging it 114-111 to Taylor, and Victor Loughlin finding Taylor a winner by a margin of 113-112. Onlookers at ringside were stunned, Twitter was in uproar and Team Catterall looked disgusted. It appears British officiating was going to be in the headlines yet again. A victory which everyone felt Catterall had secured would not have only seen him crowned the deserving undisputed super-lightweight champion but would have changed his and his family's life forever financially. Taylor has since announced that he will now move up to welterweight for his next fight, a surprise to nobody as he didn't look right all night, but that also means the chance of a rematch for Catterall has gone up in smoke.
THE AFTERMATH:
Promoter Benjamin Shalom could not hide his anger at ringside post-fight, telling Sky's Adam Smith he is 'embarrassed', that 'this should have been a historic night for British boxing'. When asked about the potential of the two going at it again, Shalom said 'it's difficult because Jack came with a game-plan and won the belts tonight, is it really fair to just give him a rematch?'. Similar sentiments were echoed by Catterall's trainer Jamie Moore, who said on the broadcast 'it's difficult to put into words how we feel. You're talking about a kid who did the right thing for boxing by stepping aside last year, finally gets the opportunity, beats the champion in his own backyard and then gets absolutely robbed. It's disgusting'.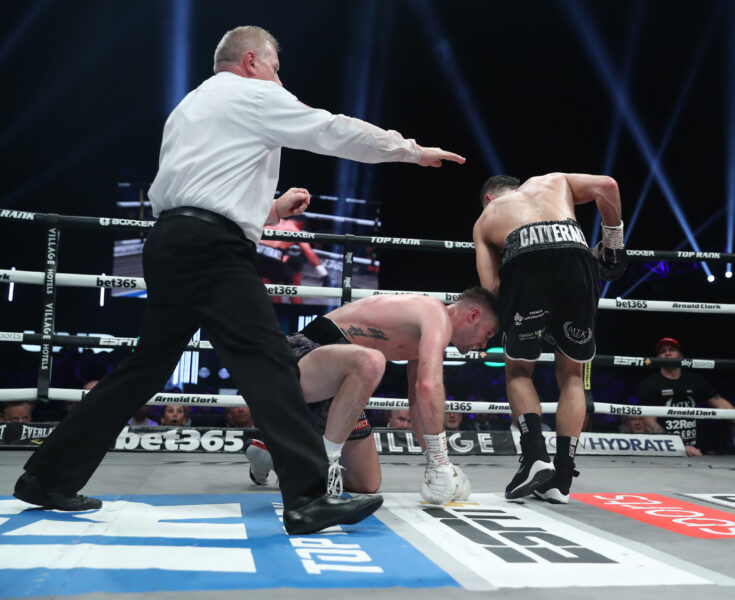 In recent years, judging and officiating by licensed British Boxing Board of Control officials have regularly been at the centre of numerous controversies, a recent example being the failure to disqualify Hamzah Sheeraz for repeatedly striking Bradley Skeete while he was on the floor, the former then stopping Skeete, who never appeared to recover, a round later. Boxing is a sport which is subjective in nature, though that may not apply to the example just given, and it is inevitable that sometimes officials will simply get things wrong, they are human after all. But it's the lack of accountability handed down by the BBBoC which seems to irritate most, with no reprimands appearing to be handed down for blatant errors which leave a lasting impact on a fighter's career. We are undoubtedly lucky to have the Boxing Board of Control in this country, no other commission compares to ensuring the long-term health and well-being of fighters, and so credit must be given in that sense. However, if scandals continue to arise regarding the scoring of fights which practically everyone else saw differently to the three at ringside, and nothing is done about it by those who are meant to ensure accountability, then the sport will continue to shoot itself in the foot. Things need to change, and they need to change soon.
It must also be remembered that no member of Team Taylor wrote those scorecards, and that no frustration should be directed their way as a result. Josh Taylor demonstrated incredible heart and resilience all night, not once wavering in his attempts to claw the fight back in his direction, and his decision to move up to 147lbs will no doubt put him in good stead for the future. He remains a pound-for-pound talent, and every fighter has off-nights. He will come again.
Credit should also be afforded to Sky Sports and BOXXER who did not attempt to shy away from the controversy ensuing around them, promoter Shalom saying 'there has to be an inquest' and that 'they will do everything they can' in the aftermath.
Taylor moves to 19-0-0 as a professional while Catterall's record now stands at 26-1-0 respectively.