Tonight, Manchester's AO Arena will play host to a huge domestic grudge match which has been left to stew for nearly two decades. Bolton's Amir Khan and Sheffield's Kell Brook will finally face-off after years of back-and-forth following their initial sparring session in the amateur code where both were still in their teens. The fight has come close to being made multiple times since then but for one reason or another it has not made it over the line. That was until BOXXER's Benjamin Shalom teamed up with Sky Sports in the summer of last year to bring the pair together, stating on several occasions how it was a fight he had always wanted to see when he was growing up. Credit should be afforded to both BOXXER and Sky for finally pulling off a bout which has been at the centre of British boxing for years, even though it is perhaps arriving slightly later than most would have preferred.  
Olympians Natasha Jonas and Frazer Clarke feature on the undercard, as well as popular cruiserweight Viddal Riley, domestic middleweight Bradley Rea and the highly rated Azim brothers. The bout will be available to watch on Sky Sports Box Office.
THE UNDERCARD:
Saturday night's undercard kicks off with a bout in the lightweight division between the undefeated Abdul Khan (2-0) and Ricky Starkey (2-20-2), the former looking to maintain his unbeaten record as he continues to develop in the pros.
Manchester's undercard also features both of the highly rated Azim brothers respectively, welterweight prospect Hassan Azim (1-0) running out for the second time as a professional following his impressive first-round blowout in his debut last November. MJ Hall will be in the opposing corner (2-73-2). Brother Adam Azim (2-0) makes his third professional appearance in the lightweight division and will look to continue his impressive form against Jordan Ellison (13-35-2) respectively.
Undefeated super-featherweight and Ricky Hatton charge Ibrahim Nadim (5-0) continues his development in the professional ranks against the Zimbabwe-born, but Oldham based Taka Bembere (1-22). Nadim has won all five of his professional contests on the cards so far and will look to impress again in front of his home fans.
Popular cruiserweight Viddal Riley (4-0) will fight on home soil for the first time in his professional career on Saturday night, his first four taking place abroad in the likes of America, Mexico and Dubai. Riley has already developed an audience outside of his own professional career through training several YouTubers including 'KSI' who headlined this same arena in a white-collar bout in 2018. Nevertheless, Riley has expressed a desire to prove himself as a fighter in his own career and prove he isn't just a 'YouTube sensation', and there's no bigger stage than the one he has been provided with on Saturday night. Namibia's Willbeforce Shihepo (25-13) will be in the red corner.
The always-entertaining middleweight and Manchester-born Bradley 'Sting' Rea (11-0) continues his development at domestic level over eight rounds against Ireland's Craig McCarthy (8-0-1).
Rea contested in what was a late contender for domestic fight of the year against Jez Smith and will be hoping to secure another victory as he seeks to add his name to the ever more intriguing domestic middleweight division. The British title at 160lbs currently sits vacant and Rea will no doubt be one of the contenders earmarking a shot at it later in 2022.  
Lancashire's Charlie Schofield (17-1) will seek to defend his English super-middleweight title against London's Germaine Brown (11-0) on Saturday night over ten rounds. The only blemish on Schofield's record thus far is a points defeat to Mickey Ellison back in 2019, a loss which was swiftly avenged in June last year. Brown meanwhile has won all eleven of his pro fights so far, three coming by knockout, and will be hoping to add the English title to the Southern Area strap he attained back in 2019.
The popular heavyweight and Tokyo 2020 bronze medallist Frazer Clarke will make his long-awaited professional debut on a big card as he looks to follow in the footsteps of former Team GB teammates and sparring partners Joe Joyce and Anthony Joshua in the pro ranks. Clarke had to bide his team in the amateurs, watching both Joshua and Joyce get the nod ahead of him in the Olympics in both 2012 and 2016 before finally getting his shot, bowing out with a bronze medal in the delayed Tokyo games.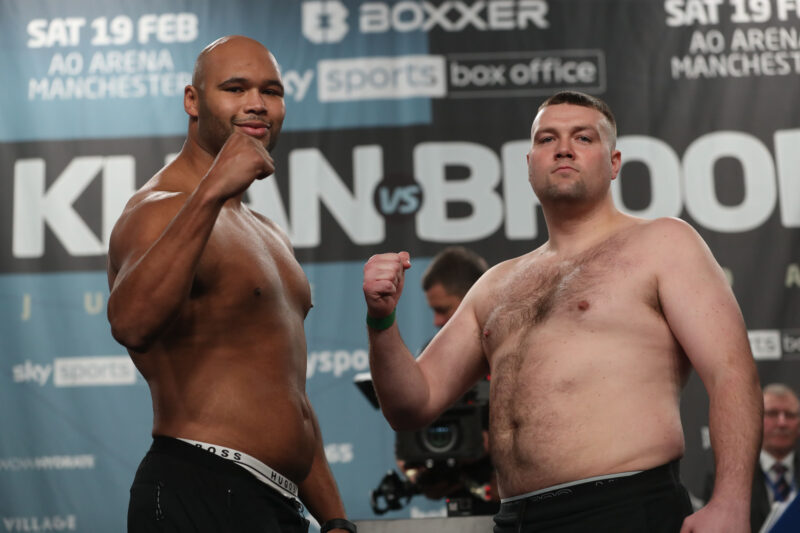 Saturday's chief support features Liverpool's Natasha Jonas' (10-2-1) third attempt to attain world honours against Uruguay's Chris Namus (25-6) for the vacant WBO super-welterweight title. Jonas steps up THREE weight divisions on Saturday night, desperate to finally get her hands on a world belt, coming up short first controversially against Terri Harper at 130lbs and then losing out to Katie Taylor for the undisputed crown at 135lbs last May. Namus however has experience as a world champion, previously holding the IBF belt at 154lbs before losing it in a ten-round points defeat to Marie Eve Dicaire in 2018.
To the surprise of many at Friday's weigh-in, Jonas came in slightly heavier than Namus despite the latter fighting at a more natural weight. Will it be third-time lucky for the former Team GB star or will Namus become world champion once again?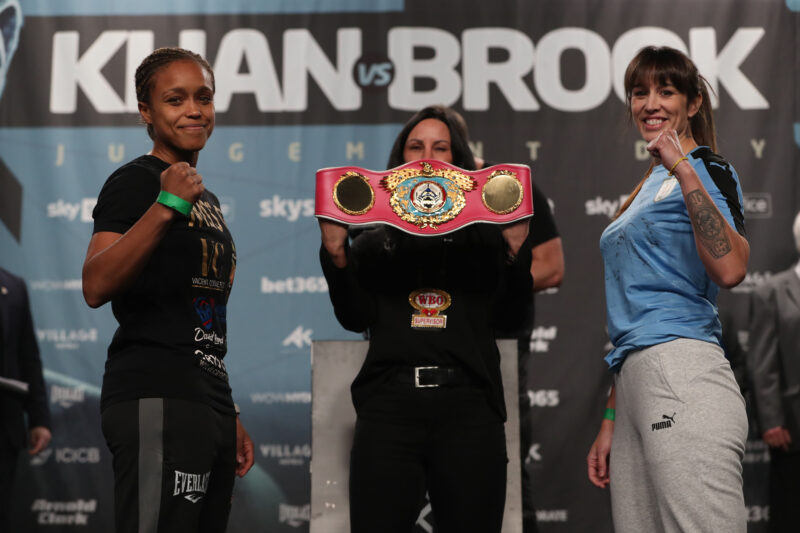 THE MAIN EVENT:
After nearly two decades worth of back-and-forth, much of that time the prospect of this fight happening shrouded in doubt, Amir Khan (34-5) and Kell Brook (39-3) will finally meet each other inside the squared circle at Manchester's AO Arena on Saturday night.
It's not an overstatement to describe Saturday's main event as the biggest all-British bout in years, certainly since Carl Froch and George Groves faced off for their rematch at Wembley Stadium in 2014. Had this fight been made a few years earlier, there can be no doubt that this fight will have taken place at a similar setting, with many arguing that this fight may have arrived four or five years too late. Nonetheless, despite the overcooking of the bout, the Khan-Brook rivalry has captured the imagination of both the hardcore and casual audience, highlighted no better than the lightning speed at which the AO Arena was sold out when tickets went on sale in December.
Since then, the two respective teams have engaged in multiple back-and-forth verbal spars both in person and on social media, particularly at Wednesday's press conference where both fighters got particularly personal, the narrative after surrounding comments surrounding race and sexuality. Both trainers also got into it, Brook's head cornerman Dominic Ingle accusing Khan's Brian 'Bomac' McIntyre of training Khan for the payday, the American questioning Ingle's absence in Brook's corner when he fought Khan's stablemate Terence Crawford in 2020. All will no doubt contribute to the Box Office sales come Saturday and add to the intrigue at just how this fight will pan out, most seemingly split down the middle as to who will have their hand raised when all is said and done.
Both surprisingly weighed in inside the 149lbs catchweight limit, despite some doubting whether Brook would in fact be able to drop down to such a margin. Nonetheless, the 'Special One' stepped onto the scales at 148.3lbs, with Bolton's Khan coming in slightly lighter at 147.3lbs respectively.
That marked the passing of the final hurdle standing in the way of Saturday's mega domestic clash, where fifteen years' worth of rivalry will come down to thirty-six minutes of action. Will it be Brook, or will it be Khan? Who has more left in the tank? Who will come out on top? We will soon find out.