Morecambe featherweight Isaac Lowe spoke to BBTV this week ahead of his big domestic showdown with undefeated Liverpudlian Nick Ball on the undercard of Tyson Fury and Dillian Whyte's clash at Wembley on the 23rd April. Isaac suffered the first professional defeat of his career last time out against the tough Mexican Luis Alberto Lopez and will be hoping to bounce back in a fight which is going under the radar with the casual audience.
Isaac has been part of Team Fury camps for several years now, and is no stranger to fighting on the big stage, having already competed in Los Angles and Las Vegas in his first twenty-seven fights. Wembley will arguably be his biggest night yet however given the circumstances going into fight night, but Lowe is reluctant to treat this camp any different. 'I'm feeling good, it's no different to any other [training camp]. You go the gym, do the work, come back, eat your food, go to sleep and then repeat. It's been no different to any other camp, no injuries so I'm all good'.
'Of course [I'm looking forward to it]. I've been on some big undercards all over the world in some of the best arenas you can ever dream of but to be honest, whether I'm boxing at Wembley or in a cardboard box, it doesn't really make any difference. It's nice but to get in there and do my job is more important than where I'm fighting'.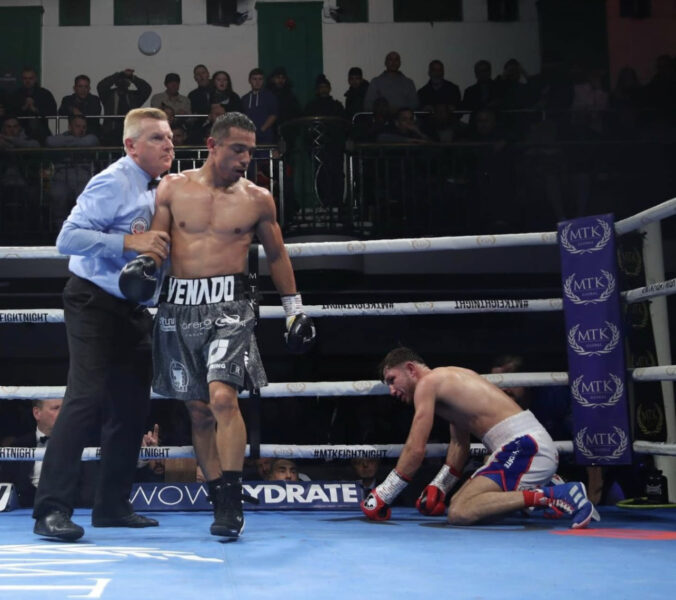 On the defeat to Lopez, Lowe admitted the result was understandably hard to swallow at first, but the Morecambe man is determined to take the positives from a difficult experience. 'I come up a little short but there's no doubt in my mind that he can win a world title. He was a freak of a puncher, had dynamite in his hands and to be fair up until the seventh round where he put me down with a body shot, I worked my way into the fight. It was hard to take for a few weeks but I've spent some time with my family and after watching the fight back, if not for the knockdowns I was winning the fight. I was beating him at his game'.
Credit should be afforded to Lowe for jumping straight back in at the deep end in a fight that is not getting the attention it deserves against a hungry and determined unbeaten fighter in Nick Ball. The twenty-eight-year-old knows that if he is to reach the levels he hopes, he has to pass the hurdles necessary to get him there. 'When you're fighting in a final eliminator [versus Lopez], you've gotta fight good people. Going into this fight, I could've taken an easy route in a six or eight rounder to get some rounds in and look good, but I think I'm at the elite level. If I win this, I'm back into the final line again'.
On Nick Ball, Lowe said 'I wanted someone to give me the fire in my belly. If I lose, my career's in doubt, but if I win then I'm providing for my family and put myself in line for a big opportunity. It's a big opportunity for Nick too, I don't know too much about him, but he's done good. He's a little powerhouse, I've been told he's a big puncher. It is what it is, he brings it and I bring it. There's no doubt we'll meet in the middle of the ring and see who's the toughest. This fight will steal the show, we're coming to win'.
Despite the competitive nature of the fight and the appreciation for the matchmaking in boxing circles, there has been a wealth of criticism of the undercard on social media since it was announced last week. Lowe was realistic however in his response, acknowledging the balance that must be struck by promoters between entertainment and good business sense. 'Boxing fans need to understand that they're spending forty million on the main event. They've gotta get their money back and in order to make money, there needs to be a budget. Obviously they have to put competitive fights on, but it is what it is. You'll always have doubters in boxing. I don't give a shit what people say or what they don't say, I'm only focused on Nick Ball and doing my job'.
Lowe concluded with his thoughts on how the main event would pan out at Wembley as his stablemate and close friend Tyson Fury seeks to make the second successful defence of his WBC title. 'It can go one of two ways. I can't see Whyte doing any different than coming out in round one to force a slugfest, tying him up and aiming for the body to rough Tyson up. I think everyone can see that he can't go on the back foot to outbox Tyson because he'll never win that way. I think Tyson will find his range, it might take a few rounds to get his timing but I think once he does then it's goodnight. He's looking awesome in the gym [Fury] and has had some world-class sparring. I think Tyson stops him in the first six rounds'.