Both Katie Taylor and Chantelle Cameron came face-to-face for the first time at the launch press conference for their May 20th super-lightweight showdown on Monday.
The pair will throw down in Taylor's native Ireland at Dublin's 3Arena – her first fight in her home country as a professional – for Cameron's undisputed 140lb crown as Taylor bids to tie all four belts together in two separate weight classes.
Northampton's Cameron meanwhile hopes to secure a career-defining win against one of the sport's best pound-for-pound offerings, six months on from her victory against Jessica McCaskill for all the marbles in Abu Dhabi.
Amanda Serrano was initially set to face Taylor on the date before the Puerto Rican pulled out through injury, prompting Taylor to call for Cameron in an Instagram post shortly after.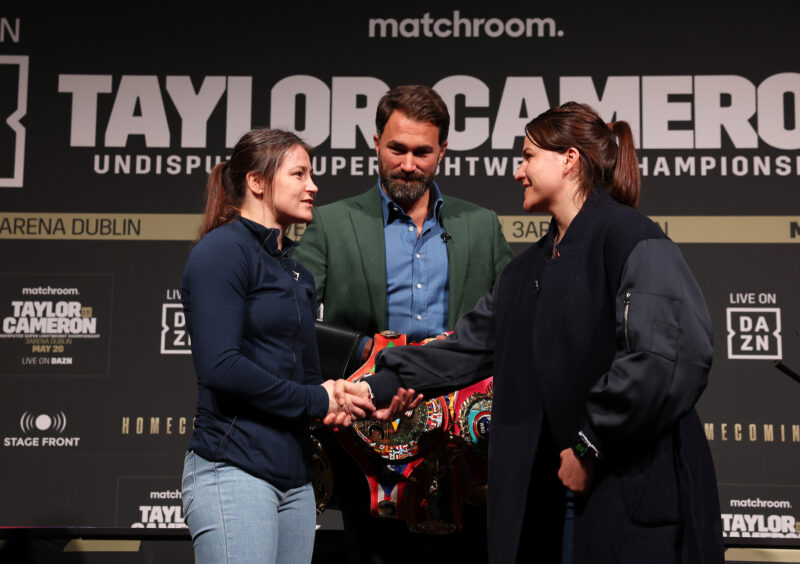 "We talked about the possibility of waiting for Serrano but that wasn't an option", said promoter Eddie Hearn.
"She's [Taylor] stepped up, in my opinion, for a tougher challenge [than Serrano], this time against the reigning undisputed 140lb champion Chantelle Cameron.
"People in boxing have always said 'I don't think Katie Taylor will ever fight Chantelle Cameron, it's too dangerous. How big are the rewards?' but for Katie Taylor the rewards are huge because it's about legacy, it's about becoming a two-weight undisputed champion."
Cameron meanwhile has longed for the opportunity to take on Taylor, believing she possesses the ability to hand the Irish fighter her first defeat in the professional ranks.
"Katie's the best pound-for-pound woman boxer there is and for me to have that challenge to box Katie and get the win, I feel like I can walk away from boxing one day and think 'I did it, I took out the best there is', and what an achievement that is for me", said Cameron.
"I became undisputed, that was the goal, and now the goal is to take out the best there is.
"I've got the strength and the power, Katie's gonna be my toughest fight. I'm not coming here saying it's gonna be an easy fight – this is gonna be the hardest fight I'm probably ever gonna have, so I'm preparing for that."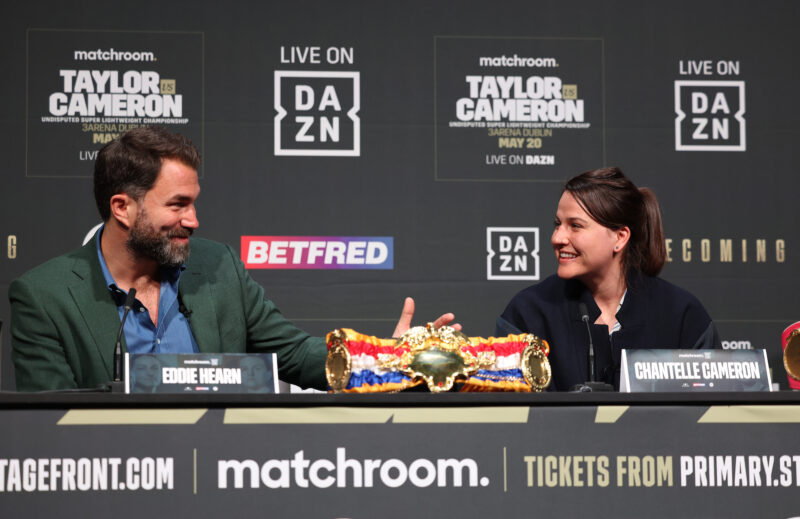 Attention then turned to an energised Taylor who hit back at those saying she would never take on Northampton's Cameron.
"I don't understand why people are saying I didn't want this fight. I think one thing that has marked my career is I've always wanted the hardest fights", said Taylor.
"My first defence was against [Jessica] McCaskill. My Madison Square [Garden] debut was against [Delfine] Persoon who had dominated the lightweight division for years, and there's obviously Serrano who's a seven-division champion.
"This fight is happening because I want this fight. We could've easily went the easy route and chose an easier opponent but that's not how I operate. I wanted those challenges – I want the toughest fights and now we're here."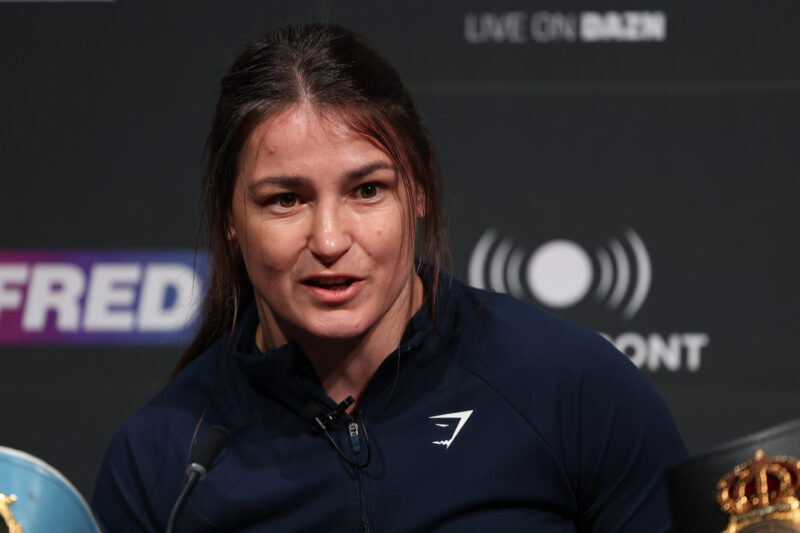 The 36 year old also expressed her delight at potentially tying up all four belts in a second division on Irish soil.
"This is my homecoming show and I have the chance to make history and become a two-weight undisputed champion. This will be the biggest night of my career.
"This is another huge milestone for female boxing. A few years ago we were worrying about whether we were gonna sell out York Hall, now we're talking about the 3Arena being too small so this is absolutely huge. Remarkable progress in such a short space of time.
"I can't wait to step in there in front of my home crowd on May 20th."
Featured image: Mark Robinson/Matchroom Boxing.