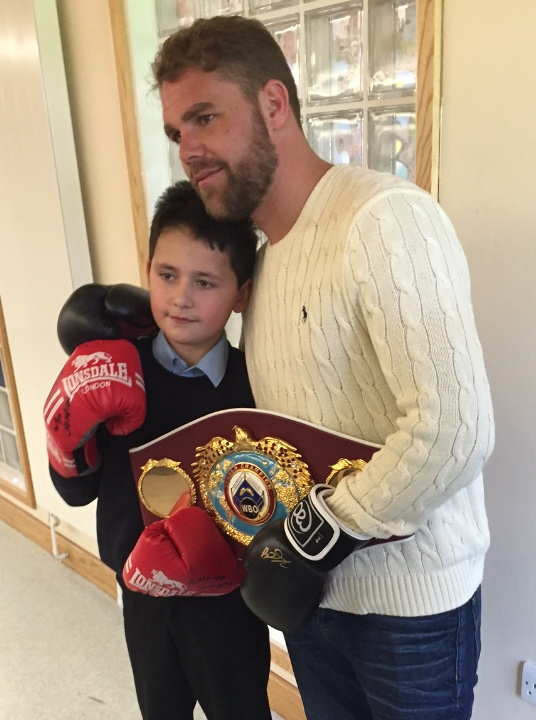 Undefeated WBO World Middleweight Champion Billy Joe Saunders made the day of pupil James Dean after visiting his school today.
Saunders received a hand written letter from nine-year-old amateur boxer James – who said Saunders was his hero and he wanted to become a champion just like him – and invited him to the Bishop Alexander LEAD Academy in Newark and give an inspirational chat to the children in his class.
At the time Saunders, 26, was deep in training for his crucial world title challenge against Andy Lee at his training camp in Marbella, but promised to come and see James after he'd beaten Lee and bring the WBO World title belt along with him.
The Hatfield star might be eyeing future mega-fights against the likes of Gennady Golovkin, but he's grounded enough to know the value and importance of inspiring his young fans and next generation of sporting stars.
Saunders kept to his word and today went to see a shocked James who was lost for words at meeting his idol in person and gave the children in the class a motivational speech for over an hour.
[sam id="1″ codes="true"]
He talked about how and why he got into boxing; the dedication and training he had to put in to become, at 18, the youngest member of the 2008 GB Olympic boxing squad; the transition into professional boxing and becoming a British, Commonwealth and European Champion and ultimately a world champion, and the importance of dedication and perseverance, before taking questions from the children and then tucking into a roast dinner alongside them in the canteen!
"Just coming to the school and meeting James and the other children in the class gave me such a lift, knowing that I can inspire at least one of these kids' to succeed then I know I've given something back," Said Saunders.
"Being world champion isn't just about money, cars and flash things, which are nice, but it's a position of responsibility and to kids like James, he looks up to me as a role model,"
"I said to them, you can achieve anything in life as long as you work and work and work at what you want to achieve and you will succeed, you need to have drive and ambition and never take a knock back as a failure but as a stepping stone to your goal,"
"Whether you want to become a world champion boxer, a Premier League footballer, a doctor or a lawyer or plumber or builder, you need desire, commitment and hard work, that's what was driven into me to succeed and it has proven true."
When James got his breath back, he said afterwards, "It was unbelievable seeing Billy Joe Saunders, who I'd only ever seen on TV, walking through our school gates and come and speak to me!  
"Never in a million years would I have thought that he would come to our school, but he promised he would and he did and he brought his world title belt.  It's a day I will never ever forget.  I'll be a world champion like him one day,"
"I've seen him fight against Chris Eubank Jnr who he gave a real beating to and when he won the world title against Andy Lee, to me he's the best boxer in the world, better than Floyd Mayweather Jr."
James's teacher Melissa Sladen added, "It was a very kind gesture of Billy to take the time out of his busy schedule and attend our school today and James was absolutely knocked out to see his hero in the flesh," 
"It was fantastic for the children to hear how a professional sportsman of Billy's status, a world champion, on what drives him to achieve his goals,"
"I'm sure today will be a day that sticks in the memory of James and the other children for many years to come and serve as inspiration to achieve their goals."