Featured image: Mark Robinson/Matchroom Boxing.
Former amateur sensation Cameron Vuong won his professional debut with a fourth-round stoppage of Engel Gomez in Sheffield.
Referee Michael Alexander waved the bout off with 1 minute 44 seconds remaining in the round as the Newcastle lightweight moved to 1-0 in the Steel City.
The loss was just the fourth time Nicaragau's Gomez, now 8-18-1(4KOs), has been stopped inside the distance.
"Jamie told us before we came out 'just keep your composure, throw your shots and the knockout will come'. That's what I did, tried not to get too excited from the start and I knew I'd put him away if I caught him," Vuong told DAZN post-fight.
"I'll move as fast as Eddie [Hearn, promoter] and Sam [Jones, manager] wanna move us. Whatever they want for us next, I'll have it."
Amateur pedigree clear to see as Vuong shines
Tougher challenges no doubt lay ahead for Vuong but the noise about him as a potential star of British boxing was easy to understand as he stabbed away at Gomez with a prodding left jab in the opening round.
Vuong immediately looked at home, displaying good read of distance and upper body movement to evade Gomez' own attacks.
The Nicaraguan sporadically fired back but was soon made to pay by sharp counters with the right to head and body as Vuong continued to glide in and out of range.
Gomez continued to step in with jabs of his own but was almost always beaten to the punch with the levels in ability clear to see.
Vuong upped the pace in the third before sealing the win in the fourth as a right uppercut, left hook combination bundled Gomez to his knees.
The latter's body language was telling as he shook his head upon re-climbing to his feet, leaving referee Alexander with little choice but to wave the fight off.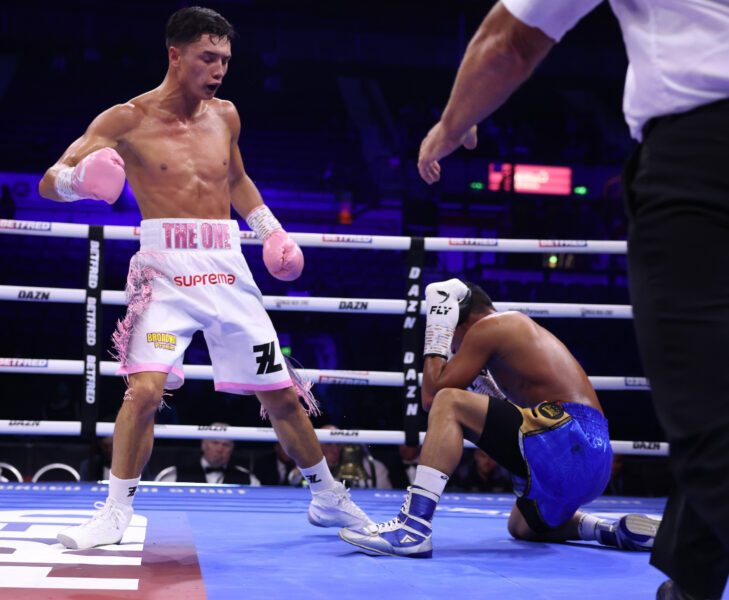 Hearn: 'That was special'
Vuong, who won the Senior ABAs earlier this year, trains under the tutelage of Jamie Moore and Nigel Travis at the VIP Boxing Gym in Manchester after making the decision to turn pro in June.
Hearn was unable to hide his admiration for the performance and vows to put Vuong back out in his home city of Newcastle in November.
"I don't normally get in the ring on a debut for a photo but that was a special, special one," Hearn said.
"We were talking about names for November 11th in Newcastle – that's his next fight. He'll go home, we'll see you there.
"They're talking about some big names, some guys who are already at English title level. I have no problem seeing a man progress quickly when they're special. If that's what Sam, Jamie and Nigel feel, I'd love to see it."