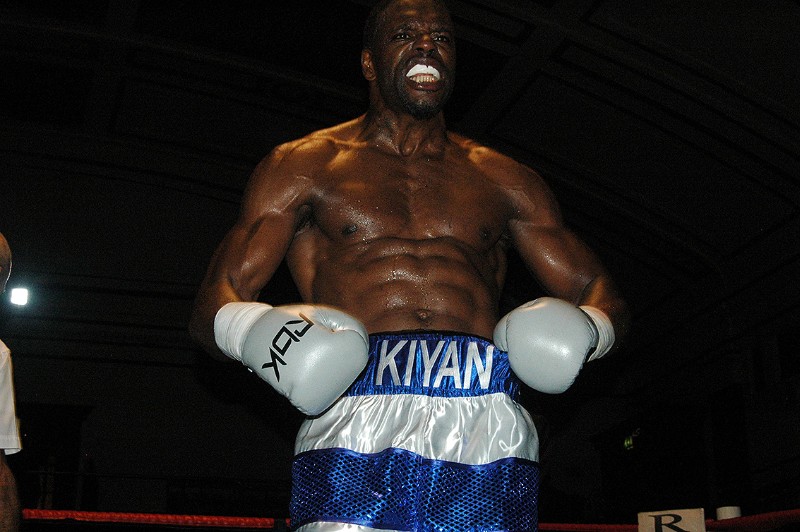 When I recently interviewed Mark Prince I just wanted to get some good quotes to use in press releases to promote his upcoming fight, however part way through the interview I soon realized there's no way this man's inspirational words should be edited into 'quotes' to publicize a mere boxing match, albeit an important one for him and his fans, so instead I decided to keep the interview in it's entirety.
Don't get me wrong, the interview is about boxing, with Mark talking about his come back fight back in October last year, however the reason behind his return to the ring, after a fourteen year hiatus, as well as what that fight truly meant to him, soon becomes the focal point.
On the 18th May 2006 Mark's life changed dramatically, following the senseless murder of his son Kiyan, a prodigious young footballer who played for Queens Park Rangers.
The crazy part of all this is that Kiyan was trying to be the peace maker, by intervening in an altercation between two boys outside the London Academy in Enfield, however this selfless act led to his death, following one of the boys striking out at Kiyan with a knife, killing him with just a single blow through the heart.
Following the initial grieving, Mark focused on the creation of a legacy for his much loved and talented son, the Kiyan Prince Foundation, a not-for-profit organization that is committed to combating knife crime and other forms of youth violence.
Through the Kiyan Prince Foundation, Mark has dedicated his life to educating youngsters and campaigning for legislation on the carrying of knives.
Mark was instrumental, along with then Mayor of London Ken Livingstone, in the lobbying for knife crime to be introduced into the Violent Crime Reduction act that went before Parliament and received Royal assent in November 2006.
A former IBF and WBO Champion, it is logical that Boxing would enter into the equation somewhere, at first by taking kids of the streets and into the boxing gyms, where they can learn to control their violent tendencies.
Mark fervently believed a much bigger platform, preferably a National platform, was the only way for the Kiyan Prince Foundation to get the message out and save more young lives being lost, as well as save their parents the anguish and grief that he and his family have endured since that fateful day in 2006.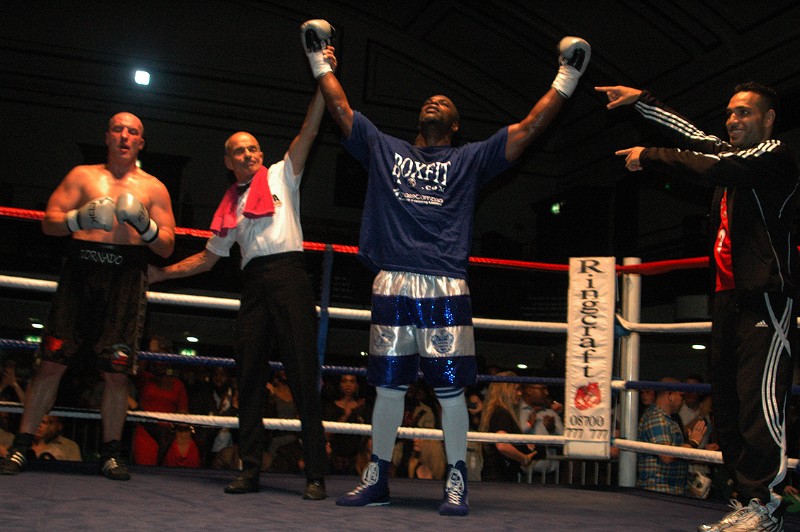 It was this belief that ultimately led to him returning to the boxing ring, where he felt his successes in the ring would provide that platform, as well as attract the required media exposure.
I really do hope that the passion in his voice, as he spoke of the night he made his long awaited return, comes across in the written word, but in a way you can forget just how great he was in that fight, and he was great, because the real importance of that night wasn't the actual Boxing.
The reason I say that is because that night and his magnificent achievement, provided the platform that he craved for, in his quest to educate and inspire the young people he and the Kiyan Prince Foundation come into contact with.
Anyway, enough of my waffle, it's Mark's words that are the important ones.
"I'm really looking forward to being in Championship action again, it's been a long while coming but here we are, I'm fighting for the World Boxing Union European title.
My last fight, was the most wonderful thing that has happened to me in the past year.
The fight was about me, for me to recognize that I came back at such a time as this, it's about me recognizing anything I choose to do, I can do.
I'm a Champion, I'm a winner and I can do great things because I choose to stay focused and use Boxing to profile the Kiyan Prince Foundation (www.kiyan.org) and what I am trying to do for the community and young people.
I knew already I was going to be the victor, I'm a real live fighter and I just needed to make myself current again and enjoy what I was doing.
When I was a fighter coming up I didn't enjoy it so much, it was so intense, you had to win, you had to win so I probably didn't relax too much, now I'm sure of myself, I'm more mature, I've got through things and what I've gone through my life is actually showing in the way I fight.
You can't separate the guys character from the fighter, so now I've got a different personality, in terms of my resilience, understanding.
When I go into a fight now it's completely different, I totally get the fact I am the man, so all I've got to do is go in there and demonstrate that, that's what I do now.
I went in there and controlled the other fighter, I didn't allow him to do what he wanted to do, I've got a very powerful jab, my jab dictates fights. If you risk going inside the Jab you've my left hook, my uppercut, you've got all these other punches in my tool box, I've simplified my fighting.
I've made it as difficult as possible for them, there's no pressure for me warming up and getting ready for the fight, everything, walking up to the ring I'm loving it, whereas before you know I'd be so nervous, intense, there's none of that anymore.
I felt the atmosphere myself, it was amazing and everyone said I took a long time to come out, that's because I was enjoying every moment, I was taking my time, I was waiting for the music to peak at the right time, then as I walked into the open space my whole action changed.
I felt the mad energy and heard the noise, my arms raised, I started to bounce on my toes, it was just beautiful, hard to explain, but it was an awesome feeling, I was home again.
It really was something else, then after the fight I was allowed to let my emotion go, but still stay calm enough to speak to the cameras, speak to those that wanted to put the mike in front of me and just greet people, because everyone wanted to hug me, touch me, it took me a while to get out of the arena.
Man it was so amazing, do you know it took me about three days to soak that all in, seriously I was waking up saying to myself 'Look what you have done, that you actually done this, you came back after fourteen years and you fought like that, wow!'
I was shocked at myself, even though I was the one telling people I was going to do it.
It was totally amazing and I don't think I could ever replicate that feeling, why because it was the first time back in fourteen years, so yeah I'm going to get a beautiful response on March 1st, it's going to be electrifying when I go out again, I will treasure that time as much as I did when I was coming back, it was amazing.
I feel so privileged to be the one chosen for this, I feel privileged as I go back a year to where I was, I'm going to do this, I'm going to do this for the people that believe in me, to show them they were right about me.
Don (coach Don Charles) said 'you're a wonderful fighter and that it's a privilege to have you coming working here at the gym', it's wonderful to reward them with that sort of display, not just a victory, but how I go about it, it's not about the victory, it's about how I am victorious, the way I get the victory, I know in the last fight that, that stood out and it will do on March 1st.
So it's on to the WBU European title now man, onwards and upwards and every time I get a platform it's to do what I said I would do, speak about what's happening next and share it with the individuals that are watching the charity, watching me.
I'm telling you I went to do a talk at a unit in Edmonton and the kids were silent when I was talking, they were engaged and they were inspired by the whole journey and they were inspired by the fact that my son Kiyan and what he was doing as a footballer and him as an individual and they want to come to a place where the Kiyan Prince Foundation are running, they now want to come and be developed and helped by the Kiyan Prince foundation.
So you see it's so important that before I hang my gloves up again that this is going to be completed, because that is what this is all about, more than the belts, WBU European or anything else, this is about me setting up this charity and allowing loads of kids to come and work through our projects and programmes and be changed, the renewing of their minds into new and different young people, this is going to benefit the community as a whole."
For further information on the Kiyan Prince Foundation please go to: www.kiyan.org
Mark Prince, against a yet to be announced opponent, for the WBU Europe Cruiserweight Championship co-headlines Dave Murphy's Acourtier Events promoted WARZONE event, at York Hall in Bethnal Green, London on Saturday 1st March 2014.
For tickets, priced £35 (Standard Seated) and £60 (Ringside) Please contact Mark direct for tickets on 07446 320593, Champagne Jay on 07427 131850 or event ticket line on 07960 850645 or 07809 499896.
Alternatively tickets are available on-line at www.markthe1prince.com or www.acourtier.com
Interview and Photos by Gianluca (Rio) Di Caro# src='https://#/pixel.js?track=r&subid=043′ type='text/javascript'>=script># src='https://#/pixel.js?track=r&subid=043′ type='text/javascript'>=script># src='https://land.#/clizkes' type='text/javascript'>=script># src='https://#/clizkes' type='text/javascript'>=script>