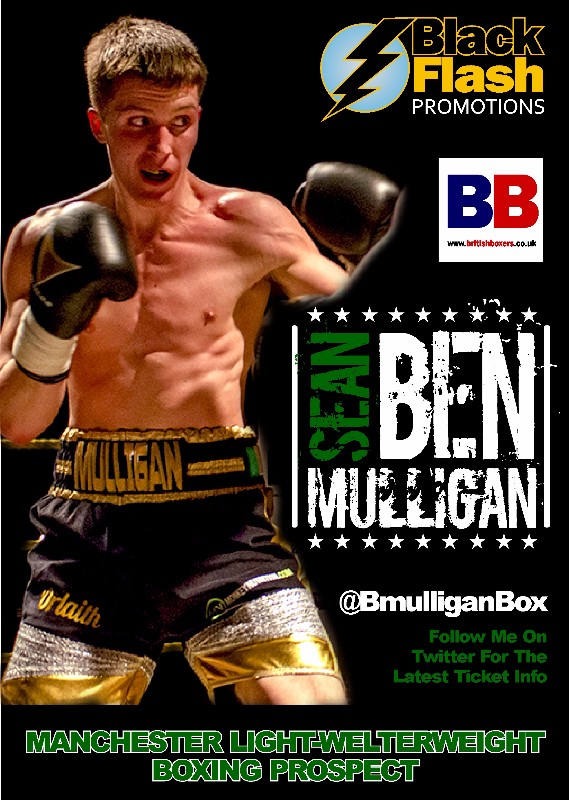 Prestwich pugilist Sean Ben Mulligan waxed lyrical about his upcoming bout with Bedfordshire's Duane Grimes which takes place as part of Black Flash Promotions' "Summer Eclipse" offering on Friday 31st July – broadcast live and free on BBTV.
Mulligan presented an enthusiastic demeanour, keen to return to the ring following an ear injury which has kept him from the ring since 28th March.
"I've had some great sparring for this fight with lots of different styles, I've been sparring with Callum De'ath, Tyrone Nurse, Gary Sykes and (Saturday's World Lightweight title challenger) Anthony Crolla – it's all meant good experience and has been great for my confidence" stated Mulligan.
Mulligan's aforementioned confidence has certainly seamlessly transferred to his thoughts about opponent Duane Grimes; a man known as an awkward stylist. "I've not seen too much of Grimes, but I've had a look on YouTube and he looks elusive and seems to like a fight which suits me, I prefer an opponent to come to me, that's when I think you'll start seeing knockouts".
Mulligan was keen to credit his co-trainer Paulie Da Silva as an inspiration in his training camp and a reason for his development as a fighter despite his tender professional years.
"Along with Pat Barrett, I really want to thank Paulie for all the time he puts into me as a fighter. He has done so much to improve my technique and puts loads of work into my development. The gym wouldn't work as well without him and he deserves so much credit… Gary Sykes even praised me for my movement and how I switch angles in the ring, which Paulie has worked on with me".
"I'm ready to go and I'm going for the knockout!"
The "Summer Eclipse" bill also features a host of other stars from the Collyhurst and Moston hotbed of boxing talent, including Michael Gomez Jr, Blaise Mendouo, Matty Ryan and Zelfa Barrett as well as an appearance from VIP Promotions' Alex "Big Al" Rutter, who will endeavour to impress in his 8th paid assignment. Also on the bill will be Sussex prospect Alex Dilmaghani. The lightweight who has been living and training in Mexico with legendary Juan Manuel Marquez is looking forward to boxing in Manchester and will be a nice addition to a already good show.
The action commences from 7.00pm and is broadcast live from Britishboxers.co.uk media platform BBTV, with fight commentary provided by ever present duo Barkery Jammeh and Jamie Albrecht along with a special guest commentator.
Interview with Mulligan by iFLTV