Former boxer, now trainer Gary Logan talks about a boxer's jab and how to make good use of it, in this week's column 'Logan's Run.'
When I'm teaching a class, I like to see the boxers put their weight slightly back on their right hand side. You do have exceptions—I was watching Carlos Monzon today and he had a really good jab—but if you look at history's great fighters like Joe Louis, Ray Robinson, Roberto Duran, Sugar Ray Leonard, and I'd put James Toney in that bracket too, they have their weight on the right hand side slightly more than most. Bernard Hopkins has his weight slightly over too.
Basically, when they jab they have a lot more balance than they would do if you were leaning really forward on your left leg. I don't like people over balancing. I get a lot of people who come to my classes who say that they've boxed before. They start jabbing and I see them rotate their left hip every single time. They tell me that that's what they've been taught to do to get more into their jab. It actually throws you off balance. If you fight a good counter puncher, they'll want you to do that all day long. They'll smash you to bits.
Duran was adept at leaning forward over his left knee from jabbing distance. He did that to draws shots from his opponent so that he could viciously counter them.
So, I like the weight on the right hand side. I get their elbow in line with their hip and I get their hands the same height as their shoulder. Then I tell them to go home and watch Bernard Hopkins' fight with Felix Trinidad. That's how you should set up. For me, that is one of the templates of boxing. If you want to show somebody what pugilism is, you put on Hopkins versus Trinidad. He had the footwork and the marvellous hand position. He was good going forward and he counter punched the crap out of Trinidad but it all started with that classy jab.
There are a few levels of jab that I like to teach to pro's.
https://www.youtube.com/watch?v=WvbJ8kgLW7Q
I just mentioned the 'Hopkins' jab where you have the left hand quite high. You have the 'Joe' jab. That's the Joe Louis type jab where the hand is just in line with the chest and it comes up from there. Floyd Mayweather is great at that. So was Ray Leonard.
[sam id="1″ codes="true"]
Then you have the Ken Norton style jab where they hold their hands just above their waistband and they shoot it upwards. That will always give you trouble because it comes from just out of your eyeline. To throw it you have to have great reflexes and you also have to be aware that a right hand can come back over the top. Norton used to lean back after a jab so that it was hard for a fighter like Ali—who was used to punching at one height—to get hold of him.
Thomas Hearns's freakish height and arm length meant that he didn't have that worry. Tommy could fire the jab from a much lower starting point. His was just a vicious jab. I was watching him against Fred Hutchings. My God. He wrecked him.
https://www.youtube.com/watch?v=U_zOMgCvpKo
There's the basic jab. Hands high and rotating your shoulder. The variation of that jab is when you step in behind it and get a lot more power into it. Think of Larry Holmes and Lennox Lewis. Riddick Bowe was prominent at it too. Bowe was a great jabber. It's such a shame we only got to see him in one fight where he was in super, super shape. After the first Evander Holyfield fight he was never the same. Marvin Hagler's jab was just a cannon. It absolutely wrecked Tony Sibson.
James Toney comes into that category too although Toney is also a modern example of a guy who used the shelter jab. You don't often see it these days. In recent years you'd probably say that Toney and, to a smaller degree, Mike McCallum have been the two most proficient artists of the shelter jab, where you take your head off line to the right as you throw your jab. The step jab is the heaviest, but the shelter jab is indeed a heavy punch. The shelter jab thrown with timing is a phenomenally hurtful shot.
https://www.youtube.com/watch?v=ECOCPCj7HF8
It isn't a big part of Gennady Golovkin's armoury but he does use it. 'Chocolatito' Gonzalez uses it a little but the most proficient user of the shelter jab at the moment is Andre Ward. I think that's what's gonna do for Sergey Kovalev. For Kovalev to feel comfortable he likes to get his jab landing to head and body and he'll be trying that a lot against Ward. Andre will be offsetting that by taking his head off line every time he jabs.
Ward sprinkles the shelter jab with what I call a light peppering or a reconnaissance jab. They flick it out to either distract you to make you take your hands away from the sides of your head or get you to think that you can throw a counter off it. Muhammad Ali used to use this as he was such a good counter puncher. Between beating Sonny Liston for the title in '64 and when they enforced his retirement in '67, he was such a good counter puncher because he was just so quick.
The number of openings that a good jab can create is endless but I love body punching and I love seeing fighters jab, slip, and then counter with body punches. For me, that's an art. I remember watching Barry McGuigan do it and I said: "I want to stop somebody like that."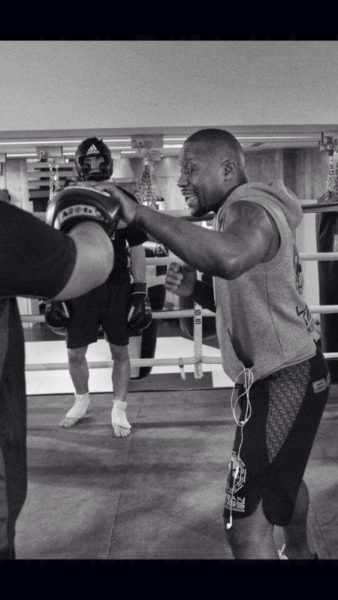 In my next fight, I boxed a kid from Battersea on a dinner show. I dropped him twice with body shots in the first round and stopped him. As he jabbed, I slipped inside and landed a left hook to the pit of the stomach. It's just a really good feeling when you get that technique right.
The one-two is the easiest to land because you may well have blinded the man with the jab as you threw it, just like Larry Holmes did with Gerry Cooney when he dropped him in their fight. Early in the fight, Holmes predominantly used his jab to head which got Cooney used to blocking the jab there until Larry suddenly deceived him by touching the jab to midsection and crashing the right over the top to Cooneys chin. A great 'set up' jab!
So rudimentary wise you'd always teach a kid a good one-two. For me, following a jab with good head movement and then a counter body shot, well, that's art.
You can also turn a jab into a lead hook. Funnily enough, that's how I got dropped by Ray Rowland [in a Southern Area title fight I won back in 1992]!
I blocked two jabs and he faked for a third but turned it into a hook. He hit me right on the temple and I fell forwards like 'Razor' Ruddock did against Lennox Lewis. I've no idea how I got up! I think I only managed it because I was in such great shape. That is a really good shot. Roy Jones Jnr used to do that so well. Sugar Ray Robinson used to do it well too.
There was another fighter, a featherweight from the early 1900's, who sort of patented it; George Dixon. He battled with the best of his era including Young Griffo, Jim Driscoll, Terry McGovern,Harlem Tommy Murphy and Abe Attell and became a world featherweight champion. In fact, he became the first black champion at ANY weight.
[sam id="1″ codes="true"]