'Do fighters spend enough time repeating the fundamentals nowadays?'
It's a question I do sometimes wonder about, as I very rarely see young fighters in this country using the age old fundamental of 'slipping and countering' shots.
I think it's a combination of today's younger generation [those 25 and younger] being influenced by the most exciting fighters of the past decade—Manny Pacquiao and our own hugely popular Ricky Hatton—and also years of rigid amateur schooling.
At their peaks, Pacquiao and Hatton were particularly brilliant at angled attacks initiated by adept and—in Pacman's case—very fast footwork. Hatton was maybe not so fast of foot but accomplished at 'shifting' into positions for his violent body shot repertoire.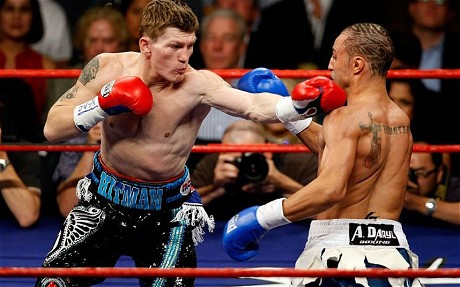 If you notice, Ricky would get outside of his opponents left hand or outside of their right hand. He used to step right to the outside and throw that right uppercut or around to the other side and wing the left hook in. Basically, he was taking his head off of the centre line.
Pacquiao was profoundly adept at firing that straight left and taking his head out, usually coming over the top with a right hook or stepping off to the right after he'd thrown his left hand. He'd use the straight left to get himself outside your jabbing hand and then he was off to his right.
They were both good at taking their head out of the centre. They just did it in different ways.
The advantage of getting to an angle is that you're working at your rhythm and, especially in Pacquiao's case because he's got such quick feet, the opponent is always having to reset. Watch Pacquiao in the fight with Miguel Cotto. Cotto actually fought really well but he was constantly having to reset because Pacquaio was such a mobile target.
[sam id="1″ codes="true"]
So, to the naked eye or an easily impressionable young amateur eye, you are led to believe that a bombardment of exciting combos with no high regard for defence is indeed the route to success. Sadly, it's not true.
A lot of kids that have grown up in that era don't think that less is more, they think that more is more. They have to be aware of the consequences. If they fight anybody who's more than half decent and don't think about head movement, they're gonna get hit.
Combine this with many of today's more developed fighters, who as amateurs were what we call 'grade', coming into the professional game still utilising the 'fencing' style of amateur boxing, which gained more success with the computer scoring of the day.
As a result of this computer scoring era, head movement and slipping inside or outside of shots in order to counter is not something we see across the board in today's modern fighter.
Don't get me wrong, we are seeing head movement before a fighter punches in modern times—when talking the art 'slipping and countering' the names Rigondeaux, Ward, Lomachenko, Fury, Haye and James DeGale come to my mind as excellent practitioners of this art—but we are primarily seeing fighters either throw a cluster of shots when countering or blocking up before countering.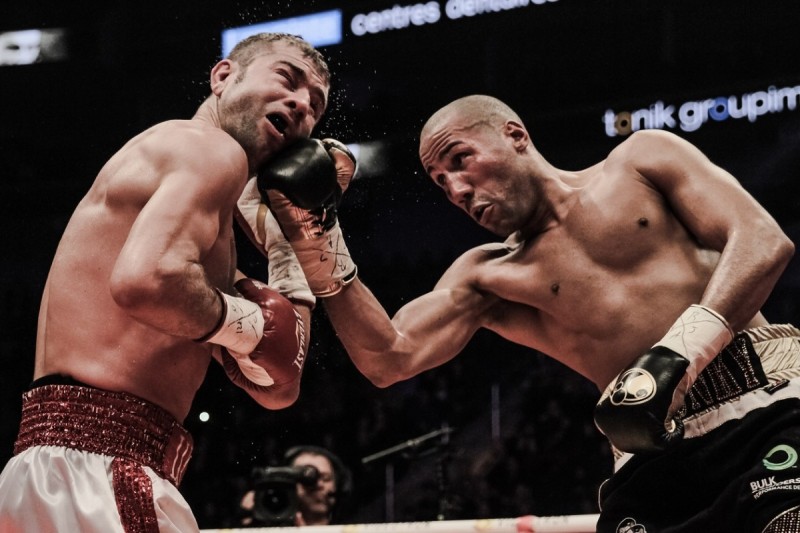 The good guys will always find or make gaps.
We're starting to see that now. Liam Smith's head is in the middle all the time. OK, he's blocking up but blocking up without head movement will only take you so far. He was still getting hit by Canelo even though his hands were high. He's gotta ask himself: 'Why am I still getting hit?'
Pernell Whitaker used to fight a lot of guys who wouldn't open up their guard. What he would do was that he wouldn't fully rotate his jabbing hand. He'd throw it sort of like a Wing Chun punch with his hand to the side rather than fully rotated. He'd push it through their guard just to confuse them and then he'd usually end up going downstairs to the body. Pernell was a better body puncher than he's given credit for.
You're always having to remind young pros to keep their head moving. It doesn't need to be moving constantly, but certainly after they've committed to a shot it has to be. I'd say it's been the case with most of the guys I've worked with with the exception of David Haye—who naturally has great head movement—and Mike Perez.
Even though some eventually end up being quite adept at it, they've always had to be encouraged to move their heads because they avoid shots so well to a certain extent with their feet and that's the way they were brought ups as amateurs. They either blocked up high or moved away with their feet.
[sam id="1″ codes="true"]
I noticed it in Team GB at the Rio Olympics. You could see that some of the fighters were still hybrids of the old amateur system whilst also trying to get hold of the new system of working in close, moving their head and having upper body movement. They've been used to gliding in and out of range with their hands up but the game has changed on them.
Now you have that new generation of kids who have to be re-educated. They also need to be taught that you don't just move your head for the sake of it. You don't just waggle it.
Of course, you do it so that your opponent doesn't have a stationary target but there's more to it. Look at classic Roberto Duran at his peak. He often used head movement to just inch himself into distance so before his opponent knew it, he was right on top of them. You think to yourself: 'Is nobody else watching this and noticing what this cunning bastard is doing?!'
For me, the fight with Carlos Palomino is boxing porn. I always say that the night he beat Palomino and the night he beat Ray Leonard, very few welterweights would have beaten him. Mentally and physically he was in another place. He is boxing royalty.
[sam id="1″ codes="true"]