On March 4th, 'Savage' Sam Eggington (19-3-0, 11 early) looks to continue his unlikely rise through the boxing ranks and secure a win over two time World Champion 'Magic Man' Paulie Malignaggi. The bout will take place as part of the undercard to the David Haye v Tony Bellew show on Sky Sports PPV. Prior to the fight, Sam was able to take some time out and talk to BritishBoxers about his plans for the big occasion. 
With both men vying for the coveted European strap, the announcement for this fight came somewhat unexpectedly; A Birmingham card had been announced by Matchroom for May and so it seemed obvious that this would be the whereabouts for Eggington's next match up. On the other side of the pond, Malignaggi had been speaking publicly about his desire to fight for the European belt in New York and looked all but set to face current champion Ceferino Rodriguez (24-1-0). For the 'Savage', this fight makes perfect sense – 'The fact it's someone from over the pond, that makes it even bigger' he said, before adding 'If I do a job on him, and I think I will, I'm confident then it'll open serious doors. I'm not looking past Paulie Malignaggi, it'd be stupid to do so, but I do want that European belt before anything. I'm mandatory at the moment, so Paulie is a bit of a banana skin, but I'm more than confident'. Eggington told www.britishboxers.co.uk
[sam id="1″ codes="true"]
Heading into this fight, Eggington is coming off the back of the biggest win of his career to date – a Fight of the Year contender in his hometown against local rival 'Fun time' Frankie Gavin. Pre-fight it was billed as a boxer vs. brawler matchup, one that Sam will be all too familiar with by now. When losing his British crown, Eggington was out boxed by the slick movement of Bradley Skeete; public opinion following the bout assumed that this was to be a weakness for the Birmingham man, and led to him being an underdog when facing Gavin. In beating Frankie convincingly, he has made a mockery of some of the previous opinions thrown his way, and will face a very similar style with the 'Magic Man'. 'Some people still won't give me that credit. Frankie beat Skeete, I beat Frankie and Skeete beat me, it's a mad situation to be in. But I think it proves I can mix it with the best – boxer or brawler' he responded, when I asked how he regarded the preconceived ideas some may have about his weaknesses. 
I posed the question as to whether there could be much better preparation for Malignaggi, than facing Gavin and Skeete before this – He agreed with the sentiment, adding 'Other than the Southpaw, he's perfect. He's (Gavin) got the same skillset if not better than Paulie, none of them hit very hard, and they're about as tall as each other. I think maybe Frankie is a bit more slippery'.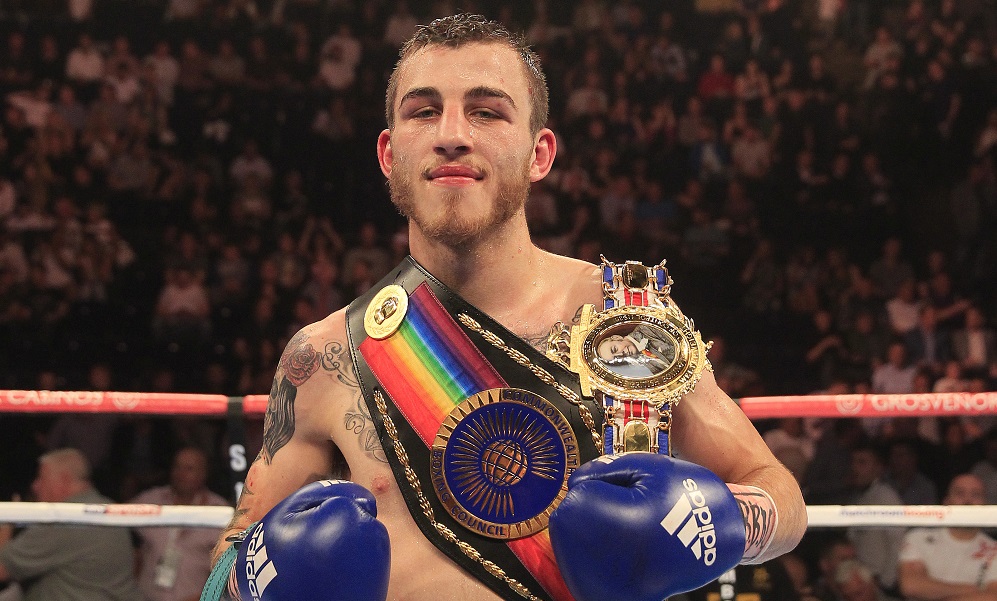 For Malignaggi now, it's just a question of how many fights he has left and it's tough to know which Paulie should be trained for. Previously you would have suggested to match up for quick hands, and fast feet sliding in and out of range, but as his legs have grown older he has become more experienced and is a far wilier veteran. Sam though, feels that if he's prepared to the best of his ablility, then it shouldn't matter what's coming back his way; 'I train to make myself the best, and if I train to my best, then I shouldn't have to worry about them' he said. 
As mentioned previously, Birmingham is playing host to Kal Yafai's World Title homecoming on May 13th, and if all things go to plan then Eggington expects to be part of the bill; 'I've not been told that yet, but it's hard to presume not I think. I'd like to be'. Boxing in the Midlands is booming at the moment – with Kal Yafai bringing a title back home Sam heading towards European glory and an all Birmingham British title bout upcoming with Tommy Langford defending against fellow 'Brummie' Craig Cunningham. 
I'm sure Sam would be the first to say he won't overlook Paulie for a second but with a European title shot on the horizon, it seems the only way is up for the 'Savage'; Having previously been linked 
with the likes of Danny Garcia and now being given a big break with a bumper slot on a huge pay-per-view bill in the capital. March 4th really could be the start of an exciting period for the young Welterweight – not bad for a fighter who's original plan was to be a Journeyman.
[sam id="1″ codes="true"]