No longer one of boxing's best kept secrets, Saturday evening at the Leeds Arena could be Zelfa Barrett's (18-0-0) break-through moment.
A lot of excitement has been building around the Manchester fighter, and with a record of 18 wins and 11 knockouts, Zelfa has himself let it be known that he is now 'off the leash' and aiming for titles. This super featherweight English Title clash will also serve as an opportunity for the man at the other end of that leash- Pat Barrett– to achieve a second English title for the Collyhurst and Moston Gym in a short space of time. Zelfa's opponent, Chris Conwell, comes into the fight with a record of 9-2-0.
In an age of multiple sanctioning bodies and countless pay-per-views, one could argue that Zelfa Barrett is more than just an exciting prospect, for he appears to be in possession of what some consider the holy trinity of success in modern boxing: talent, marketability, and substance.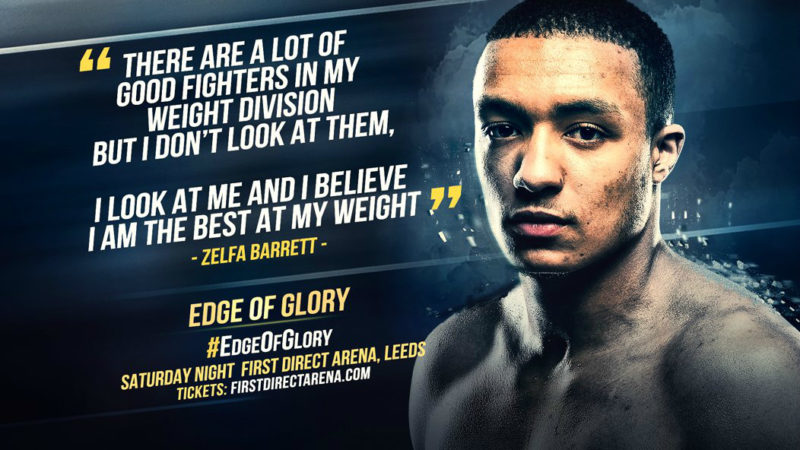 Although some would point to the calibre of opponents on his undefeated record, if you watched Zelfa's fight against Eusebio Osejo on Boxnation, you would struggle not to be excited about the kind of explosiveness, backed by a patient and thoughtful foundation on display that night. Zelfa is both; eye-catching, as well as incredibly well-drilled in the fundamentals that serve as the bedrock on which everything else in his arsenal is built upon. Expect to see Zelfa working out his opponent early on, and gradually finding the gaps to exploit. One would expect his talent to be too much for Conwell on the night, but Barrett has made it clear he does not take his opponent lightly.
In terms of marketability, Zelfa speaks very well, but with enough humility and a realness that endears him instantly to the public. He appeals to the younger audiences and well as casual boxing fans. His social media game and general vibe must make advertisers rub their hands with glee.
At the end though, it all comes down to substance. The legacy of where Zelfa is coming from ensures that he has deep roots to keep him grounded. These can be traced to The Collyhurst and Moston Gym- where his uncle and trainer Pat Barrett- himself a champion-knows just what it takes to succeed as well as potential pitfalls along the way. Pat's boxing philosophy has been very much moulded by the legendary Manchester trainer Brain Hughes. When Zelfa steps in the ring, decades of knowledge, wisdom and experience are there to accompany and guide him.
Ultimately though, it will be Zelfa who has to grab the opportunity himself on Saturday night. His opponent, the determined Chris Conwell, who is himself trained by another former British and European champion in John Murray, is very well known to him, with the two fighters both hailing from Moston in Manchester and they have sparred together in the past. Conwell infant had a few amateur fights for the Collyhurst and Moston club Barrett resides at. Purely on records, Zelfa's most recent opponent was Jordan Ellison, whom Zelfa stopped- where as one of Conwell's two defeats was to Ellison.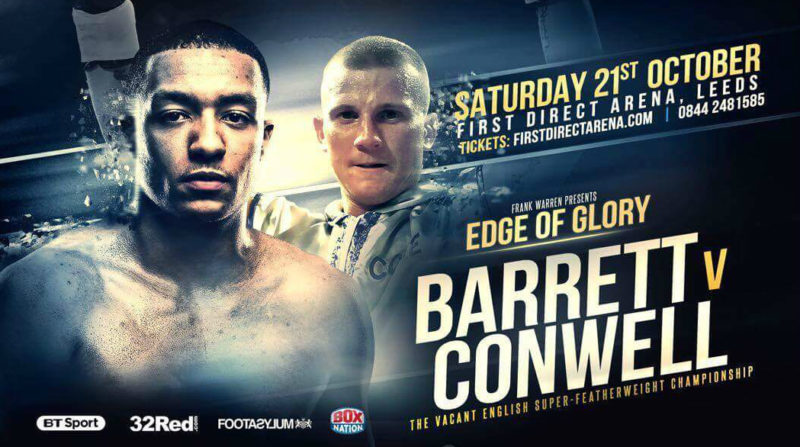 It all seems perfectly poised for Zelfa Barrett to take the big stage and the timing seems right. It would be easy for boxing fans to begin to salivate about potential domestic matchups against the likes of Lyon Woodstock (also on the bill), but as we all know, in boxing you should never look past an opponent, as anything can happen in a split second.
The opportunity is certainly there, as is the momentum. Whether it all comes together on Saturday night, remains to be seen.
LATEST BBTV VIDEOS