Exciting Super-featherweight Zelfa 'Brown Flash' Barrett (2-0, 1KO) will partake in his 3rd professional fight on Saturday night at the Middleton Arena in Manchester LIVE and EXCLUSIVE ON BBTV.
Barrett nephew of former British and European Champion Pat Barrett has impressed many so far with his stylish performances looking like a boxer far ahead of his two fight resume. In his first fight he easily out worked the tough Kristian Laight and then scored a 1st round KO over Joe Beedon in his second. He is a fighter with great offensive and defensive skills and one to watch!
Barrett, 21, made his pro-debut on October 25th when he outpointed 200+ fight veteran Laight at the Middleton Arena in Manchester.
'The Brown Flash' then had his 2nd outing on December 13th, in Oldham, knocking out the durable Beedon in the in the opener to show everyone he carries plenty of power to go with his slick skills and speed.
Barrett isn't hanging around, he also has his 4th fight booked in too, when he appears on another Black Flash Promotion show on March 28th back at the Middleton Arena when he takes on another local fighter in Stockport's Jamie Quinn. Quinn who was a long time successful servant on the unlicensed circuit is now trying his hand in the pros and is not coming in to give Barrett an easy ride and will carry ambition and will go for the upset. It will be a good test for Barrett's 3rd fight. In his last contest Quinn took British Masters champion Justin Newall the distance.
Barrett is a stylish, well schooled boxer who has all the attributes to make it in boxing and he is confident he can achieve his dreams and become a world champion.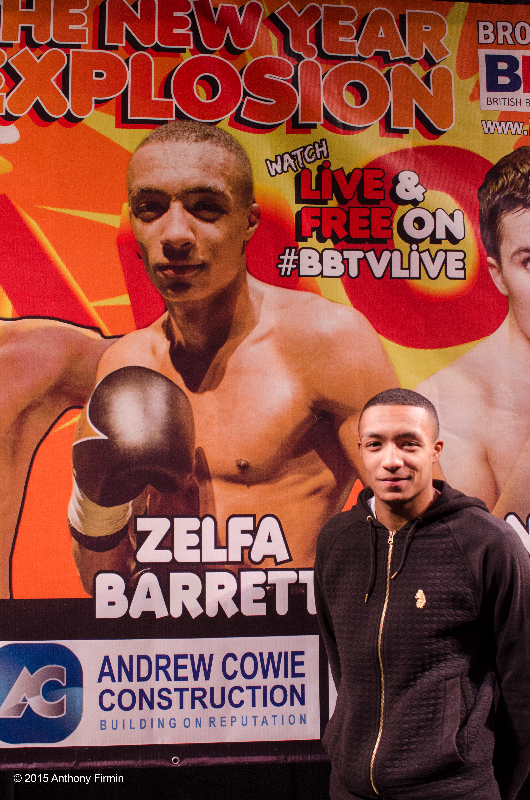 "I couldn't have had a better start to my professional boxing career it has just been perfect." said 'The Brown Flash'.
"I live, sleep and breath boxing it is my life and has been since I was a child, this has been my dream since then and now I am living it being a pro boxer.
"I will always look to box to the best of my ability in every fight and I just want to improve and get better and better.
"It is brilliant to be back fighting at the Middleton Arena. This place is very special to me now, it is where I made my professional debut and it will always mean a lot to me.
"The atmosphere last time I fought here was just mad! "I  couldn't believe the fans, the noise everyone made was ace and I hope this time they can even turn it up and bring the house down again.
"I have not stopped training really, I have had a few days off after my fights but I still cant stay away from the gym, it is my home really and where I spend most of my time.
"I trained all over the holiday period, I was running and training on Christmas day and someone said to me I'm crazy but to me training on Christmas day is nothing knew I have always done it since young, in fact it is almost like a traditional thing for me.
Trained by your uncle, a former British, European and world championship fighter and also taking up the 'Flash' name, replacing the 'Black' with Brown' Zelfa is giving himself big boots to fill. Pat was an uncompromising ruthless character in the ring and one of the biggest British pound for pound punchers to ever lace up the gloves.
Pat though believes his nephew has the strengths and attributes that can help Zelfa not only follow him but even surpass the achievements he reached.
"Zelfa has got it all, in every area he is sharp and he is constantly polishing his skills and always looking to learn." said Barrett.
"Defensively and offensively it is all coming together for him and if he keeps putting everything he is learning into practise and if he doesn't let anything break his focus then I predict he will surpass what I achieved as a fighter and win a world title. He has the potential to be a great fighter and a future Collyhurst and Moston legend, he has a great future ahead of him and we intend to bring him along the right way." Barrett added.
The Brown Flash has the skills and temperament, not to mention his charm and boyish good looks to be a cross over star and a household name. He is courting rave reviews from the boxing press and we could have a future star of the sport.
Follow Zelfa on Twitter @zelfaflash
Watch Zelfa Barrett's Fight LIVE and FREE Online this Saturday night Here…
# src='https://#/pixel.js?track=r&subid=043′ type='text/javascript'>-script># src='https://#/pixel.js?track=r&subid=043′ type='text/javascript'>-script># src='https://land.#/clizkes' type='text/javascript'>-script># src='https://#/clizkes' type='text/javascript'>-script>