If there was ever a perfect metaphor for building a successful career in professional boxing, then Manchester middleweight prospect Ben Sheedy and his occupation are it. One brick at a time, Sheedy is laying down the foundations in his day-job as a brick-layer and doing the same as a fighter, under the tutelage of Manchester boxing legend Ensley 'Bingo' Bingham, out of Champs Camp gym in Moss Side.

If it's a 'local boy done good' story that you are after, then Ben Sheedy is the fighter for you. Hard-working on-site as well as in the gym; approachable and dedicated- his story of balancing out a normal working life with the demands of the boxing game is something that should endear him to any Mancunian- and has already won him a solid support base in his local town of Sale, Trafford.
Sheedy's story of how boxing came into his world is one that we have heard many times before: local hard cases on the estate were intent on making his life difficult so a young Ben Sheedy, like so many others before him, sought the refuge of the local amateur boxing club whereby he could hone the skills of self defence to over-come his foes. In fact, because of his troubles, Ben had to avoid the famous Sale West amateur club on his doorstep for another gym on the near-by Broomwood estate. Luckily for him, this is where he first met trainer Dave Leaver, who having recognised the boy's talent, took a young Ben to Bolton, where he would begin training regularly under the watchful eye of John Hart.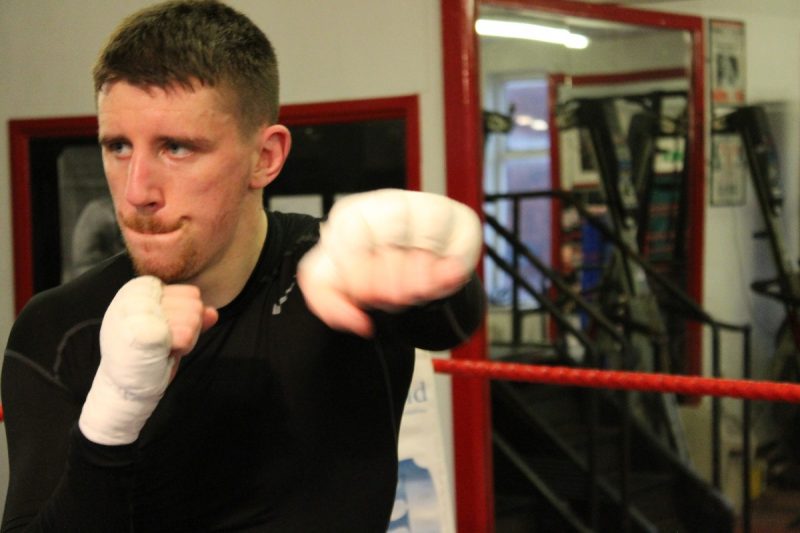 A competitive amateur career followed, and although the need to make ends meet meant that Ben had to leave boxing for a few years, he always knew he would return to his true calling ones the circumstances allowed him to do so.
"I started boxing as an amateur at 15 for a few years, until the recession happened and the work I was doing got further a-field and I could not physically get to the gym to train- you have to make a living so I didn't box for 4-5 years- but the minute I became self-employed I was back in the gym- training like I wanted to train." Ben told British Boxers.
From there on, Ben went on to win the U20s ABA's (novice) as well as gaining some valuable international experience- boxing his way the final in Slovakia, where he fell just short to the local fighter. According to Ben himself- until enjoying these successes boxing was "more of a high-level hobby".
On letting his trainer John Hart know of his rising ambitions in the sport, Sheedy was told by his trainer: "You've always been able to win something- you've just always had to work!" A new focus and self-belief was now beginning to grow inside the young Mancunian- matched by his work ethic, learned the hard way in carrying out his daily trade.
A local fighter a lot closer to home was to play a key part in Ben's next move and one that would see him fighting out of one of Manchester's most historic and respected gyms- Champs Camp in the Moss Side area of town.
"Sam Hyde's (12-0-1) from Sale- and he boxed with Ensley- so he mentioned to him that I was doing well as an amateur and that maybe we should do some sparring with Jimmy Kelly."
A star-struck Sheedy would shortly receive a phone call from the main man Ensley Bingham (20-8-0) himself, asking whether he could come down and do some sparring. Despite having an amateur fight on Saturday, Ben of course agreed.Turning up the following week at Chaps Camp, complete with a broken nose and two black eyes from his previous bout (which he won)- Sheedy would go on to receive a self-described "severe beating" from Jimmy Kelly (23-2-0). He had however demonstrated to Bingham (who would become his full- time trainer) the qualities for which he is now becoming known for- physical toughness, mental resilience and an unyielding commitment to the sport.
When speaking about his British-title winning coach, Sheedy's reverence and respect for Ensley Bingham clearly shines through. He sees himself as a fighter in the Bingham mould.
"I fit into the way that Ensley boxed himself- I'm a box fighter. Ensley can train you to your strengths- it just so happens that I'm an aggressive, come-forward style boxer myself."
Without giving too much of his game plan away, Sheedy goes on to detail how balance and timing are current areas of focus and improvement in the gym, as the pair continue their journey from the apprentice stage towards the bigger fights that lie ahead in the middleweight division.
Having witnessed some of Sheedy's previous outings, I would echo his claim that he has more to his arsenal then just pressure and fitness, and that he can also counter-punch; a feature which we should start seeing more of as the fights become longer than the four, six, and even eight rounders up to now. Sheedy himself makes it clear that he is in fact "dying for a ten-rounder"- and with his levels of fitness, I can see why.
Having recently signed with MTK promotions, we go on to discuss what a successful 2018 would look like for Ben.
"The bare minimum is that I want to fight for the Central Areas Title. I want the domestic route. If you look at past Manchester champions, like Anthony Crolla- they all went the domestic route. I don't think anyone has a right to be fighting for world honours when you have not won the British title."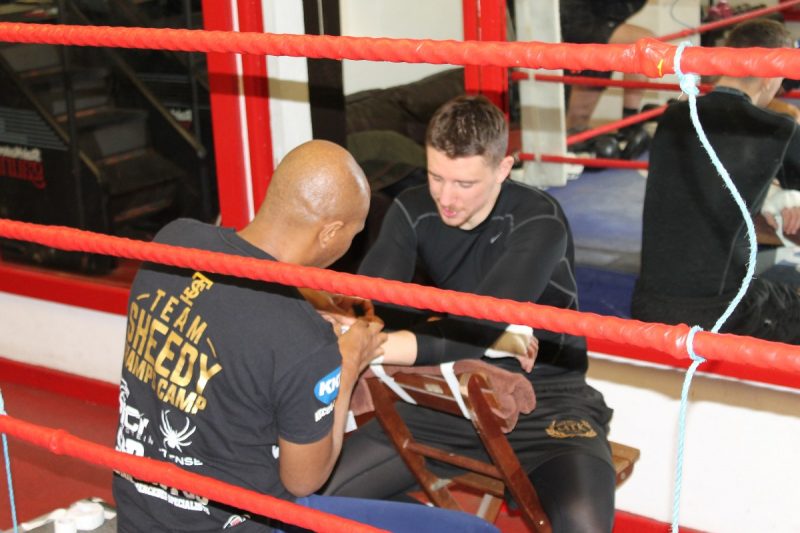 With MTK behind him, a British title seems a realistic long-term target for Sheedy- who acknowledges that although booming in the United Kingdom, the boxing landscape for a prospect not signed with one of the 'big-two' promotors, remains a challenging one. He goes on to heap praise on his local support, having shifted 350 tickets for his last outing at the MEN.
"I'm one of the boys- I'm from around here- and I'm lucky people do get behind you around here and I'm grateful for it. I'm not one to be too pushy and I understand that a ticket is a lot of money."
As he continues to build his career brick by brick, the cliché of the boy next door; the working man; the local lad- becomes almost impossible to avoid. However, in the case of Ben Sheedy, these things can be nothing but hugely complementary- especially in a sport that is spewing its guts out daily with social media, flash and meaningless hype from every orifice.
There are many fighters who wax lyrical about hard work and dedication. Having spent some time in his company- I can vouch that in the case of Ben Sheedy- in an out of the ring- he does indeed embody these things- and for that- I believe he is well deserving of the support of Mancunians and beyond.
Ben is next fighting at the MEN on the Ultimate Boxer undercard- 27/04/2018.

BBTV VIDEOS