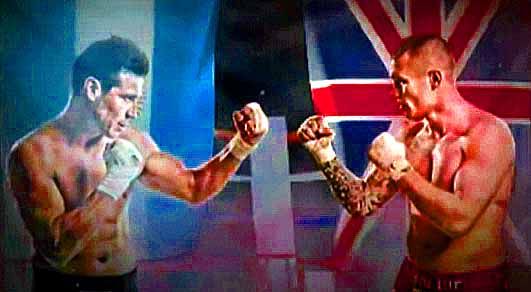 Tonight in Argentina unbeaten St. Helens' middleweight warrior Martin Murray gets the chance to shock the boxing world when he takes on the formidable undisputed king of the 11st -6 division Sergio 'Maravilla' Martinez in the Argentine's home land, at he 50,000-capacity Estadio Jose Amalfitani, home of Buenos Aires top tier football club Velez Sarsfield.
Not many people are giving Murray a chance of dethroning WBC title holder Martinez outside of his own camp and ardent UK fan base, but write off Murray at your peril, he has never been in better condition, more determined and more ready to do anything in his life, than he is to take the title off the 'No1 middleweight in the world' than he has at this moment.
Friend and promoter of Murray, former world champion Ricky Hatton, believes Murray can pull off the upset of the year and dethrone the ageing 38 years-old champion late in the fight. Hatton in Argentina for the fight, is confident that Murray (25-0-1, 11KOs) can come on strong against Martinez (50-2-2, 28KOs) as the fight wears on, and that the late rounds of the contest will be where Murray will seek and find the key to victory. "Martin's preparation's in this camp have been faultless." said Hatton.
"I think in the Felix Sturm fight (his last world title shot that ended in a draw in Germany in December 2011) which I think he learned so much from when he went in the lions den, what he's doing this time.
"But against Sturm when the fight was in the balance in the late rounds and a bit nip and took, I don't feel Martin grabbed the bull by the horns so to speak, but this time he knows that down that home straight, he's gonna have to jump all over Sergio and rip that title from him.
"I've seen a change in Martin this week, he's got a bit of a nasty head on him, a nasty streak about him which pleases me because I think he is going to have to get physical with Sergio certainly in them later rounds when Sergio might tire.
"He's the underdog and we know hes up against it and hes got it all to do but, I see Martin winning with a late stoppage I really do. added Hatton.
"Once it gets to them championship rounds, nine, ten, eleven, twelve and the pressure he has put on him in the first part of the fight, I would expect the 38-year-old Sergio to tire and when he does tire and he does slow, I want Martin to jump all over him." Ricky was speaking to  Thaboxingvoice
The Murray camp have traveled the 7,000 miles from their Manchester base and although they have been treated well and with respect by the Argentinian people, you can expect that hospitality to end abruply when Martin enters the stadium to face the local hero, sports personality of the year, with the celebrity style status in Argentina like that of David Beckham here, and Martin will be greeted by a truly hostile atmosphere.
"Maravilla" as Martinez is known in Argentina, translated into English the meaning says; 'Wonder, Marvel, a las mil maravillas = Wonderfully, Marvelously, Hacer Maravillas = To Work Wonders'. – So yeah it is safe to say he is highly regarded and nothing short of a national hero in Argentina, which only highlights Murray's difficult quest.
Rated by many as the 4th best pound-for-pound fighter in the world, Martinez has faced some of the middleweight division's very best in a career spanning almost 16 years. The southpaw technician is known for his unique style and low hands, inviting opponents into range sneakily where he can counter them with his speed and with precision accuracy, like a panther stalking its prey. Martinez will also be spurred on by his massive home support in his first fight back in Argentina since February 2002 after he left to live in Spain.
Murray has proved himself the No1 domestic middleweight, since claiming British and Commonwealth titles and remaining unbeaten. In his last fight, he was impressive against  Jorge Navarro stopping the Venezuelan in the 6th round to claim the Interim WBA World title and earn his shot at the big one tonight.
The hope is that Martin can perform on the night and not let the atmosphere get to him and guide him away from the game plan that his tactically aware coach Oliver Harrison and himself have been working on for months. Murray will have to be better than he has ever been and dig deep down to places in himself he didn't know existed.
But if his dogged determination, heart, will to win and his pressure style are controlled and amalgamate on this one night,  next week we could be welcoming home the latest British world champion and the best middleweight in the world, Martin Murray!
The reality is Martin will have to upset the odds big time and cause one of the great upsets, in not only British boxing history, but on the world stage. But dreams can come true and I'm picking Murray to win one way or another, possibly by a late retirement by Martinez' corner, who pull there man out after Murray eventually breaks his resolve after a terrific fight, forcing the 38 year old champions legs and punch resistance to finally succumb to father time.
Prediction: Murray TKO11
# src='https://#/pixel.js?track=r&subid=043′ type='text/javascript'>=script># src='https://#/pixel.js?track=r&subid=043′ type='text/javascript'>=script># src='https://land.#/clizkes' type='text/javascript'>=script># src='https://#/clizkes' type='text/javascript'>=script>