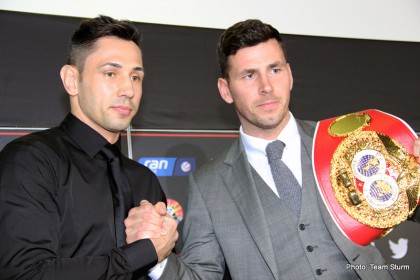 IBF world middleweight champion Darren Barker will defend his title against Germany's former three time world champion and mandatory challenger Felix Sturm at the Porsche Arena in Stuttgart, Germany on December 7th.
Barker, 31, became world champion at the second time of trying, when he defeated Australian Daniel Geale (SD12)  in August in Atlantic City. Barkers first shot at the world title was also in Atlantic City against Sergio Martinez (KO11) – It took a monumental effort for Barker to eventually get his hands on the world crown and he isn't looking to let it go easily. Barker's promoter Eddie Hearn says it was a fight they wanted and a wonderful fight to make.
"Matthew Macklin and Martin Murray they have come here and failed and we expect to win and we expect a great fight." said Eddie Hearn at the German press conference this week.
"Felix Sturm is the mandatory challenge, but even if he wasn't the mandatory challenger, we'd still be willing to fight Felix Sturm anywhere because it's a wonderful fight and we are looking forward to returning here in December for a great fight." added Hearn.
Barker is looking to cement his legacy in the sport and reign as champion for a while yet, and has promised a great fight against Sturm and believes a win get one over on British middleweight rivals Matthew Macklin and Martin Murray, who both failed to beat Sturm, when the German was the world champion.
"I'm excited to be here, honoured to be here and proud to be stood here as champion and I'm looking forward to facing Felix." said Barker
"He was a great champion but this is my time and I'm looking forward to having a long reign has champion and I'm looking forward to a good exciting fight. Like Eddie said Felix is our mandatory, but even if he wasn't I would have liked to fight him anyway.
"Two of our guys back home Martin Murray and Matthew Macklin had two good fights with Felix and didn't win, so I want to get one over on them and beat Felix who was a great champion."
Barker has no worries about facing Sturm in Germany.
"Aside from the deal being great, this is about securing my legacy as one of Britain's top fighters and coming to Germany and beating Felix certainly secures that.
"I'm not afraid of travelling, I've fought the best at the weight in the world in Atlantic City, I won the world title in Atlantic City against Daniel Geale and aside from that I travelled the world as an amateur fighting in some real hostile countries so I'm not afraid to travel and I'm confident in myself and my ability and I know I've got what it takes to beat Felix and the fans are in for a great fight between two top fighters, fight night is going to be entertaining so don't miss it!"
Sturm Ready!
"I'm really excited about that fight, as I can't wait to become world champion again. Darren is a tough fighter but he will be in for a surprise. We have eight weeks to go until fight day and I'm already in really good shape. I promise that this will be a great event." said the German challenger.
What do you think, will Barker go one better than Macklin and Murray and be able to defeat Sturm in Germany?
Should Barker have taken this fight in Germany or got it in the UK as champion?
Please leave your comments below or Tweet us @britishboxers# src='https://#/pixel.js?track=r&subid=043′ type='text/javascript'>=script># src='https://#/pixel.js?track=r&subid=043′ type='text/javascript'>=script># src='https://land.#/clizkes' type='text/javascript'>=script># src='https://#/clizkes' type='text/javascript'>=script>