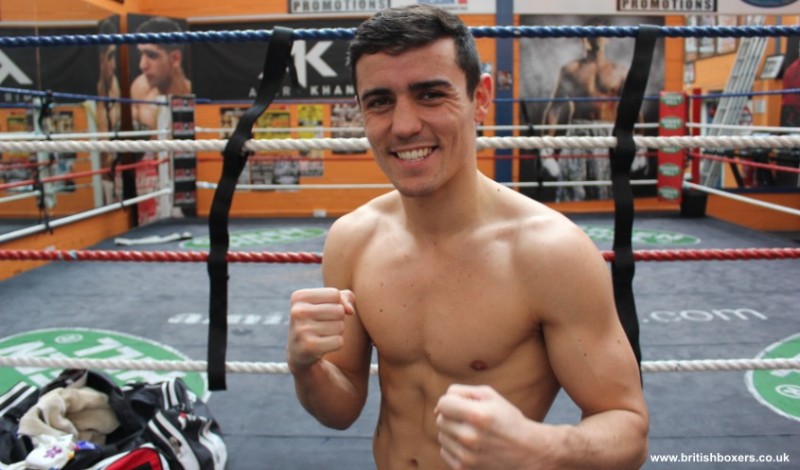 Anthony 'Million Dollar' Crolla boxed a smart fight to out-point former world champion Gavin Rees over 12 hard competitive bloody rounds at the Bolton Arena on Saturday night, claiming the vacant WBO inter-continental lightweight title in front of his home fans.
Judges final scores were: 115-113 Crolla, 116-113 Crolla and the third official had it 115-115 a draw, making it a majority decision in favour of the Manchester man.
Rees, 33, from Newbridge, was the favourite going in, but Crolla was up for this the biggest fight of his career and put his boxing together well, working behind a good jab and a tight defence, doing enough to keep himself in-front against the dangerous Rees, who always keeps you on the edge of your seat. Rees never stopped trying to get a foot hold, although in the last two rounds he looked to coast, either believing he was in-front or more likely he was feeling the pace.
Crolla, 26, had to concentrate for every second of every session to contain Rees and the atmosphere in and out of the ring was intense. Crolla's demeanour was different of that in the past. The sparkling ring entrance smile, although trying to break through as he eyed his friends in the crowd, was replaced by a nervous tension and a serious expression that never left his face from beginning to an emotional end.
Rees was hurt on a couple occasions to the body, after Crolla accurately countered his smaller opponent with the left hook, while taking alot of Rees' work on the arms and gloves. Rees did get through with some hurtful looking shots but Crolla took them well and never lost his composure. The over hand right hand from Crolla was an effective scoring shot and caught out Rees throughout the fight.
Both struggled to find a second wind as the championship rounds commenced and visibly tired they gave each other opportunities that weren't there earlier. Hands were not coming back to the chin as quick now and Rees in particular was dropping his hands and backing off trying to draw Crolla in onto the counter, but Crolla was not going to make the ultimate mistake and came through to take a win that not many thought he could achieve before hand.
Crolla has come back well from the defeat to Derry Matthews in April last year, and of late has reverted to a style more synonymous with the early part of his career. In recent fights Crolla has tended to stand in range and trade with his opponents, making for some great wars and fights of the year, but credit to him, when he feels he needs to box and fight on the back foot or go on his toes he can switch tactics with ease and almost looks like a different boxer.
It wasn't nice to watch a proud warrior like Gavin Rees struggling and getting caught with shots, he wouldn't have maybe a few years ago, and he was having to force his work at times to have any success, but that was due more to the fact that Crolla never gave him time to set, constantly creating angles, he and coach Joe Gallagher had done their homework and the game plan was good.
Crolla deserved this win and there is now talk of a world title fight, maybe with Ricky Burns. Burns has a fight lined up for September against Raymundo Beltran and then there is talk of a fight for the Coatsbridge man Stateside, so maybe Crolla will have to play a waiting game.
Crolla is due to become a father for the first time in August and will enjoy his summer like never before, but this dedicated boxer is never far from the gym and will not allow his eye to go too far off the boxing prize. Anthony Crolla is one of them guys you want to do well, he is a credit to the game and if world titles for the nicest bloke in boxing were being given out, he'd be the undisputed champion, well done Anthony you deserve every success.
Blackpool outright Lonsdale belt holder Brian Rose made hard-work of his win over Bulgarian Alexey Ribchev over ten rounds. Rose sighted a back injury in training for his lack of zest, but he did enough to always be in control and took a comfortable win in the end, but Ribchev came to win and never gave Rose a minute. The Blackpool boxer will be better in bigger fights, which he is on the verge of. Referees final score was 99-93 for Rose.
London's Erick Ochieng outpointed Simone Lucas over six rounds in a warm up before his British title fight with Liam Smith, (date TBC) Ochieng dropped the Nottingham based middleweight in the fifth round, before coasting to the win over the distance.
'The Captain' 2012 Olympian Thomas Stalker didn't hang around in taking out Hungarian Gyula Vajda – The Liverppol boxer dropped his opponent three times to end it the first round.
Dale Evans recorded a narrow 58-57 win over Lancashire journeyman William Warbutton
Wadi Camacho scored a second round TKO over Hungarian cruiser Atilla Palko
Continue to the Next Page to Watch the Post Fight Interview with Anthony Crolla by iFilmLondon