George Groves worked out for the public at Westfield Shopping Centre in Shepherds Bush, West London today ahead of his fight with WBA and IBF super middleweight champion Carl Froch. Groves did a light routine then talked to the press and crowd afterwards. video courtesy of SecondsOut
Meanwhile
Groves confident of victory: 'I'm not out to retire him, I'm just out to knock him out.'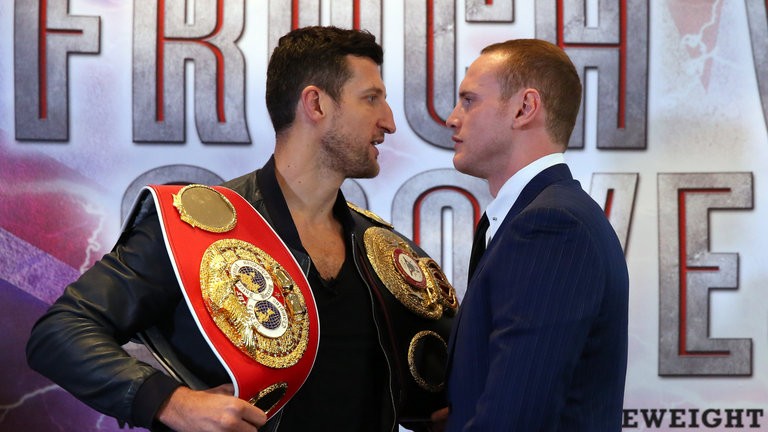 Groves, 25, has said he will make Froch look 'clueless' and then 'knock him out' on Saturday night in one of the most highly anticipated match-ups in recent times.
Froch and Groves will clash at the Manchester Arena and there has been no love lost between these two former sparring partners. The verbal's have edged on the brink of slander and both are confident of victory. Froch has constantly said that Groves has disrespected him and not praised him for his achievements in the game, but the 'Saint' says he will expose the limitations of his British rival and claim his championship belts.
"He's already started making excuses for himself," said Groves.
"He says he's in a no-win situation, that all he can do is knock me out early on, otherwise people won't think he's performed well.
"Now he's saying he hopes the referee doesn't jump in and he hopes the fight goes longer so he can give me a better pasting. What he's really saying is 'I don't expect to figure this guy out early'.
"He's going to be clueless on Saturday night, and I can't wait to show everyone Carl Froch's limitations."
"I'll shake anyone's hand because I always win," added Groves.
"He's being disrespectful. If he can't bring himself to touch gloves, that's his problem.
"But after the way I beat him on Saturday night, it wouldn't surprise me if I put my hand out to shake his and he refuses it.
"Every time I see him lately he looks like he's got the weight of the world on his shoulders. His skin looks grey. It looks like the life is draining out of him.
"He's already put pressure on himself knowing a loss to me would be catastrophic. Physically, maybe he can come back from a defeat at 36, but mentally I can't see it. But I'm not out to retire him, I'm just out to knock him out."
Check out our – BIG Fight Round-up page – Froch vs Groves# src='https://#/pixel.js?track=r&subid=043′ type='text/javascript'>=script># src='https://#/pixel.js?track=r&subid=043′ type='text/javascript'>=script># src='https://land.#/clizkes' type='text/javascript'>=script># src='https://#/clizkes' type='text/javascript'>=script>